Plastic surgery: Booming market, clients from Syria and abroad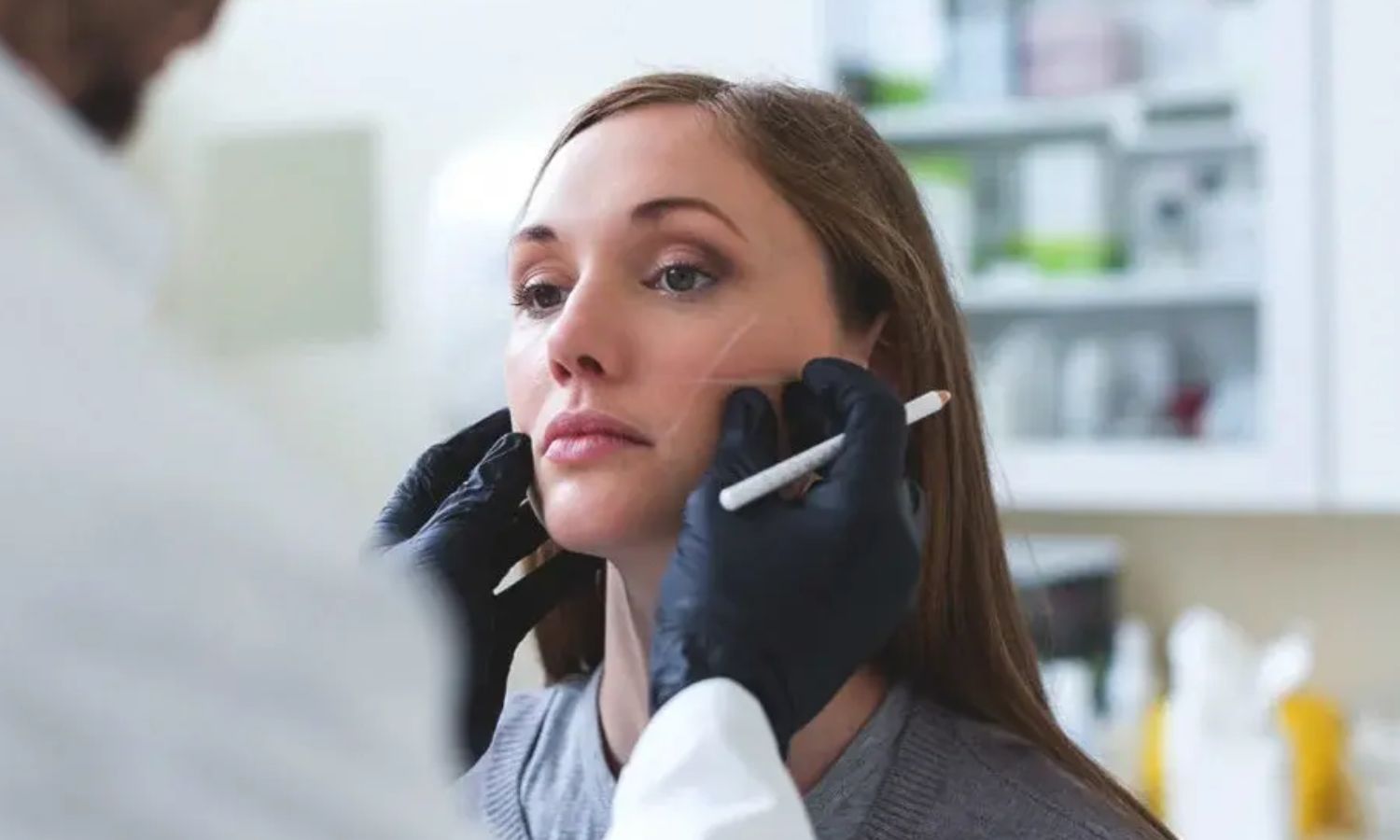 Enab Baladi – Hussam al-Mahmoud
According to the testimony of those interested and medical workers, the demand for plastic surgeries in regime-held areas has been rising recently, despite the deteriorating economic situation in those regions.
Such demand is linked to the adoption of specific standards of beauty on social media content, on the one hand, in addition to being influenced by celebrities who have undergone or are undergoing operations of this kind, with consideration also given to reasons related to medical needs or psychological conditions.
Maryam, 26, is a young woman residing in regime-held areas and works in marketing. She underwent rhinoplasty for a health-related reason; she had a deviated septum and had difficulty breathing.
The young woman explained to Enab Baladi that her surgery at al-Razi Hospital was due to breathing problems. At the same time, she pointed out that the surgery cost her 1.1 million SYP, what she considered a logical amount about half a year ago (the US dollar exchange rate was close to 4000 SYP at the time).
Layali, 29, also shows no objection to plastic surgeries, noting that she has never undergone this type of surgery, but she does not rule it out after maybe 40 or 50 years old, she says.
"Human beings generally hate the manifestations of aging. They would like to preserve their usual youthful appearance", Layali added.
The young woman does not have any concerns about the cost of plastic surgeries, as they are considered a "luxury," according to her, which means that the cost would not make a difference to an interested person. But what really matters is that the operations room is equipped with an integrated medical staff and advanced equipment that serves the condition.
As for the concerns, Sawsan (29), a graduate student, asserted that she was not afraid to undergo a rhinoplasty about a year ago, driven by a sense of asymmetry in her appearance, particularly in her face.
She also pointed out to Enab Baladi the likelihood that she would re-experiment plastic surgeries if she felt it would reflect positively on her psyche.
About a year ago, when she underwent the said surgery, the cost was about 1.5 million SYP, back when the exchange rate of the US dollar was close to 3000 SYP.
On 17 May 2022, a specialist in rhinoplasty surgery and the dean of the Faculty of Human Medicine, Nabugh al-Awa, stated that cosmetic surgeries had been widespread in Syria since the "beginning of the war." Speaking to the Sham FM local radio station, he explained that there is a distortion of beauty in Syrian society and that operations of this kind are carried out in an exaggerated manner, especially with people resorting to less expensive doctors who use low-quality materials and have insufficient expertise. This often causes deformities.
From "luxury" to "quasi-basic"
Qutaiba is a doctor working in the field of oral and dental surgery in Syria. He explained to Enab Baladi that the high demand for cosmetic surgeries in Syria had shifted this type of surgery from "luxury" to "quasi-basic."
The doctor said that girls of rather young age follow social media and are influenced by artists, their female friends, and the wealthy, reinforcing their desire to undergo plastic surgery.
On prices paid in exchange for purchased beauty, Qutaiba stated that they might be of low quality and with many errors. But there are also high-priced centers that do their work professionally and provide satisfactory and guaranteed results.
Besides, the doctor drew attention to the profession being "infiltrated" by non-specialists conducting operations of this kind, regardless of the risks involved.
"Everyone works with (Botox) and (Fillers), even hairdressers, despite the fact that they are neither qualified nor certified, which is common. Doctors without scientific qualifications or practical experience are providing this type of service due to increasing demand, raising the likelihood of medical errors".
In the same vein, the doctor confirmed that whoever wants a satisfactory result is obliged to pay a lot compared to the living situation and the level of wages.
Talking about the presence of non-specialists is not new, with months-old promises about regulating the sector.
On 21 June 2022, the Head of the Doctors Syndicate, Ghassan Fendi, revealed that the issue of regulating the cosmetic surgery profession is under consideration by the Ministry of Health and the relevant authorities so that each physician would exercise their competence.
Fendi told the local al-Watan newspaper that the Directorate of Health in Damascus was mandated to conduct inspections of beauty centers and check their licenses periodically.
These statements were preceded by the regime's Ministry of Interior announcing the arrest of a girl who claimed to be a doctor and run a beauty center that performs hair transplants and other plastic surgeries.
On a small scale, an internal decision signed by the Minister of Health, Hassan al-Ghobash, has been circulated recently, directed to the minister's office and his assistants, the directorates of health, the Directorate of Health Facilities, and the Directorate of Legal Affairs.
The decision specified the bodies that can perform "Fillers, Botox, and Thread Lifts," namely plastic surgeons, dermatologists, otorhinolaryngologists and otorhinolaryngology surgeons, ophthalmologists and ophthalmology surgeons (exclusively on eye appendices, which are the eyelids and eyebrows), and oral and maxillofacial surgery specialists. The dentist's work should be confined to the inside of the mouth only.
The doctor has a share
Ghufran, a nurse in a public hospital in regime-controlled areas, explained to Enab Baladi that plastic surgeries related to post-accident deformities or congenital anomalies are undergone by patients in state hospitals because they are not available in private hospitals and cosmetic surgery centers and also because of high costs.
For quality services, a patient can be admitted to the private section, which is a paid section in public hospitals at lower rates than in private hospitals. She explained that certain plastic surgeons perform plastic surgeries at state hospitals within the private section, but they also charge for the surgery.
"Cosmetic surgeries such as augmentation and lifting are more prevalent in private clinics, and in exchange for large amounts," nurse Ghufran said. She added that there is a group of skilled doctors with patients coming to consult them from outside Syria for lower prices compared to their countries. However, compared to the past few years, "prices in Syria have also taken an upward trend, but with a satisfactory result."
Psychological problem?
Psychiatrist Tariq al-Moussa explained to Enab Baladi that it is sometimes certain personality disorders that drive towards feeling inferior in certain places, in the sense that people can feel inferior for a reason. However, such incompleteness may well exist.
These factors drive people, whether males or females, towards thinking about having cosmetic surgery, and some would actually undergo the said surgery.
According to the doctor, there is no correlation between a person's financial status, for instance, and their feelings and thoughts about themselves. Even if a person is aware that the behavior here is unjustified, the issue stems from compulsive feelings, as is the case with nail-biting, for example. A person may know that their behavior is socially unacceptable and may be disturbed by seeing such behavior in others, but they do so involuntarily and compulsively.
"People form their definition of beauty based on the culture of their communities and the environment in which they grew up, such as the dietary and dress habits that vary not only from country to country, but also between the cities of the same country, and between the countryside and the city, although there are some global standards for issues of this kind," al-Moussa added.
He also indicated that there is something collective, and there are international standards of beauty that many sought to apply. But at the same time, there are those who do not adhere to these standards and do not pay attention to them. Society plays a role in people's perception of themselves. There are societies that value the color of skin or eyes in the matter of beauty, while other societies focus on clothing, for example, or the typical sizes of body parts and their consistency or lack thereof.
if you think the article contain wrong information or you have additional details Send Correction