Longing for children and striving to live; War burdens the elderly in al-Hasakah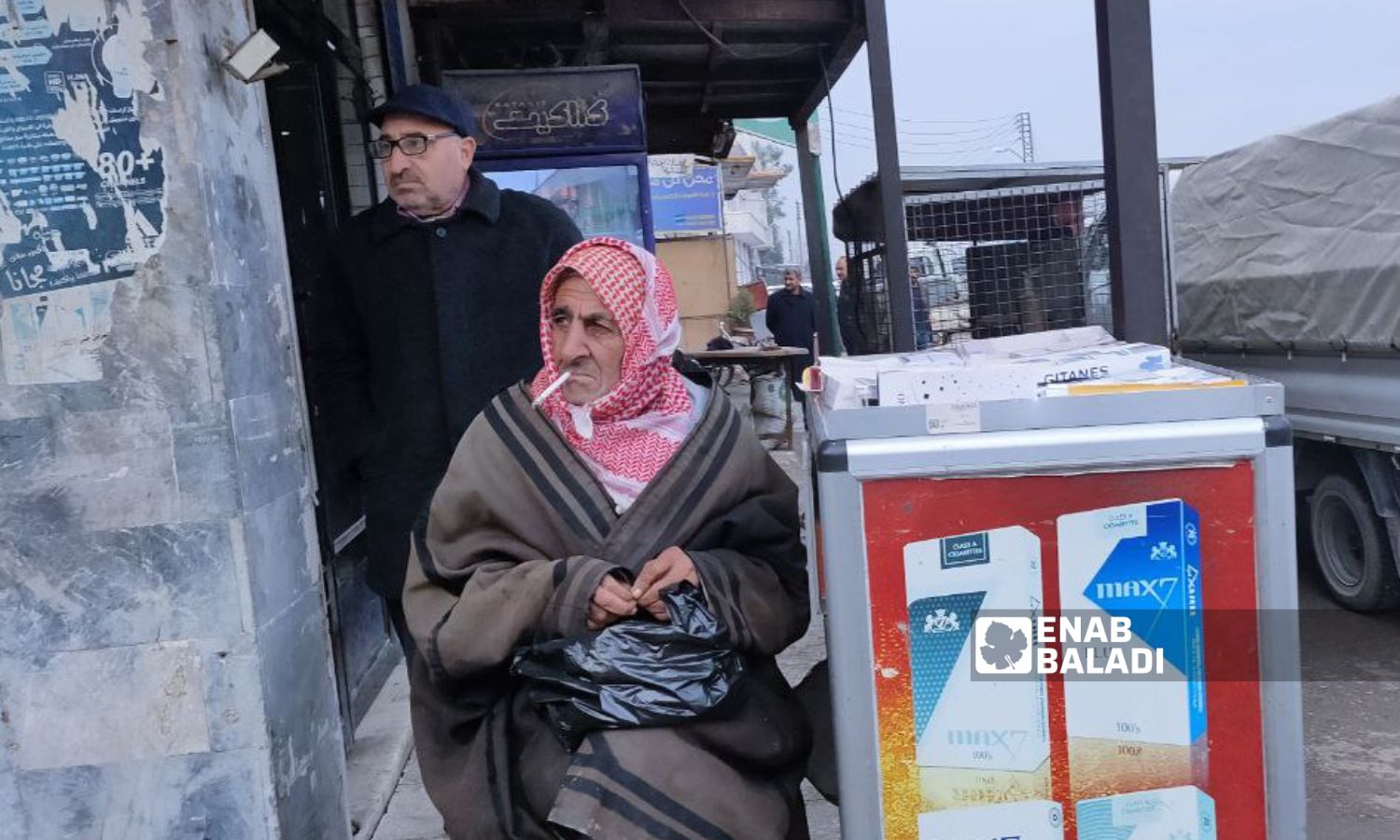 Enab Baladi – Majd al-Salem
Elderly people in al-Hasakah experience a range of challenges in light of the ongoing economic deterioration and fragile security situation, especially with their children's travel.
A group of elderly people interviewed by Enab Baladi complained about their profoundly changed social situation following their children's travel abroad.
Some spoke of the fact that the deteriorating living situation left them no chance to think of those who left, as securing a livelihood today is all everybody could think about nowadays.
Isolation and the absence of "loved ones"
From once a week to a "semi-permanent" customer of an old café in the city of Qamishli, Kaddour Makhilil, 71, now spends most of his time in the café amidst "the noise of customers playing cards non-stop."
Old man Makhilil realizes that the cafés filled with hookah smoke and cigarette remnants are not good for his health, but it is the only place that helps keep him occupied, he told Enab Baladi.
Makhilil has four children, three of whom have taken refuge in Europe over the past five years in search of a better future, while the fourth has stayed in Qamishli, and he is busy pursuing a livelihood.
With his emaciated body and seemingly heavy traditional dress, Makhilil was pointing right and left, detailing the reasons for his refusal to his children leaving Syria.
His children are young and not yet married. They should have waited a bit and postponed travel, he thinks.
At the same time, he was aware that he had to choose between living in a "constant longing for them" or permanent concern over their well-being due to "compulsory conscription and the deteriorating security situation"; he told Enab Baladi that many young people were killed after his sons left.
Makhilil talks with his sons every now and then via social media applications, which he describes as a "blessing," although he is not good at using it. He is assisted in such communications by his son, who stayed by his side in Qamishli.
Makhilil sees his children through the video calling feature, and he said that seeing them, even on a small screen with a blurry picture, "calms the longing and anxiety."
Syria has already experienced waves of internal and external displacement to Turkey and European countries, affecting the population's lives. Security conditions and prosecutions dispersed families.
More than 13 million people have been forced either to flee outside the country or to be displaced within the country's borders, according to the latest United Nations statistic.
Some 5.9 million people who remain in Syria need assistance to secure safe housing for them. Many continue to face challenges in terms of access to basic services such as education and health care.
"A variety" of health challenges
Abdallah Muhammad, 41, runs a medical analysis laboratory in the city of Qamishli, eastern Syria. He told Enab Baladi that most of those who come to the laboratory for blood tests are elderly people who suffer from "a variety" of chronic diseases, such as high blood pressure, diabetes, prostatitis, joint pain, and other illnesses.
He added that the dire financial status of families with an elderly member is clearly reflected in the care provided to them, as they suffer from "malnutrition" and irregular medication adherence.
These factors are the result of the inability to regularly afford medicines, especially after the recent price hikes; blood pressure medication now costs about 10,000 SYP.
The Syrian regime's government has already raised the price of medicines in areas under its control. The areas under the control of the Autonomous Administration of North and East Syria (AANES) were affected by this rise, according to pro-regime websites, and confirmed to Enab Baladi by local sources.
Soaring prices and the absence of a breadwinner have prompted some elderly people to resort to international organizations and local associations to secure the necessary medicines for free or at nominal prices. However, this option is not always available for everyone.
Some of the organizations' activities in al-Hasakah governorate, specifically in Qamishli, have already been halted over the past years, such as Doctors Without Borders (MSF), which provided medicine for chronic diseases to the elderly on a free and periodic basis, and then transferred its activity to al-Hasakah city, in addition to the al-Hol refugee camp.
An employee of a local association active in the countryside of Qamishli (whose name and the name of the association were kept anonymous for security reasons) told Enab Baladi that the lack of interest in this group in general from "all associations and organizations in the region" exacerbates their health and psychological conditions.
As an example of the above, the source said that during his work with colleagues in the relief and medical sectors over the past four years, they only carried out one program for the elderly, during which wheelchairs were distributed to the elderly, in addition to a special mattress for some of the elderly who are completely unable to move.
In the absence of official statistics on the number of elderly people in need of care in the governorate, the source said that the association counted some 1500 elderly people throughout the southern countryside of Qamishli and the Tal Hamis region, which "does not cover the rest of the governorate, including cities."
"Dire" conditions forcing them to work
Despite reaching the age of 70, Mohammad al-Sattam (Abu Saada) is still selling some vegetables on his carriage in al-Hal market from sunrise to sunset.
According to what he told Enab Baladi, al-Sattam has been doing so for nine years. With the depreciation of the Syrian pound and the high cost of living, his need for work increased further "at a time when he is supposed to rest after reaching this age."
Securing the household's needs of food, water, fuel, gas, bread, etc… requires all family members to work, according to al-Sattam; salaries and daily wages are "low" and insufficient, he says.
According to al-Sattam, the al-Hal market has many older people who work despite exceeding retirement age, as conditions force them to seek employment opportunities despite their aging.
Enab Baladi monitored many professions in which men over or close to 70 years of age work, such as guarding buildings under construction or selling lottery tickets on foot in streets and neighborhoods, or on stands selling cigarettes, vegetables, or toys.
According to the statistics of the Central Bureau of Statistics (CBS), the proportion of workers over the age of 50 years is 26.2% of the male labor force, or more than a quarter, in light of the young population's migration.
According to the regime-affiliated CBS, 11.7% of the male workforce is between 50 and 54 years old, 7.3% are between 55 and 59 years old, 4.1% are between 60 and 64 years old, and 3.1% are over 65 years old.
if you think the article contain wrong information or you have additional details Send Correction