Life partner search via TikTok: Oscillating relationships in cyberspace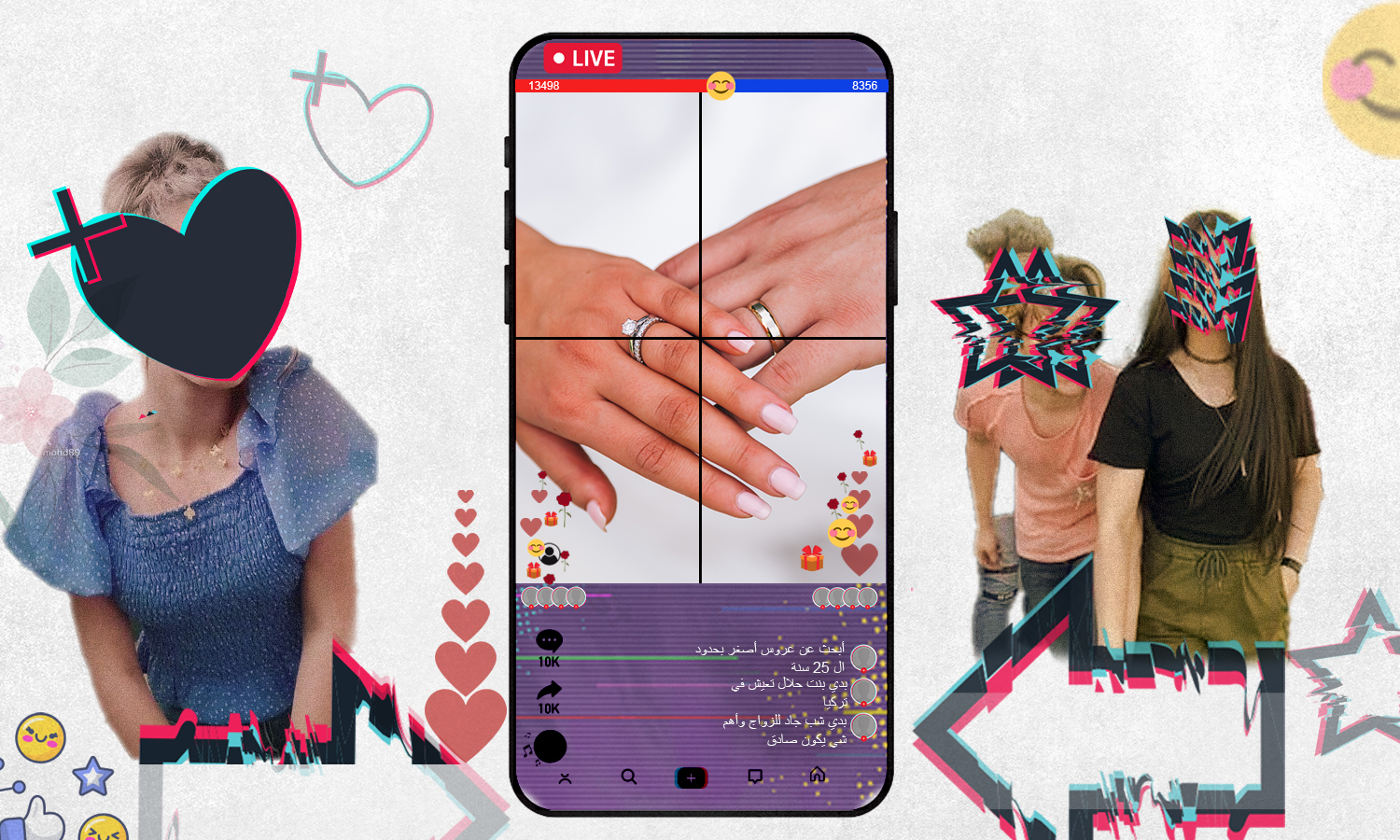 Enab Baladi – Hassan Ibrahim
"Beautiful, of medium height, not tempted by appearances, living in Turkey, attractive, good at cooking oriental food" specifications a TikTok user wanted in the girl he wanted to meet for an engagement and marriage during his appearance in live streaming in a TikTok "dating and chatting" room.
Via a live streaming moderated by the creator of the content or the channel, two to four people, young men and women, exchange a conversation about the physical and moral qualities that they prefer in the person with whom they wish to be; added to this the viewers' interaction in the form of comments. A case that has recently begun to be active is a dating room with the aim of engagement and marriage via TikTok.
Live streaming lasts for long hours, not governed by rules, regulations, or standards other than banning the user in the event of a problem. The channel's moderator confines communication and talks within the live streaming. Conversations in some of them sometimes go beyond "chatting" and discussing physical characteristics to "sexual innuendo."
Under the heading "The search for a husband/wife," these live streamings raised questions about the reasons why people resort to such rooms and the success of these relationships amid the absence of a person's physical presence and information about them and their community being limited to what is available online, the pros and cons of such acquaintance and emerging relationship, and users' technical concerns about these streamings and their violation of privacy.
"For the sake of amusement, nothing serious"
Mohammad, 28, is a young Syrian bachelor residing in Turkey. He takes part in a live stream out of curiosity and for the sake of amusement in order to pass the time and learn the views of young men and women on the subject of being in a relationship.
Mohammad noted that he speaks during the live streaming from his point of view, without making any promises or associating with any girl.
The young man told Enab Baladi that it is impossible for him to choose the "girl of his dreams" through live streaming, which is watched by dozens and sometimes hundreds, criticizing that the talk sometimes hints at "sexual topics." He pointed out that generalization is wrong, and he does not want to question people interacting for the purpose of engaging in a relationship or making an acquaintance.
The young man mentioned that discussing issues of connection, marriage, and qualities in an open space (live streaming) gives some experience in knowing perspectives on the matter and constitutes a new experience for communicating with new people. Nevertheless, he does not consider live streaming or an app a safe place to build a serious relationship in the future.
For his part, Nour, a 24-year-old single Syrian man residing in Turkey, categorically refuses to resort to TikTok and other applications in order to search for a girl to marry. He attributed the reason to the fact that what the applications contain and what people exchange through them are contrary to Sharia law, customs, and traditions.
Nour explained to Enab Baladi that if he wished to get married, he would go to his friends and acquaintances in Turkey to look for a wife, being alone in Istanbul without his parents residing in Homs. These applications are not considered to be honest enough because the person is unknown, and the physical absence places one's mind in constant doubt.
Concerns of success and failure
Identifying liked and disliked habits in a "life partner" of their choice, other specifications related to a person's work, how to deal in some situations, whether or not they can cook, bearing with the spouse in case of financial troubles, etc., are requirements present via streaming on TikTok, which attracts hundreds of millions of people, with more than 1 billion downloads from Google Play Store.
Chatting, dating, and entering into different relationships via TikTok is not a novelty. Cyberspace is buzzing with websites for chatting and connecting people with each other in order to establish a variety of relationships. Some of these relationships are successful, while some are doomed, but it carries with them positive and negative effects.
Sociologist Safwan Qassam explained to Enab Baladi that the reasons people tend to look for a life partner online are their desire to find what they ask in a modern and non-traditional way and a method of saving, inter alia, time and effort while going out with people in real life. It also gives the person wider choices and the ability to rapidly identify like-minded people with the desired characteristics.
In Qassam's view, the success of relationships in the lack of physical presence is a thorny and risky topic, as a "life partner" or person does not appear as their true selves. Their talk about their characteristics and what they like and dislike is not necessarily sincere since their behavior could easily be counter to what they expressed. Even physically, there are image-enhancing "filters" that would conceal true appearance. The likelihood of successful online relationships is different depending on the circumstances and is linked to knowing each case individually.
Qassam pointed out that the downsides of such relationships lie in alienating minds. Social media does not literally portray reality but rather beautifies it and changes the truth and essence of relationships, and gives them fragile and illusory forms. In the event of a relationship passing to real life, the person could easily be disappointed, and the relationship would head to frigidity and aversion, and possibly even towards the search for another partner, making it prone to dissolve.
The sociologist considered that the medium-range physical relationship and acquaintance (6 months to 2 years) in the actual physical presence of the parties to the relationship tends to be more successful as people become more familiar with each other, and the relationship is subject to more testing. As situations, reactions, and problems arise, characters appear more realistically.
Reasons and motives
The number of attendees or viewers during the live streaming exceeds hundreds, and many of them want to participate in streamings, according to what Enab Baladi monitored in a live streaming's comment section. Comments also contain the search for people with specific characteristics.
The founder of the Nafsajii platform for psychological empowerment, Alaa Zeno, considered the "snowflake generation" (a term used to describe people who became adults in the 2010s, born from 1980 to 1994) has become more vulnerable to fragility, brokenness, and exaggerated requests for support, as well as multiple sources of pleasure and amusement, most notably through social networking.
Zeno mentioned to Enab Baladi several reasons behind resorting to the use of social media for acquaintance between the two sexes, which are:
– Addiction to social media: Hence, addiction to the substance that is secreted in the brain during amusement and quick pleasure, and easy access to it;
– Failing in relationships in real life, which drives them to compensate for that in the virtual world;
– Loss of meaning and purpose in life;
– Digital and cyberspace escapism;
– Upbringing-induced emotional void;
– Comparisons on social media and trying to prove oneself;
– Loss of the sense and value of privacy with addiction to sharing on social media;
– Unhealthy emotional attachment patterns on either side or both sides;
– Societal pressure to marry, and thus one party may be forced to pursue this route of engagement;
– Desire to increase the number of views and fame. Thus a person feels socially desirable;
– Listening to successful experiences through social media, betting on the success of their relationship as well, and challenging society.
Zeno drew attention to the fact that the impact of failure in relationships in the virtual world is somewhat lighter than in relationships in which a person is physically present because if the relationship is secret, it is a relationship without witnesses to this "failure." Also, virtual relationships do not reach a great stage of true love, as they are uncertain feelings that are dominated by attachment and fantasies.
Technical concerns… Phishing is possible
Talk of social media chatting and dating rooms is accompanied by fears of a violation of a person's privacy by accessing their login data.
Anyone joining the streaming service is accepted once they own the app and login via email or other platforms, such as Facebook and Twitter, or via a phone number.
With regard to the platform's or broadcaster's access to personal or user-specific information, Mahran Oyoun, a Digital Security Advisor at SecDev, a software solutions provider, has distinguished the platform's ability as a company from that of the streamer (the user).
Oyoun explained to Enab Baladi that a company, such as TikTok, has full access to the data of all users on the platform because it owns this app with all the information that is circulating on it, just like any other social media platform.
Meanwhile, a live streamer's ability to access the data of users who follow them is mainly related to the user's disclosure and dissemination of data that can appear publicly, whether to disclose their email address, place of residence, and other information as determined by the user, according to Oyoun.
Oyoun pointed out that the technical concerns in these cases were mainly linked to phishing through social engineering. For example, if an email or phone number is apparent, malicious phishing links can be sent, enabling the sender to control the account.
Live streaming gifts and making money
Chatting, dating, and accepting people to participate in chat rooms are limited to live broadcasts only. As the broadcast begins, the creator asks for support from viewers by sending gifts that can be purchased from the app itself, with financial benefits for the streamer.
Mahran Oyoun said that the purpose of live streaming is often to profit, by doing live streaming on a TikTok account, after which the gifts are collected and then they are converted into money that can be withdrawn through a bank or a PayPal account (PayPal is an online payment system that allows the user to transfer money online worldwide to other accounts).
Oyoun added that a user can only start making a profit from live streaming when the following conditions are met:
 A user must at least be 18 years old;

 The account must have more than 10,000 real, not fake, followers;

 The posted videos must have achieved 100,000 views within the last 30 days;

 Residence in non-sanctioned countries, covered by the TikTok Creator Fund;

 The account must be compatible with the copyright policy and the TikTok community guidelines;

 Providing non-copied or duplicate exclusive content (not stolen or content specific to other users). Content must not be created based on modifying other people's content through video and montage software.
These reasons, downsides, and concerns did not prevent many relationships in cyberspace from reaching engagement and marriage, apart from multiple relationships in people's lives whose start was in an application in virtual reality. Some circumstances, including the campaigns of displacement and asylum that the Syrian society witnessed, imposed a change in some customs and traditions related to marriage and engagement ceremonies.
if you think the article contain wrong information or you have additional details Send Correction