Idlib: Disability exacerbates suffering of displaced women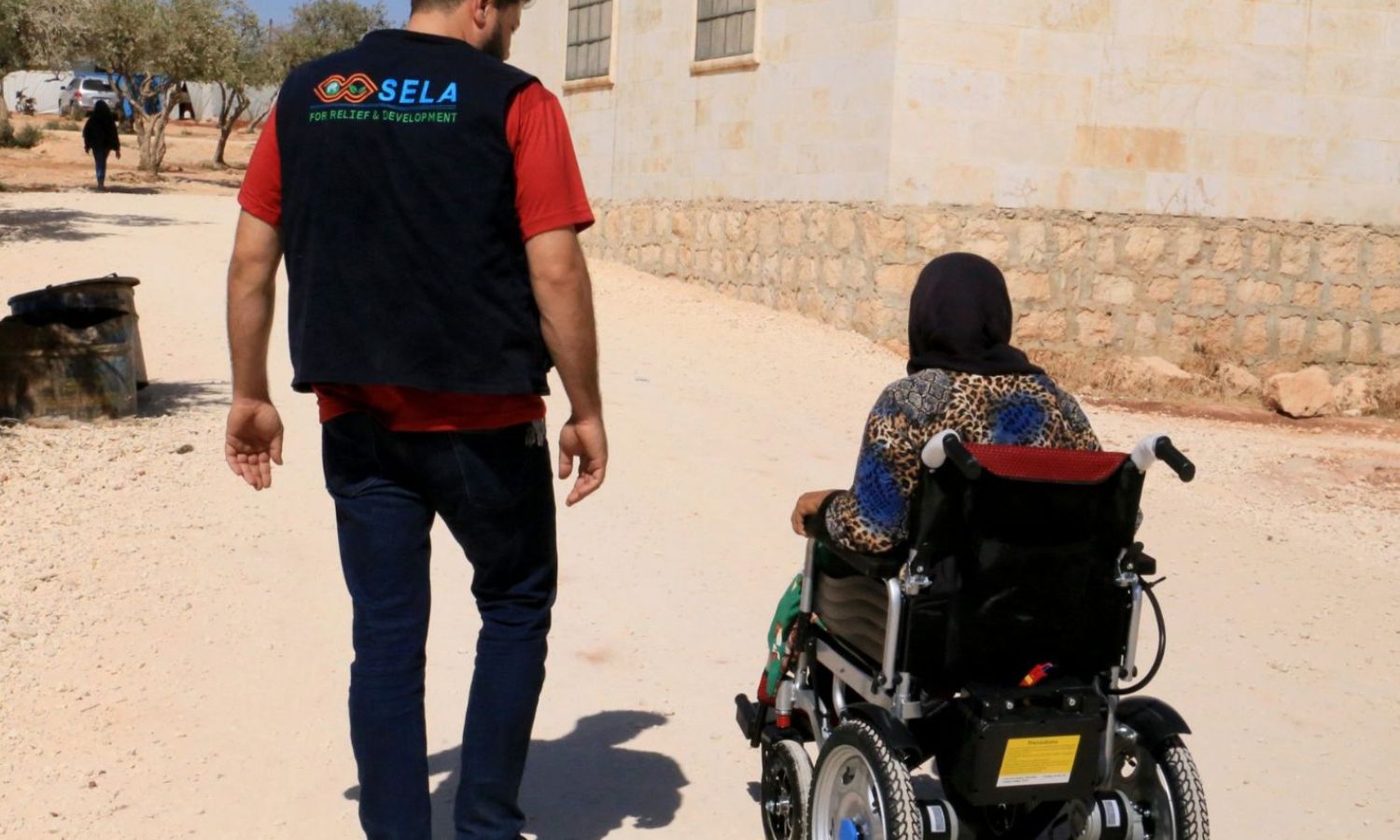 Idlib – Huda al-Kulaib
Women with disabilities have been facing harsh conditions in recent years, hardships caused by the bombing and military operations of the Syrian regime, which have increased their chances of neglect and lack of care.
The economic and living conditions and the low level of health care in the displacement camps in northwestern Syria also played a role, exacerbating the suffering of women with disabilities, whether before or during the revolution.
The 36-year-old Juhayna al-Balani, based in the border IDP camps of Qah, has been suffering from difficulty in securing her personal needs since the amputation of her right leg as a result of a regime's military bombardment that targeted her town in late 2017.
Al-Balani, originally of the town of Maarat al-Numan, told Enab Baladi that her stay in the camp makes it more difficult for her to carry out any activity, as she is forced to walk on crutches for a few meters when it is necessary to enter the toilets, whose design and structure do not take into account the issue of disability.
Financial burdens
Al-Balani may need to replace the prosthesis every year or two, which requires about 1000 US dollars ($1=18.64 Turkish liras).
In the face of economic and living hardships, al-Balani longs for a job opportunity that will restore her normal life routine and through which she can support her family of four children and an unemployed husband.
Maha al-Husseini, 22, sustained injuries as a result of the regime's bombing of her hometown, Kafranbel, in 2015, which resulted in the amputation of one of her hands and one of her feet.
In addition to separate fractures, she suffers its consequences, and she undergoes surgeries every once in a while to straighten her shattered backbones.
On her wheelchair in front of the door of her tent in the IDP Barisha camps, north of Idlib, al-Husseini told Enab Baladi that her life has been turned upside down since she became disabled seven years ago.
She drew attention to a more than physical impact, which kept her away from her academic aspirations and dreams and put her in need of financial and moral support that was not available due to the difficult financial circumstances of the family.
Lamia al-Jarrah, a psychological and social counselor, says that women's disability is a gateway to psychological symptoms and disorders, such as depression and anxiety due to the feeling of loss and the inability to take care of oneself, as well as take care of one's family.
Al-Jarrah added to Enab Baladi that among the psychological problems that most affect women with disabilities is the feeling of inferiority, inner tension, and emotional imbalance, as a result of the dominance of disability, the sense of inferiority and introversion, the inability to be self-reliant, and the weak sense of belonging.
The psychological counselor also pointed out the impact of these problems on the patient's adaptation and compatibility with the environment and the difficulty of establishing human relationships with others.
Piled problems
At the same time, the feeling that she is a daily burden on others is strengthened by the person with a disability and with the presence of other problems in the life of women with disabilities, including family, economic, health, and educational difficulties, starting from movements within the home, all the way to move in the environment surrounding the community, al-Jarrah said.
It is important to activate the role of society towards women with disabilities, focusing on all age groups without exception, providing an environment that suits their disabilities, and securing treatment programs, community awareness, and job opportunities, the psychological counselor calls.
There are no accurate official numbers of women with disabilities in Idlib, but the bombardment of populated areas, causing injuries and deaths, necessarily contributes to an increase in the number of injured.
The Human Rights Watch (HRW), based on UN figures, said on 8 September that 28% of Syrians have a disability, about twice the global average.
According to the HRW report, the reasons range from war injuries to lack of access to care and services. People with disabilities in Syria often struggle to flee attacks, especially due to the lack of assistive devices or effective and comprehensive advance warnings.
if you think the article contain wrong information or you have additional details Send Correction