Collecting rosaries and old coins a source of livelihood in al-Hasakah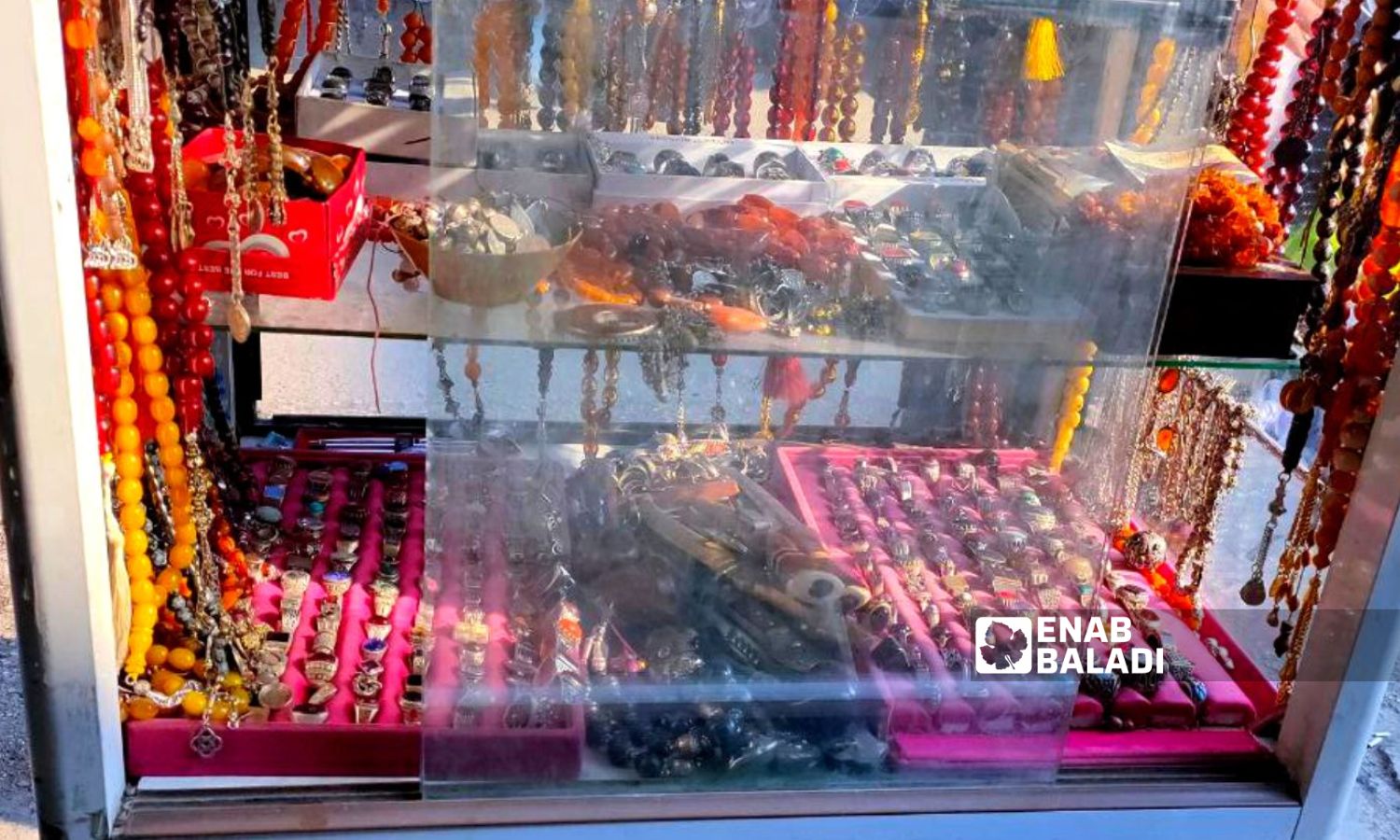 Al-Hasakah – Majd al-Salem
The 68-year-old Jalal al-Dahwi, from the northeastern al-Hasakah governorate, is famous for collecting rare and antique rosaries and old coins.
Al-Dahwi, of al-Qahtaniyah town, receives some old rosaries as gifts from the Arab Gulf countries in particular, and he has a valuable collection that he keeps in a "bag" with secret numbers, some of which are worth about 100 US dollars.
He resorts to the bag of rosary beads and coins when he has any financial hardship, decreasing their numbers with every financial emergency.
Al-Dahwi told Enab Baladi that most of the costs of his daughter's birth came from selling a silver embroidered rosary worth about 50 US dollars.
What saddens him is his inability to recover the old rosaries and coins that he sells or to buy others because they are expensive in light of the poor living conditions, according to him.
It is an expensive hobby, especially when talking about old or valuable things, while other priorities in life prevail, such as securing daily needs, al-Dahwi told Enab Baladi.
He knows all the shops and stalls that sell and buy rosary beads, coins, and old silver rings that are scattered in the Qamishli market and other towns in the province, and their owners, in turn, know him, but his frequent visits to them have become for the purpose of selling, not buying, as he was known to do before.
Career of fun and luck
Walid al-Hussein, 29, used to work as a pharmaceutical salesman. By virtue of his work, he travels daily to most of the governorate's towns, such as al-Jawadiya, al-Malikiyah, Rmeilan, al-Yarubiyah, and al-Darbasiyah.
Visiting stalls and shops selling rosaries and antiques has also become part of al-Hussein's work, according to what he told Enab Baladi, as he became a mediator to buy specific things for people residing outside the country, even for a certain percentage.
Over time, al-Hussein devoted himself entirely to this profession, benefiting from his experience in the market and his ability to bring collectibles from one city to sell them in the market of another.
Al-Hussein considers this work enjoyable, but it also depends on luck. Sometimes he succeeds in "a profitable trade in one day that is equivalent to a full month's salary in his previous job," and sometimes, it is less, but the loss is almost non-existent, he added.
Al-Hussein is not satisfied with selling through shops and stalls, as he found in specialized groups on social media a large market that gathers amateurs from all over the world.
Al-Hussein shows what he buys to these groups and makes online deals sometimes, but he finds it difficult to receive the price of the goods if the buyer is residing outside Syria.
Alaa al-Hamdoush, 45, owner of a stall for buying and selling rosaries and old coins, spent 15 years in this profession, and he is the only one who shows rosaries inlaid with silver along with precious stones, the price of some of which reaches one million Syrian pounds.
Regarding the buying and selling movement, al-Hamdoush says that it is few and not as it was before, as people are "hungry," adding that "buying such things has become a luxury."
Sometimes, the week passes without al-Hamdoush selling anything, but he succeeds in other places in which he compensates for his loss. Despite this, working on a stall does not burden him with paying rent and taxes, which helps him to continue his work.
Residents of al-Hasakah governorate suffer from the high cost of living and the low value of monthly salaries and pensions in the private and public sectors, which drives many of them to work independently.
On 30 October, the Kurdish-led Autonomous Administration of northeastern Syria (AANES) raised the monthly salaries of workers in its areas of influence by adding an amount of 100,000 Syrian pounds (about 17 US dollars).
The salaries of workers in the Autonomous Administration areas start at 260,000 Syrian pounds (42 US dollars), which are the salaries of teachers, and gradually rise according to the institution in which the employee works, the position, or the certificate he/she holds until it reaches 900,000 Syrian pounds (about 155 US dollars).
The markets of northeastern Syria are witnessing a wave of high prices that include most basic commodities, primarily legumes, grains, vegetable oils, and some types of imported canned goods, accompanied by a state of general discontent among the residents.
Sector out of accountability
According to Walid al-Hussein, the old coins in the market are divided into two parts, some of which are considered antiquities, which the young man fears trading in order to avoid legal accountability, and he restricts his trade to coins that are less than 100 years old.
As for the rosaries that are made with precious stones, they are mostly imported from Iraq, Turkey, or Iran, as well as the Arab Gulf states.
Among the types of these stones: amber, turquoise, and coke, which are high in price due to their elaborate work. On the other hand, there are factories in Damascus and Aleppo for the manufacture of rosaries, but their making depends on the commercial side and does not attract amateurs despite their low price.
According to al-Hussein, there is no entity or institution in the governorate that regulates this field, and instead, reliance is on the experienced people whom merchants turn to to evaluate their valuable commodities.
if you think the article contain wrong information or you have additional details Send Correction