Turkey: Syrian deportees not able to pack, take belongings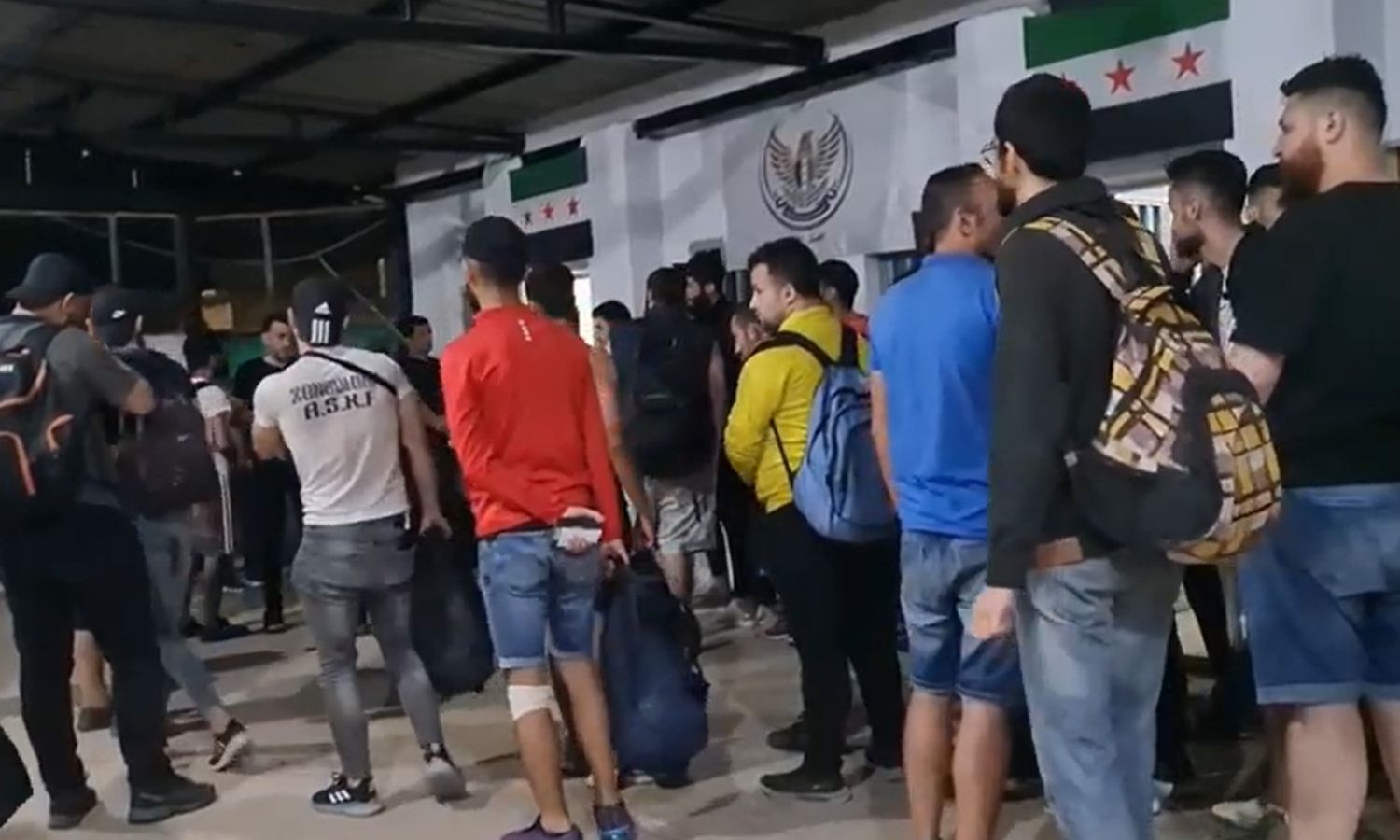 Enab Baladi – Khaled al-Jeratli
Since the beginning of this year, it has become common in Turkey to see Syrians looking for a person who left the house in the morning but has not returned for several days. This search is accompanied by a notice that "the missing person has an irregular legal status."
The possibility of deporting Syrian residents whose residency status is valid in Turkey increased, but their presence became illegal overnight with the rapid development of laws approved by the Turkish Immigration Department from time to time.
Forced deportation is divided into two parts, internal deportation (from one state to another) or deportation to northern Syria.
The common link between them remains that deported persons do not have time to settle their affairs or even pack their personal belongings before leaving.
Internal deportation a 'temporary problem'
Ayham, 23, obtained his temporary protection card (known as Kimlik) from the state of Urfa in southern Turkey, which makes his living in the state compulsory, but the "lack of opportunities" pushed him to Izmir state, in search of a route to Europe.
According to what Ayham told Enab Baladi, his residency in Izmir was long, which forced him to search for temporary stability there as a job opportunity.
During the second month of his stay in Izmir, a police patrol stopped him and decided to return him to the state of Urfa immediately, as he lives in Izmir in violation of the temporary protection law granted to Syrians.
The policeman did not accept to listen to Ayham as he tried to explain that he had some belongings in his place of residence in Izmir, where he resides in a "youth residence" as he was forced to get in the car and return to Urfa without even allowing him to pay the apartment rent that he shares with others.
Ayham is not the only one to suffer from this problem, as the Turkish authorities have already deported young men whom Enab Baladi met.
Abdullah, 26, who holds identity papers issued in Ankara, moved to Istanbul six years ago but was stopped on Istiklal Street by police officers and then was forced to accompany them to Tuzla prison, where he stayed for a few days, and then was transferred to Ankara.
Abdullah told Enab Baladi that he established his life in Istanbul through his work in the sewing sector, as he does not have any kind of acquaintances in Ankara, and this prompted him to return to Istanbul after a few days to reside illegally there, but this time he became "more cautious."
Turkey-based refugee advocate Taha al-Ghazi told Enab Baladi that Istanbul had the largest portion of Syrians with illegal residency, given the good availability of work compared to other cities.
Many Syrian refugees carrying residency papers were subjected to deportation because their residency documents were issued by states other than the one in which they reside.
The deportation is based on the employee mode, as Syrians who hold work permits in Istanbul, or even those who own companies there, have already been deported to other Turkish states or even to the opposition-held Syrian north.
Deportation to Syria has no solution
Human Rights Watch (HRW) reported on 24 October that Turkish authorities arbitrarily arrested, detained, and deported hundreds of Syrian refugee men and boys to Syria between February and July 2022.
"Deported Syrians said that Turkish officials arrested them in their homes, workplaces, and on the street, detained them in poor conditions, beat and abused most of them, forced them to sign voluntary return forms, drove them to border crossing points with northern Syria, and forced them across at gunpoint," according to the HRW.
"In violation of international law, Turkish authorities have rounded up hundreds of Syrian refugees, even unaccompanied children, and forced them back to northern Syria," said Nadia Hardman, refugee and migrant rights researcher at Human Rights Watch. "Although Turkey provided temporary protection to 3.6 million Syrian refugees, it now looks like Turkey is trying to make northern Syria a refugee dumping ground."
For his part, Savaş Ünlü, head of the General Directorate of Immigration Management, in a letter addressed to the HRW, rejected the organization's findings, describing the allegations as baseless, and said that his country "manages migration in line with domestic and international law."
The Turkish Immigration Presidency confirmed on 27 October that Syria is currently considered one of the countries to which the "principle of non-refoulement" applies, noting that the Syrians who returned to it did so "voluntarily," according to the Turkish TRT channel.
While Enab Baladi monitored cases of forcibly returning Syrians by forcing them to sign "voluntary return" papers under bad conditions of detention, among them Muhammad, 55, who hails from the city of Salamiyah, east of Hama, although he belongs to the Ismaili sect, one of the religious minorities in Syria, "and his deportation constitutes a risk to his life," according to what he said to Enab Baladi.
Muhammad entered Turkey illegally not long ago with his family. He rented a house there and had to tell the owner to sell his furniture, as he would not be able to pay the rent due to his deportation outside the country.
Activist Taha al-Ghazi told Enab Baladi that he had dealt with many deportation cases of people who owned businesses in Istanbul who were forcibly deported to Syria without even informing their families that they were in a prison belonging to the Immigration Department.
Among them is the owner of a restaurant in Esenyurt neighborhood in Istanbul, who was forcibly deported to Syria, which rendered him unable to dispose of his property in Turkey, including his restaurant.
Although Muhammad's family resides in the same area, they were unable to solve this problem because all the properties are registered in his name, as he must either make a legal agency for one of the family members or return to Turkey illegally to sell his property.
Since the papers issued by the local authorities of northern Syria are not recognized by the Turkish side, the deported person must go to the areas of influence of the Syrian regime to obtain a legal agency for his relatives, which is almost impossible for Syrians residing in Turkey to escape from the Syrian regime.
Circumventing the law
Taha al-Ghazi told Enab Baladi that the temporary protection law, according to which Syrians reside in Turkey, stipulates that a refugee is given a seven-day period to hire a lawyer and to discuss his legal status before he is deported.
While the security authorities, in this context, intend to hide the arrested person and not allow him to communicate with his family for a period of seven days, and then he is deported.
Al-Ghazi called this practice "enforced disappearance," as Immigration Departments try, through this policy, to deny the refugee the possibility of hiring a lawyer because he is not allowed to remain in the country.
The refugee advocate added that the security authorities deliberately confiscate all the property of the detainee from the moment of his arrest, including his mobile phone and personal belongings.
In many cases, the family of the detainee searches for him in the police departments, or in the prisons of the Immigration Department and deportation centers, without any results.
Usually, the Turkish authorities do not inform the family of the detainee of his whereabouts or the conditions of his detention, noting that the detainee may be in one of the centers where the family asked about him.
In light of the accusations leveled against the Turkish immigration services of committing violations against refugees in detention and deportation centers, a Turkish human rights body filed a lawsuit with the Public Prosecutor in the Turkish state of Gaziantep against the Oğuzeli center after a report proving violations by the center's employees against the refugees.
Turkey is a country obligated by treaty and customary international law to respect the "principle of non-refoulement," which prohibits the return of anyone to a place where they would face a real risk of persecution, torture, or a threat to life.
Turkey has already "forcibly" deported Syrian refugees despite their possession of identity papers.
However, Turkey returned a large part of refugees during different periods of time after the spread of video recordings of the deported refugees proving that they had official papers.
The latest statistics issued by the General Presidency of the Turkish Immigration Department on 10 November documented the presence of 3,595,134 Syrian refugees out of 3,655,489 people last September.
if you think the article contain wrong information or you have additional details Send Correction