Latakia hairdressers subjected to exploitation; resort to homes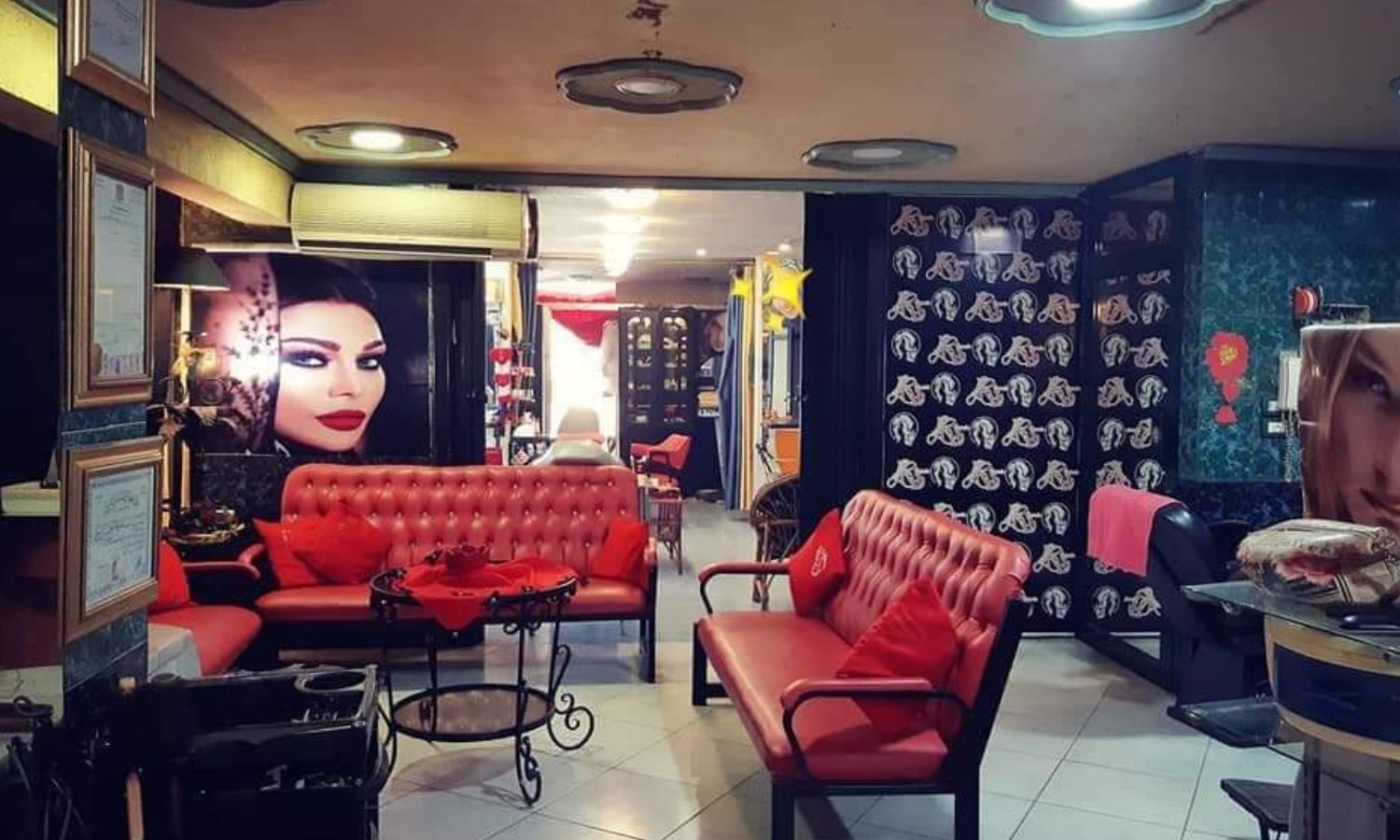 Enab Baladi – Latakia
"Unable to open a private salon, the conditions in the country are dire, the alternatives are expensive, and the exploitation of the labor force exists," thus Salwa summed up the reasons for her inability to work as a hairdresser in women's hairdressing and beauty salons in Latakia.
Two years ago, Salwa lost her job at a hairdressing salon located on al-American Street in the center of Latakia after its owner closed it to travel outside Syria. She was unable to open her own salon or even work in any other hairdressing salon.
Exhausting financial burdens
Simple calculations that Salwa, 33, had carried out prevented her from renting a place to set up a hairdressing salon. Despite having the necessary equipment and tools of the profession, the financial costs remain burdensome, including the monthly shop rent, which starts at 350,000 SYP and can amount to 700,000 SYP, which is likely to increase and varies depending on the region.
Any shop would need much equipment to qualify as a barbershop. It also requires a generator since electricity is only available for half an hour following five and a half hours of power outage. Thus, electricity is only available for one hour during a day's working hours.
Salwa added that if the generator is available, it needs fuel, and the price of a liter of unsubsidized diesel is 2500 SYP, while gasoline ranges between 6000 and 8000. She could also resort to subscribing to "amperes," which is also expensive since one "ampere" is not enough to power a hairdressing salon.
Subscribing to "amperes" has become widespread in many neighborhoods of Latakia, despite government promises to prevent their work and hold perpetrators of violations accountable. The price of one "amp" ranges between 20,000 and 30,000 SYP per week, and the subscription fees are different in each neighborhood.
Ampere is a well-known local name for generator electricity in Syria, which citizens rely on in light of the electricity cuts in various Syrian regions. Its price is linked to the price of diesel, as the owners of electric generators depend on it to operate the generators.
Wages not commensurate with the effort
The woman, who has been working as a hairdresser for nine years, tried to find work in a salon, but the monthly salaries are unrewarding and do not meet the effort of 10 hours of work per day with one day off per week.
Salwa's monthly wage offers ranged from 200,000 to 300,000 SYP, describing the offers as "exploitation" since the monthly wage was equivalent to cutting, hairdressing, and beautification of one single woman during two to three hours of work.
In order to secure the basic needs of her family of two, Salwa resorted to providing hairdressing services to some of her acquaintances and relatives in her home during intermittent periods and at lower prices as they went to her.
Salwa's problems are the same as that faced by young woman Heba (24 years old), who works at a hairdressing salon in the al-Awaina neighborhood in the center of Latakia, for ten hours a day and with a weekly salary of 50,000 SYP.
Heba is forced to work during her day off, which is Monday, particularly in providing hairdressing services for women in their homes in order to secure the needs of her family of four.
Some of Salwa's colleagues refrained from working in salons and chose to work independently in their homes. Some of them were forced to work in salons because they did not have the tools and equipment for hairdressing and beautification.
In some beauty and hairdressing salons in Latakia governorate, the fee for cutting and blow-drying ranges between 4000 and 7000 SYP. The costs of bride grooming range between 100,000 and one million SYP, according to a report by the local pro-regime newspaper, al-Watan, last June.
The report stated that barber shops and hairdressers' fees vary from one salon to another. Prices are set away from the official pricing set by the Barbers' Craftsman Association, and are set according to the region in which the salon is located, the barber's reputation, experience, fame, and number of followers on social media.
if you think the article contain wrong information or you have additional details Send Correction