"Kimlik" concern haunts Syrian youth in Turkey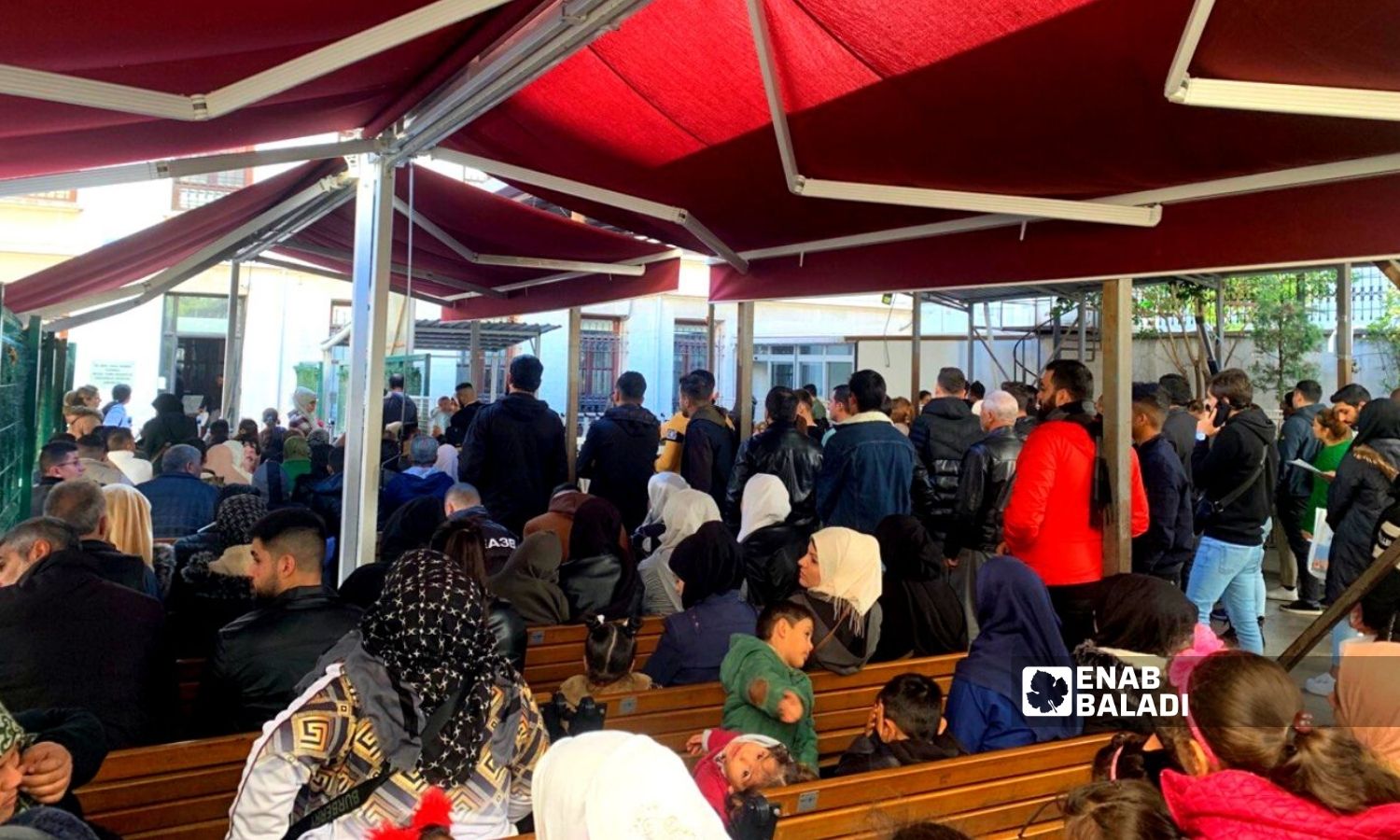 Enab Baladi – Diya Assi
Since the start of the Syrian alienation following the revolution in 2011, Syrian refugees in Turkey have faced much government bureaucracy in official documents transactions, compared to other countries of asylum.
As restrictions on Syrians holding a Temporary Protection ID Card (Kimlik) have increased in Turkey in recent years, many young people have sought to migrate to Europe during the current year in a wave similar to that of 2015.
The majority of Kimlik holders who have been unable to resort to other countries, either for family obligations or for financial reasons, continue to face crises due to document-related restrictions. These crises affect their lives without Turkish authorities providing serious solutions.
Infinite imprisonment
The suffering of Alaa Eddin al-Obeid (27 years old) with the Kimlik began when he entered Turkey illegally back in 2016, as only a few provinces accepted the registration of Syrians.
Al-Obeid went to the southern Turkish city of Gaziantep, where his brother resided, but the said province did not grant Kimlik ID cards, so he went to the capital Ankara and obtained the card.
Shortly after, the young man was accepted into a university in the southeastern city of Niğde. But he did not transfer his registration to the province until the beginning of 2018, to be the moment that would later change the course of his life.
In September of the same year, the province's immigration department summoned al-Obeid to submit his paperwork for exceptional Turkish citizenship, which he had waited for over two years. But he was shocked after a wait of almost two years by the removal of his file.
Al-Obeid spent six years in the narrow confines of Kimlik. Upon graduating from university in 2021, he was torn between maintaining the Kimlik, taking into account all the obstacles that would restrict his movements, and completing his higher studies to preserve the student card that grants him certain facilities.
A-Obeid decided to complete his studies in the same city. He was entitled to become a teaching assistant at the university by virtue of graduating at the top of his class in the Faculty of Engineering, but he lost that chance for holding a Kimlik. He had not imagined that it would come to this, he said.
Speaking to Enab Baladi, al-Obeid said, "I lost several opportunities because of the Kimlik, including scholarships abroad, an employment contract in Qatar, along with many job opportunities in Turkey that I was not able to pursue because of the Kimlik."
Al-Obeid has abundant free time during his current PhD studies, but he cannot work due to the lack of opportunities in the city and the employers' unwillingness to pay higher health insurance for Syrians who hold the title of engineer.
The young man has nothing but hope that the removed citizenship file will be reincluded within the remaining three years to complete his studies so that his life will take its natural course.
Al-Obeid considers himself an academic prodigy, as he not only studied two majors at the same time in Niğde (Metallurgical Engineering and Construction Engineering) but also studied three years of Mechanical Energy Engineering in Syria as well. However, the randomness of the naturalization process did not give the Syrians their right, he said.
Al-Obeid likens living with a Kimlik ID card to an open prison. This is putting pressure on him, as the feeling of constant restriction prompted him to try to seek refuge in Europe illegally, despite the dangers of the journey.
He said, "I would rather risk my life than to keep holding a (Kimlik) without an actual life like the rest of the people. I feel like I add nothing to this planet."
He added, "Death became a beautiful thing as a result of my situation. I prefer to die while migrating if it means getting rid of the horrors that the Kimlik is striking in my heart".
Al-Obeid continued, "If I listen to two people talking about the Kimlik, I move elsewhere to avoid feeling despair. The Kimlik is a powerful despair that takes away life."
A lesson from history
Ten years have passed since Ismail, 28, entered Turkey's refugee camps with his family in 2012.
After being accepted into the Turkish Scholarship Program (Turkiye Burslari YTB), Ismail, who asked that his full name not be disclosed for security concerns, left the camp to the university in 2014, at which point he obtained the Kimlik. Things went smoothly until the beginning of 2017, he told Enab Baladi.
Following this, things began to slowly turn for the worse when new restrictions were imposed upon Kimlik holders, including the weekly fingerprint collection to prove the presence of Syrians in the province.
Ismail was unable to wrap his head around such a measure, which he considered unjust and only applied to persons sentenced to a suspended sentence of imprisonment, according to him.
Besides the imbalance in the nomination mechanism for Turkish nationality, the young man had a feeling of unjustified inferiority, as he was not called to submit his papers, while his peers obtained citizenship in a record time of six months in 2016.
That feeling lasted for about three years until he was nominated for citizenship in 2019. He lived in the hope of acquiring citizenship, waiting for the day he would get rid of the Kimlik-imposed restrictions.
Nearly two years later, Ismail, who graduated with a major in Mechatronics Engineering, was surprised that his citizenship application was removed without explaining the reasons, while citizenship was still given to illiterate people, as he put it.
"Afterwards, I felt that the world was vanishing in front of me. All employment and travel opportunities in and out of Turkey have been lost, but I still have faith in Allah", Ismail said.
According to Ismail, all aspects of life are linked to the Kimlik, even on the social level; he pointed out that no one would even let his daughter marry a Kimlik holder".
The young man wondered about the solution in this closed maze that had caused him many psychological crises over the past years.
He said, "I bore the sin of living with my Syrian nationality, but I will not pass this guilt on to my children. And he cited the words of the poet Abu al-Alaa al-Maʿarri, who said: "This crime was by my father done -To me, but never by me to one."
A year of fear
The Kimlik represented an obsession for Khaled Muhammad (23 years old), who entered Turkey illegally more than a year ago with the aim of crossing into Europe.
While he was wandering in Istanbul's Aksaray district, the police arrested Muhammad and sent him to Adana to submit his biometric fingerprint for the Kimlik ID card. From there, the young man filed his fingerprint and returned to Istanbul without completing his documents and obtaining the identification document.
Muhammad crossed into Greece 11 times, and Greek border guards brought him back to Turkey every time. Since last June, the Turkish side has begun to restrict illegal immigration attempts as well, forcing the young man to obtain a Kimlik in order not to be deported in case he gets arrested on the way back.
Not holding a Kimlik for more than a year created a complex state of disturbing fear for Muhammad, to the extent that he would avoid going to a shop outside his neighborhood in Istanbul's Fatih district for fear of being deported, he noted.
Last October, Muhammad's relatives came from Europe, and he used to go out with them for an entire week. Yet, he was not mentally present with them and sat watching all around him, expecting to run into the police at any moment.
To this day, the fear that shattered Muhammad's psyche continues, which has also affected his social life; he stays at home awaiting the unknown, as he told Enab Baladi.
Last November, Muhammad was able to obtain a Kimlik in the Mersin province. However, he still resides in Istanbul without a travel permit, which causes him constant disturbance in his commute.
Muhammad, who did not live with this fear in Syria, as he put it, hopes that the "Kimlik complex" will not return if it is revoked because he is a violator of residence procedures.
Dimensions of Kimlik
Enab Baladi interviewed many young men who share the Kimlik suffering in different ways, including the young man Youssef Bakour (27 years old), who has been living in Turkey for more than nine years, four of which he spent away from his family residing in the city of Hatay, south of the country.
Bakour, who works in Istanbul and holds a Kimlik issued by the province of Hatay in southern Turkey, has become mainly concerned with spotting the police, as one of them threatened to deport him to Syria and not to Hatay if he caught him again without a travel permit four years ago.
Bakour saw what the policeman said as a threat to his stability, which is why he sent his family to Hatay to ensure their safety while he stayed in Istanbul to be their breadwinner. Nevertheless, the Kimlik crisis has made it difficult for him to find profitable work as only a handful of employers are willing to hire a violator, he said.
One of the Kimlik-related stories, which the young man considered a milestone in his life, is when he was in a motorcycle accident in Istanbul's Yenikapı district.
Despite losing consciousness and sustaining several bruises and wounds, Bakour, upon regaining consciousness, fled to a place to hide, recalling his illegal residency in the city.
Although he was in dire need of first aid and stitching a wound to his forehead, he asked the people around him not to call for an ambulance so that this incident would not turn into a bigger disaster that would end in deportation and the loss of his job, as he put it.
211,000 Syrians obtained Turkish citizenship, as announced by the Turkish Minister of Interior, Süleyman Soylu, on 18 August.
The number of Syrians in Turkey registered under Temporary Protection has reached 3,570,234 million Syrian refugees, according to the latest statistics issued by the Turkish Presidency of Migration Management on 1 December.
if you think the article contain wrong information or you have additional details Send Correction