IDP women record economic presence in al-Hasakah camps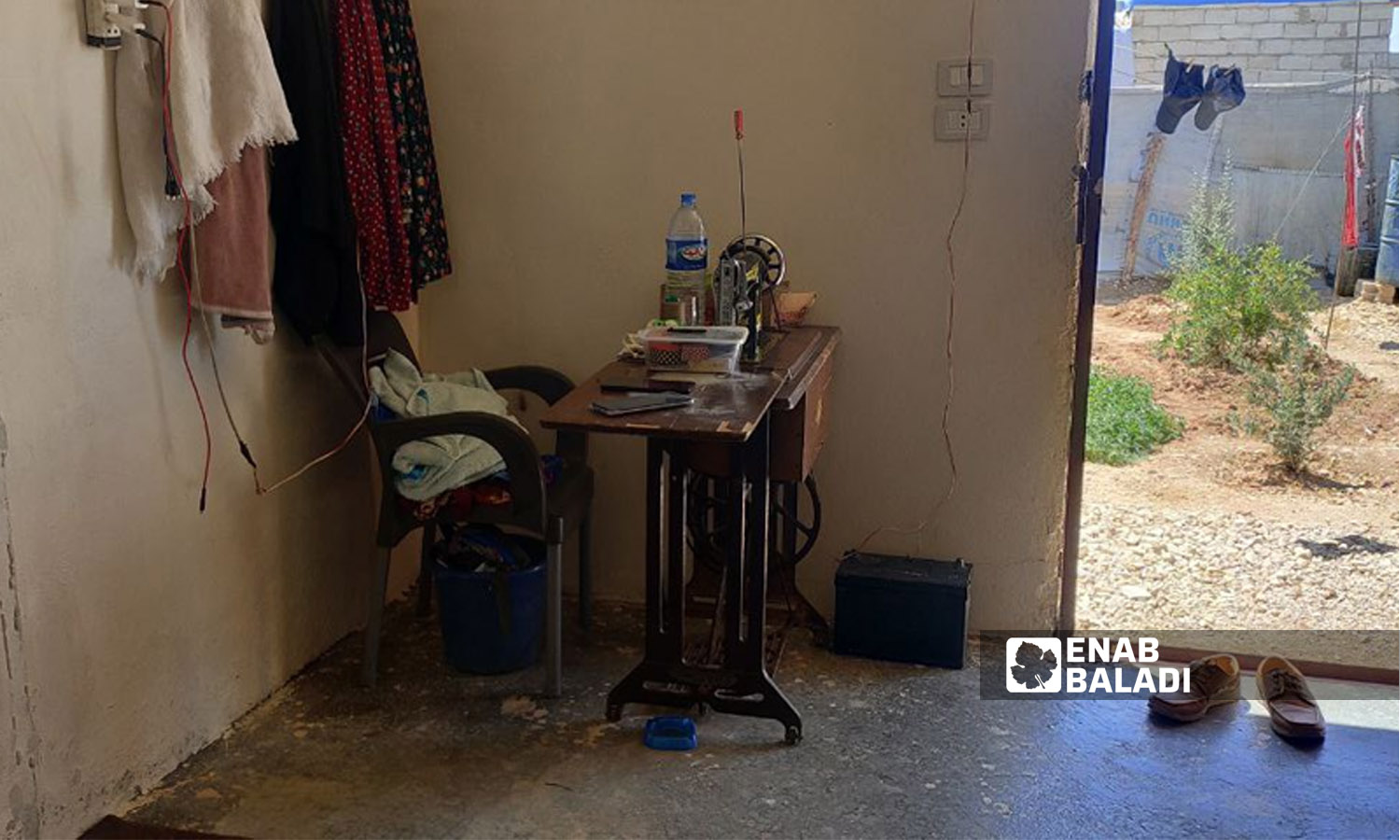 Al-Hasakah – Majd al-Salem
Saadia al-Hussein, 40, seems content to practice sewing, which she learned recently with the help of one of the humanitarian organizations active in the camp. As her work evolved, she now considers the sewing machine as one of her three daughters, she told Enab Baladi.
Saadia, who was displaced from the southern countryside of Ras al-Ain to the al-Tuweina camp north of al-Hasakah, has been living in the camp with her husband and daughters for more than two years, during which she faced harsh living conditions. Coping with the new conditions became even more difficult after they lost all their possessions as a result of the displacement.
According to what she told Enab Baladi, her husband became a daily laborer, moving between the city of al-Hasakah and the camp to earn a few thousand pounds, which is not enough to make ends meet.
The deteriorating economic situation forced Saadia to seek a way to help her husband and bear some of the "burdens of endless expenses."
The forty-year-old woman told Enab Baladi that she was enrolled in a sewing training course that was offered by one of the organizations that frequented the camp.
The training course was offered to women free of charge, in addition to a small amount given to female trainees on a monthly basis.
In just two months, Saadia managed to master the principles of the profession and then bought a used sewing machine that helped her secure an income for her family. Within a few months, she was earning more from her work in sewing clothes than her husband does in day labor.
Learning a profession
An employee of an active organization inside the Ras al-Ain camp in al-Hasakah told Enab Baladi that the camp's residents, primarily women, are living in "special conditions," which are becoming increasingly difficult, with women losing their husbands and taking on the responsibility of supporting their children.
The said employee, who preferred not to reveal her name and the name of the organization for security reasons, added that the Syrians' deteriorating living conditions prompted a group of women to search for any job opportunity, whether inside or outside the camp.
Her organization was active in implementing projects aimed at "community cohesion, creating safe spaces for children, and strengthening the role of women," she continued.
The employee talked about "free" training courses and workshops that her organization conducts inside the camp to empower women and provide them with skills that would enable them to find job opportunities or develop their own businesses within the "camp community."
The environment in which these workshops were held was popular, as it did not entail financial costs or security concerns for the trainees if they left the camp. Also, the lessons are often practical.
Events are a source of livelihood
Rawaa (26 years old), who preferred not to reveal her full name for social reasons, told Enab Baladi that her passion for cosmetic arts (make-up) helped her establish her own business in the camp.
One of the tents was designated as a place to beautify the "brides." Her father helped her, as he bought her equipment and some clothes to rent.
Rawaa told Enab Baladi that the camp residents also have "their special occasions." There are dozens of people who get married inside the camp every year, and the bride has the right to be happy on her wedding day, even if she is a displaced person.
She added that camp women of all ages come to her shop on all occasions, whether to prepare for an engagement or a wedding ceremony inside and outside the camp.
A fair proportion of the camp's girls are studying at the university, and they go to her hairdressing shop on a weekly basis.
In the future, Rawaa wishes to build a room instead of the tent, which hinders her work due to its small size and the difficulty of equipping it. She points out that the problem of power outages in the camp often disrupts her work.
Holders of diplomas
Inside the Ras al-Ain camp, there are large numbers of female and male graduates of Syrian universities, some of whom were able to land a job in the institutions of the Autonomous Administration of North and East Syria (AANES), and some of them decided to set up their own business inside the camp.
Nevin Muhammad, 30, holder of a degree in education, told Enab Baladi that the Ras al-Ain camp houses about 1500 male and female students.
This figure includes students from different levels of primary, preparatory, and secondary education who are educated at two schools in the camp with two teaching hours per class.
Nevin also told Enab Baladi that the low number of teaching hours in schools prompted parents to enroll their children in private educational courses, particularly at the primary level, to enable them to read and write in Arabic.
The need for education in the camp allowed Nevin to turn private lessons into a source of income in addition to the teacher salary she receives from AANES.
Nevin noted that the amounts she receives for lessons are "very reasonable and symbolic," along with teachers of both sexes working in the same field but with a female majority.
According to what Enab Baladi had monitored, women in the camp have several other jobs that they occupy along with the previously-mentioned occupations. Some of them sell women's clothing in their tents after bringing it from al-Hasakah, and others sell simple foodstuffs such as canned food and biscuits. There are those who, with their husbands, opened small "grocery stores" in a separate tent.
The Ras al-Ain camp is located northeast of al-Hasakah and includes some 11,000 displaced persons from the town of Ras al-Ain and surrounding villages, as well as a section of the northern countryside of Tal Tamr.
if you think the article contain wrong information or you have additional details Send Correction