Idlib: Scabies spreads in IDP camps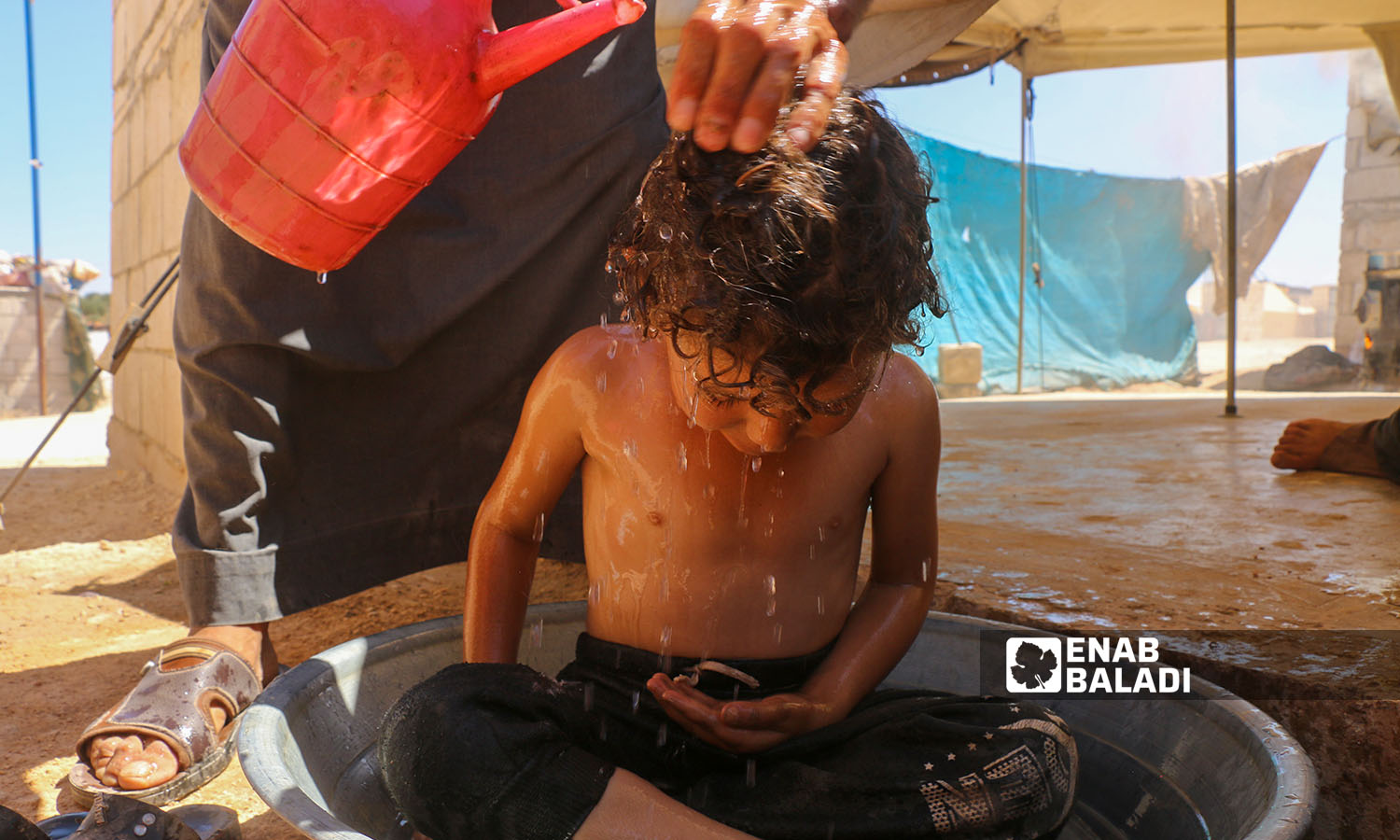 Enab Baladi – Idlib
Soft red bumps and a slightly elevated temperature, this is what young Mahmoud Khaled al-Ali, a displaced person residing in a camp near the town of Harbanoush in the northern countryside of Idlib, noticed on the bodies of his five children two days after noticing their itching symptoms.
The young man took his children to the medical point near the camp in the town of Harbanoush and showed them to the doctor, only to be shocked that they had scabies.
Al-Ali told Enab Baladi that his children are receiving treatment with ointments and injections and that the skin disease is still in its early stages and has consequences, and will last a short time and will then go away, according to the doctor's diagnosis at the medical point.
Conditions conducive to infection
Displaced persons camps in northwestern Syria, spread in the countryside of Idlib and Aleppo governorates, are witnessing numerous incidents of skin diseases at an uneven rate as a result of the absence of a safe health environment and conditions conducive to the transmission of infections.
These diseases are associated with high or low temperatures, the spread of waste dumps, the use of unclean water, and sewage pits within camp territories.
The displaced woman, Maryam al-Khaled, a resident of a camp near the village of Koknaya in the northern countryside of Idlib, developed scabies along with her husband and four children ten days ago.
The family was infected when al-Khaled borrowed a dress for her little girl from her sister, whose child had scabies a while ago, during her visit to her family in the camps of the town of Killi in the northern countryside of Idlib.
After noticing the presence of small red bumps on the body of her ten-month-old baby girl, she showed her to the pharmacist near the camp; the latter told her it was the start of scabies, which the family members caught later.
The effects of scabies on family members' bodies have eased while using a skin ointment as a treatment for the disease. However, they have not fully recovered, and they continue to use ointment.
Lack of hygiene
Hygiene conditions are considered to be mediocre and unsafe in camps, combined with a lack of preventive measures.
Young Mahmoud al-Ali explained that he receives a basket of cleaning materials in the camp near the town of Harbanoush every six months. The effectiveness of sterilization tools and equipment is not of high standard or quality, and the spraying of insecticides in the camp is almost non-existent.
For her part, the displaced woman, Maryam al-Khaled, receives such a basket every three to four months. Some medical teams would visit the camp where she lives to carry out examinations and provide medical services.
The spraying of insecticides or any other sterilization procedures had not been carried out in the camp where al-Khaled resides since the beginning of this year.
Conditions are similar in Syria's northern camps, where 1.8 million out of the 2.8 million internally displaced persons live, within more than 1400 unplanned and self-settled camps and locations in northwestern Syria, according to the United Nations Office for the Coordination of Humanitarian Affairs (OCHA).
838 IDP sites are now classified as "bad," "very bad," and "catastrophic" risk levels by the Syria Cross-border Camp Coordination and Camp Management (CCCM) Cluster, rendering them vulnerable to severe weather and fires.
Remedial procedures
Internal medicine physician Mohammad Saeed Qudimati, who works in a clinic in the city of Harem in the northern countryside of Idlib, explained that Scabies is an itchy skin rash caused by a tiny burrowing mite called Sarcoptes scabiei and that it spreads quickly through close person-to-person contact.
Qudimati told Enab Baladi that scabies causes intense itching in the area where the mite burrows and that the need to scratch may be stronger at night. Medications such as pills, ointments, and creams kill the mite that causes scabies and its eggs, and the itching often does not stop completely for several weeks after treatment.
In order to prevent scabies, Dr. Qudimati recommended stronger maintenance of hygiene, not mixing with infected people, the need to receive treatment from a doctor, and not taking any medication without consulting a doctor because they are the only ones capable of diagnosing and dealing with the disease, whether it is allergies, scabies, skin infections, etc.
The doctor warned against scratching too hard, which could lead to cracking of the skin, possibly causing infections such as Impetigo (an infection that affects the surface of the skin due to "staphylococcal" bacteria).
What is Scabies?
According to the World Health Organization (WHO), Scabies is an infestation of the skin by the human itch mite (Sarcoptes scabiei var. hominis). The microscopic mite burrows into the skin and lays eggs, eventually triggering a host immune response that leads to intense itching and rash.
Scabies infestation may be complicated by bacterial infection, leading to the development of skin sores that, in turn, may lead to the development of more serious consequences such as septicaemia, heart disease, and chronic kidney disease.
In 2017, scabies and other ectoparasites were included as Neglected Tropical Diseases (a diverse group of 20 diseases and groups of communicable and non-communicable diseases associated with poverty, mainly affecting people in tropical and subtropical countries).
Scabies is one of the commonest dermatological conditions. Globally, it is estimated to affect more than 200 million people at any time. Up to 10% of children affected by the disease are located in resource-poor regions, according to the WHO.
Scabies occurs worldwide. However, the highest rates of infestation occur in countries with hot, tropical climates, especially in communities where overcrowding and poverty coexist and where there is limited access to treatment.
Scabies is usually transmitted person-to-person through close skin contact (e.g., living in the same residence) with an infected individual.
The risk of transmission increases with the level of infestations, with the highest risk due to contact with individuals with crusted scabies.
---
Enab Baladi's correspondent in Idlib, Iyad Abdul Jawad, contributed to this report.
if you think the article contain wrong information or you have additional details Send Correction