Female patients battling cancer in Idlib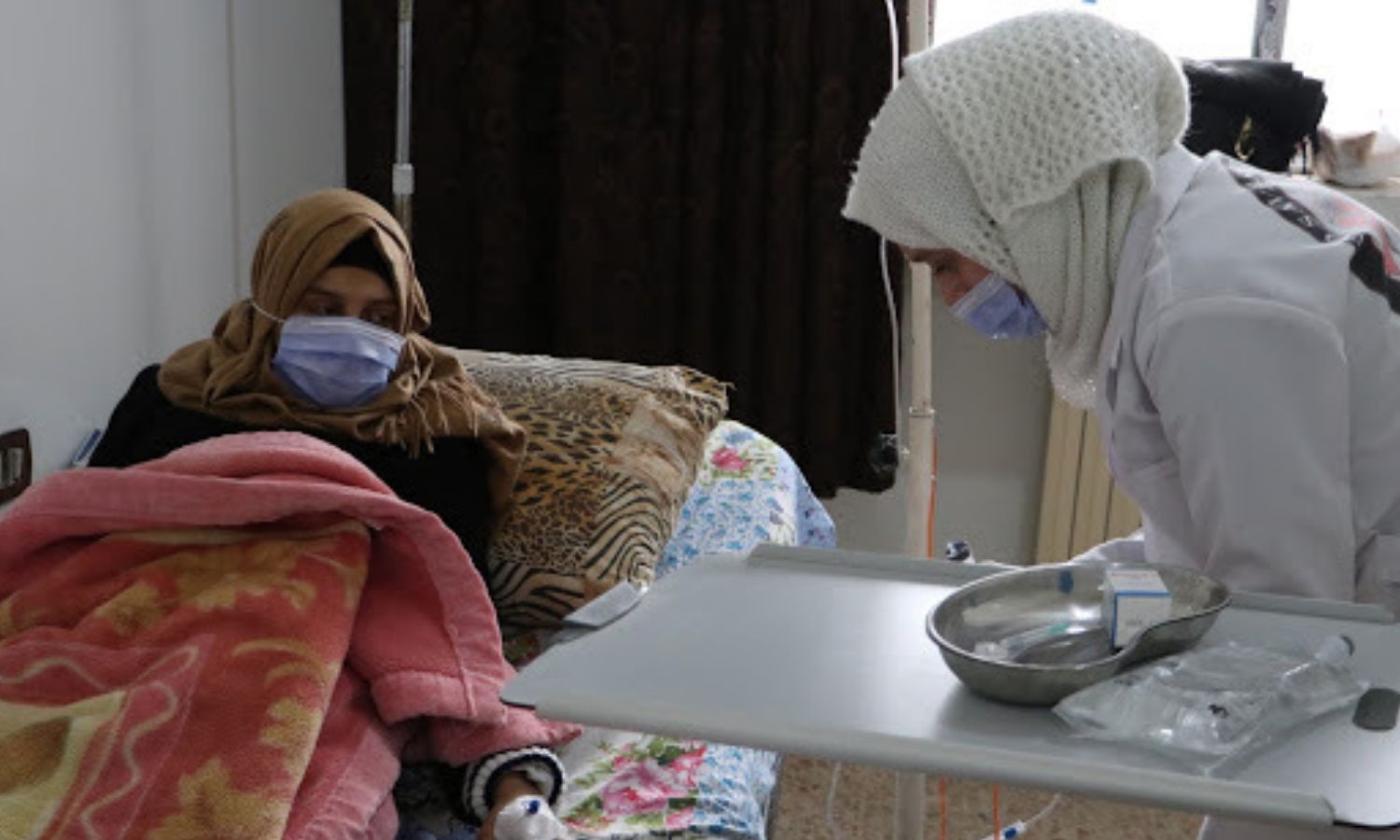 Idlib – Huda al-Kulaib
"There is no pain more than our pain in a region like Idlib that lacks the basic necessities of life," said Fadwa Mohammad to Enab Baladi, the 35-year-old woman who has been suffering from colon cancer for more than a year.
The woman describes her illness as "the most difficult disease and the least hope of recovery," explaining that she is not only facing the effects and pain of the condition but is also waging an "existential battle" to secure her medications and treatment costs, which has reduced her health response to treatment, despite her insistence on surviving and spending more time with her family.
Cancer patients' suffering in northern Idlib governorate continues amid the difficulty of providing medicines and treatment along with a lack of specialized centers.
The severe economic conditions have also exacerbated the patient's health condition, both physically and psychologically.
The unavailability of medicines and methods of treatment contributes to failure in combating the spread of the disease, which means the multiplication of malignant cancer cells, their spread and expansion to other parts of the body, and reaching advanced stages for which treatment may not work.
Turkey, a difficult and costly alternative
Fadwa Mohammad, a stage 3 cancer patient, receives free chemotherapy from the Idlib Oncology Center, but she needs to travel to Turkey to complete radiotherapy because it is not available in the region. This imposes the burden of waiting in queues to enter Turkish territory and adds heavy treatment expenses on her family, as she needs a treatment session every two months that costs about 420 US dollars, which she does not own, as she put it.
Subhiya al-Amsha, 44, considers herself one of the fortunate ones because she found someone to help her secure the costs of treating her illness in Turkey through her refugee son, who has been in Europe for four years.
At the end of 2021, Turkey suspended the free medical document, which obliges the patient to pay for his/her treatment.
Al-Amsha suffers from stage 4 breast cancer, which is the extreme degree of the disease, and she needs several radiological sessions after the chemical and hormonal sessions failed to treat her condition.
"We have to do whatever we can do, but the rest is up to (Allah) the Lord of the Worlds," she concluded.
The only cancer treatment center in Idlib is trying to reduce the burden on some cancer patients, who are unable to bear the costs of treatment in northern Syria, but it is unable to provide all kinds of treatments and medicines, especially those needed by people with advanced cases of the disease.
Dr. Molham Khalil, an oncologist and one of the supervising doctors at the Syrian-American Medical Society (SAMS) specialized center for cancer treatment in Idlib, told Enab Baladi that during the current year, it was observed that a greater spread of breast cancer had been observed, especially among women in the third and fourth decades of life, what he considered absolutely abnormal.
Breast cancer is one of the most common types of cancer in women, and its symptoms include a discharge of a clear or blood-like substance from the nipple, and nipple retraction or indentation, according to the World Health Organization (WHO).
At least 5 to 10% of cancer cases are due to heredity, while genetic defects are a differentiating factor in the disease.
1,000 diagnoses per month
Dr. Khalil confirmed the prevalence of other types of cancers specific to women, such as uterine, ovarian, and lung cancer, in addition to small cell lung cancer, which is a disease closely related to smoking.
"We used to not see such types of cancer in women, but today it is widespread among women at a young age," Dr. Khalil said.
Concerning the number of cases that are diagnosed each month at the SAMS center, the oncologist said that it amounts to more than ten cases of breast cancer, as an approximate monthly rate, in addition to cancer cases of other types.
He added that the SAMS cancer treatment center offers free chemotherapy, immunotherapy, and hormonal treatment to cancer patients, but radiotherapy is not available, and in this case, the patient is transferred to Turkey.
There are at least 1000 diagnoses on a monthly basis, male and female, with all types of cancer, some of which are new cases, in addition to previously diagnosed patients.
Lung cancer and cancer of the skeletal system are among the most prevalent types among males.
Opposition areas in northern Syria suffer from the absence of early detection centers for cancer, and the absence of awareness centers, in addition to the treatment being limited to one center, which is the oncology center in Idlib Central Hospital, which is affiliated with SAMS.
if you think the article contain wrong information or you have additional details Send Correction