Female journalists in Idlib: We are subjected to security and social restrictions, harassment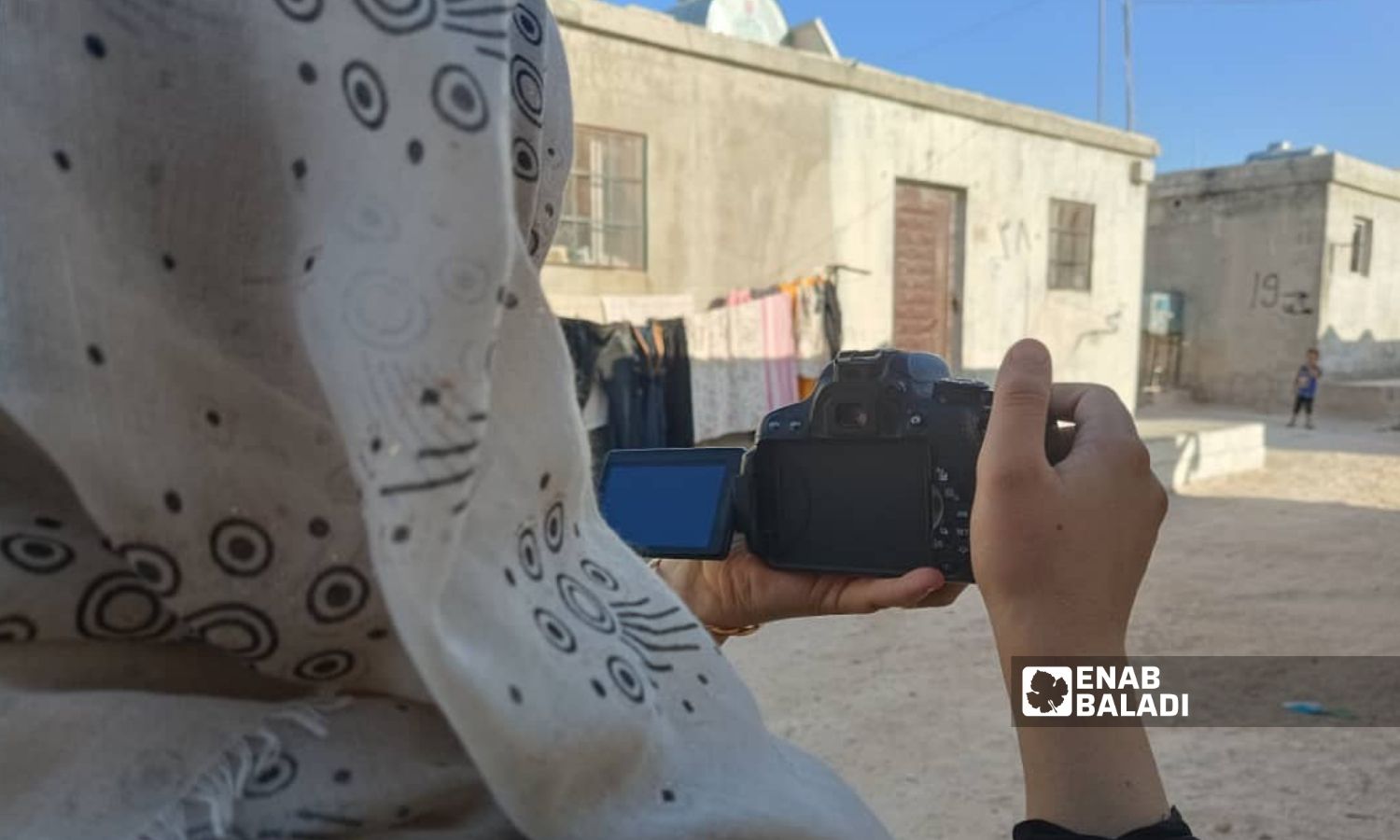 Enab Baladi – Idlib
The 35-year-old journalist Elham, pseudonym, can not disclose her work in northern Idlib region as she refused to go to the General Media Directorate of the Syrian Salvation Government (SSG) operating in Idlib and parts of the western countryside of Aleppo to obtain a press card for fear of tracking her activity and how society would view her.
Elham said that she chose to use a pseudonym to continue her work without having to obtain a press card for fear of searching the records of her reports highlighting the violations perpetrated by the SSG and Hayat Tahrir al-Sham (HTS).
Elham is not the only one with such fears, as most female journalists and media persons working in SSG-held areas face many social and security obstacles, which prompt them to work under aliases.
Permanent monitoring
"It is not easy for women to work in the field of media in an area such as Idlib, there are those who monitor, evaluate, and criticize our work, and there are those who troll our mistakes to silence us," said Elham, describing the security constraints she and her colleagues face in Idlib.
"We face many challenges during work, but the most difficult is the security clampdown on our movements by the de facto authority," she continued.
Elham considered the press card a way to restrict media professionals; the said card was given to those loyal to HTS, which seeks to monopolize the media and turn it into a tool at its disposal, as she put it.
For his part, the Director of Press Affairs at the Media Directorate, Khaled al-Shaqfa, said that the legal office within the Media Directorate is tasked with following up on all complaints or attacks that may affect both female and male journalists.
He also told Enab Baladi that the law regulating media work regarded the journalist as a working employee and that any verbal assault against them would subject the aggressor to accountability and prosecution.
According to al-Shaqfa, the Media Directorate grants work permits online and helps arrange telephone interviews with officials and official bodies for female media persons due to the difficulty that some of them may face moving from one region to another.
Society-imposed restriction
"We are haunted by the male-dominated society's view that is not receptive to women's work in this field, thinking that they are less qualified or responsible than men," said Elham.
Society's engagement with female media persons compounded the difficulties of working and placed them in a constant struggle to prove their success.
"In addition to being restricted and underestimated, we are being harassed while working. Our attempts to obtain information turn into attempts by others to invite us to a cup of coffee under the pretext of getting to know us", Elham continued.
The journalist said that some refuse to give information over the phone in an attempt to invite female media professionals to their offices, noting that it harms their reputation even if the other side's intentions are "pure," which is rarely the case, as she put it.
During her work as a reporter, Suzanne (29 years old), an alias adopted for social reasons, has often faced rumors discrediting her by a part of her community that under-appreciate her work and deems it contrary to customs and traditions.
"She traveled alone, we saw her with this or that person, she was not decent, she was talking to men" these are some of the things that Suzanne's family has heard over and over again. She ended up leaving her job to please her parents, husband, and surrounding community and "to preserve her reputation," she said.
Bara'a, 28, an alias adopted by a female media person in Idlib, faces a disparaging view by the surrounding community and her husband, who refuses her work and tries in various ways to push her to leave it.
Bara'a's husband believes that working in media is not suitable for women, as she will have to deal with men constantly, she told Enab Baladi.
Double the responsibility
"As a wife and mother, I have to take care of my children, husband, and my housework and prove myself at work at the same time, which creates double pressures and limits my ability to balance my professional life with my life at home." This is what Bara'a said about the great responsibilities she bears because of her husband's refusal of her job.
Bara'a has endured considerable pressure, especially during her pregnancy and after childbirth, as the institutions with which she works do not grant her maternity leave or sick leave, forcing her to work under various circumstances to obtain a full salary, according to her.
Although she faced poor health conditions during her pregnancy, Bara'a could not give up her job for fear that she would not get another chance in the presence of dozens of media professionals working in the region.
Bara'a, a mother of two children, one of whom is a baby as young as seven months old, has to wait for her husband to return from his teaching job to start her activity, thus placing her in constant trouble with her husband.
Unchecked violations
According to Reporters Without Borders' World Press Freedom Index, Syria ranked 171 out of 180 countries at the bottom of the 2022 World Press Freedom Index.
Media professionals in northwestern Syria face numerous forms of violations, being arrested and prevented from covering events either due to the position of the region's authorities on the media for which the journalist works or for security and other unclear reasons.
On 10 April, the SSG's General Media Directorate announced the termination of the old press card for media professionals and the introduction of the new one.
The directorate asked all holders of old press cards to quickly report to the Directorate of Press and Media Affairs and to hand over the old card to obtain the new press card.
However, media professionals and activists considered that this step was aimed at "restricting and monitoring their movement."
In a previous report entitled "Emergency state shackles media workers in northern Syria," Enab Baladi discussed with journalists and activists the reasons for not stopping the violations against media professionals in northwestern Syria and highlighted possible solutions to protect media workers and defend their professional rights.
---
Enab Baladi's correspondent in Idlib, Huda al-Kulaib, contributed to this report.
if you think the article contain wrong information or you have additional details Send Correction