Delivery service in Qamishli: New profession with safety problems, corporate exploitation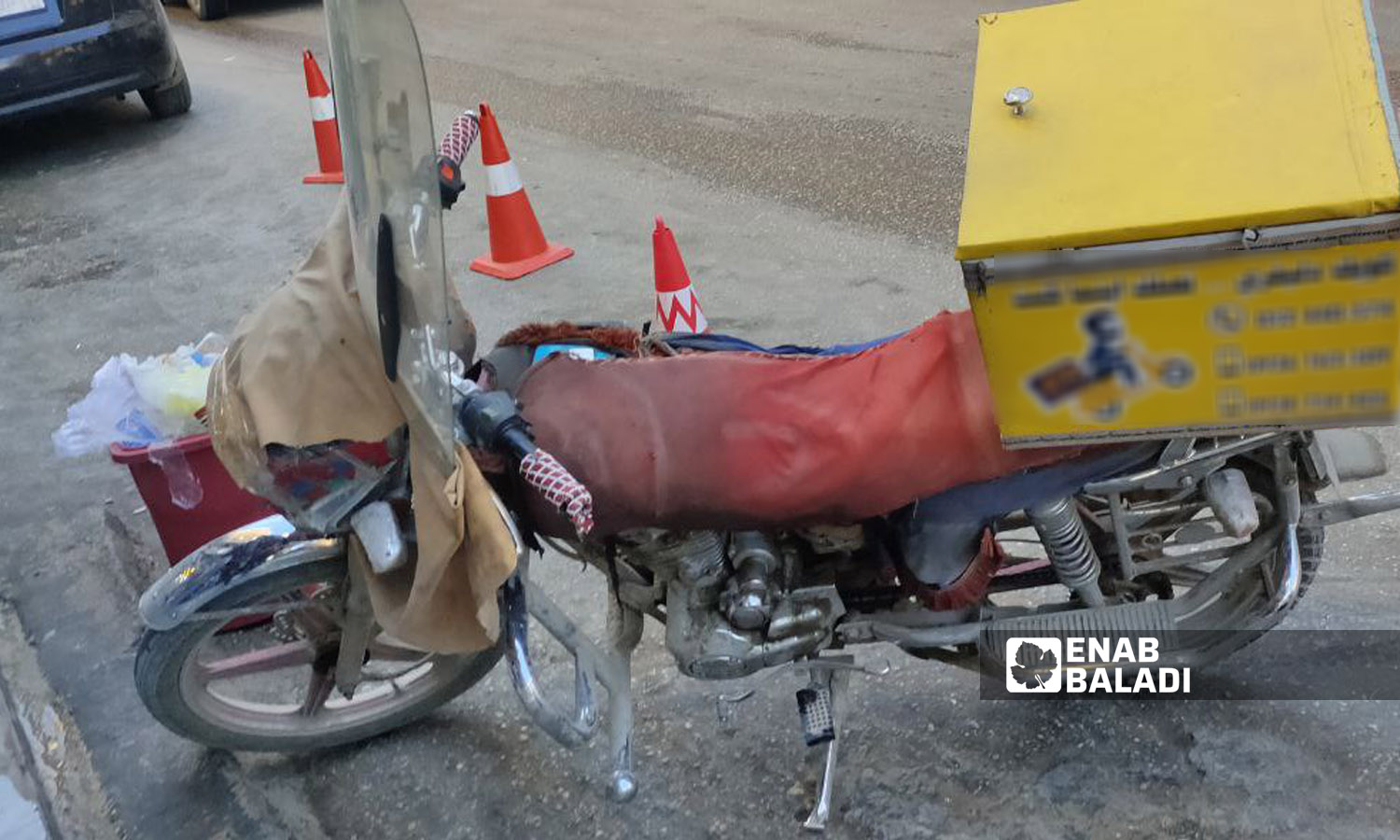 Al-Hasakah – Majd al-Salem
With higher transportation fares in al-Hasakah governorate in general, residents turned to delivery services to secure most of their needs to save effort and money in moving within the areas held by the Autonomous Administration of North and East Syria (AANES).
The delivery service is considered new in Qamishli, as the first company appeared about two years ago, followed by the opening of similar companies providing the same services in light of high demand.
The fare for delivery in Qamishli today is between 3000 and 4000 SYP. The same service used to cost just 300 SYP at the time of its launch in 2020.
Eight months ago, Abdul Razzaq Hussein (31 years old) started working in delivery services in the city of Qamishli. He starts at eight in the morning and continues to deliver home orders on his motorcycle until the evening.
The young man started this job after being a day laborer at a wholesale warehouse for foodstuffs for a period of time, for 9000 SYP a day. However, the long working hours (12 hours) prompted him to quit his job, according to what he told Enab Baladi.
Initially, the delivery work was good and fairly comfortable if compared with other occupations, as it does not require a high physical effort, according to what Abdul Razzaq had told Enab Baladi.
"Over time, things have changed as conditions have begun to worsen as prices have skyrocketed," he added. This rendered his daily fee of approximately 15,000 SYP insufficient to meet the needs of his family.
Apart from the needs of his family of four, the rent of the house they live in alone drains one-third of his income.
In recent months, the Syrian pound depreciated to 4500 SYP for 1 USD in mid-August. At the beginning of November, the Syrian pound recorded a new low, with 5200 SYP for 1 USD, according to the Syrian Pound Today website, which is specialized in monitoring the value of currencies.
Exploitation and uninsured work
With the launch of delivery companies in Qamishli, workers in hard professions saw it as an opportunity to change their work system to a more comfortable one with far more satisfying financial returns. However, the situation has changed with the widening popularity of this line of business, according to Ammar, a delivery worker.
Hussam al-Saeed (39), a resident of Qamishli who works for a delivery company, said that there are no laws that "do justice" to the company's employees, especially since workers in this sector are forced to work without insurance against the risks they face, as they often roam busy streets with cars on motorcycles or electric vehicles.
Al-Saeed added that the chances of being in traffic accidents for delivery workers are naturally high as they roam the streets most of the time.
A number of al-Saeed's colleagues at work were exposed to many accidents that resulted in injuries and fractures, according to him, while the company they work for did not even cover the medical fees resulting from such injuries.
He added that the "symbolic" compensation provided by the company to those injured in traffic accidents prompted most of them to give up work in delivery.
Al-Saeed considered that the risks to workers in this sector are not only the company's responsibility but also the laws of the region that do not impose protections for drivers, which increases any damage that may result from a traffic accident.
Most delivery workers do not wear helmets or delivery uniforms to protect their joints and other parts of their bodies.
At the same time, al-Saeed said that the companies' indifference to the safety of their personnel pushes drivers to buy raincoats or gloves at their own expense, as the companies do not provide them with any means of protection.
For his part, Mamdouh al-Hajj, a manager at the Quick Delivery Company in Qamishli, explained to Enab Baladi that no employee of the company had ever complained about poor salary or lack of personal protection since its opening three years ago.
Al-Hajj confirmed that the company gives its employees a percentage of the work profits and provides them with uniforms and protective gear, such as helmets.
Employees of the same company denied what the said manager at the company said, with al-Saeed telling Enab Baladi that the protective gear is not available to the extent that the company is trying to portray; even if it is available, it is only limited to helmets.
It is common knowledge that delivery workers need protection for parts of the body, such as joints, hands, and head, in addition to water-proof clothes during winter.
No fixed wages
Among the drivers working in delivery in the city of Qamishli, very few receive salaries or fixed wages, while most of them are day laborers.
Al-Saeed, for example, does not receive a fixed salary but rather works for a percentage agreed upon with the company for each delivery of an order. It is a system of wages that he considers "occasionally good"; if there are plenty of deliveries on a certain day, they can make up for the lack of deliveries on other days.
Al-Saeed considered that the work system in its current form becomes inadequate on the days of the closure of markets imposed by AANES during special occasions, such as holidays, marches, and demonstrations, as well as the previous coronavirus lockdown.
In this case, wages are low and insufficient to secure basic needs like food and medicine, according to al-Saeed.
Matters become extra difficult if the company asks the worker to secure a regular or an electric motorcycle, or even a bicycle, to use during a certain period of time. In that case, the delivery worker must cover the costs of fuel and breakdowns at their own expense.
On the other hand, if the delivery company decides to set a fixed monthly salary for its worker, this salary is often insufficient, as is the case with Abdul Razzaq, who works for the same company.
Abdul Razzaq told Enab Baladi that the workers keep demanding higher wages according to the two systems, meaning that there should be fixed salaries with a percentage of the delivery fee per order granted to the worker.
AANES increases the difficulties of the profession when it prevents riding motorcycles at very important times of work, such as holidays when residents are more dependent on delivery, and give workers rewarding financial "tips," according to Abdul Razzaq.
if you think the article contain wrong information or you have additional details Send Correction