Daraa residents plant in their small gardens to avoid sewage-irrigated vegetables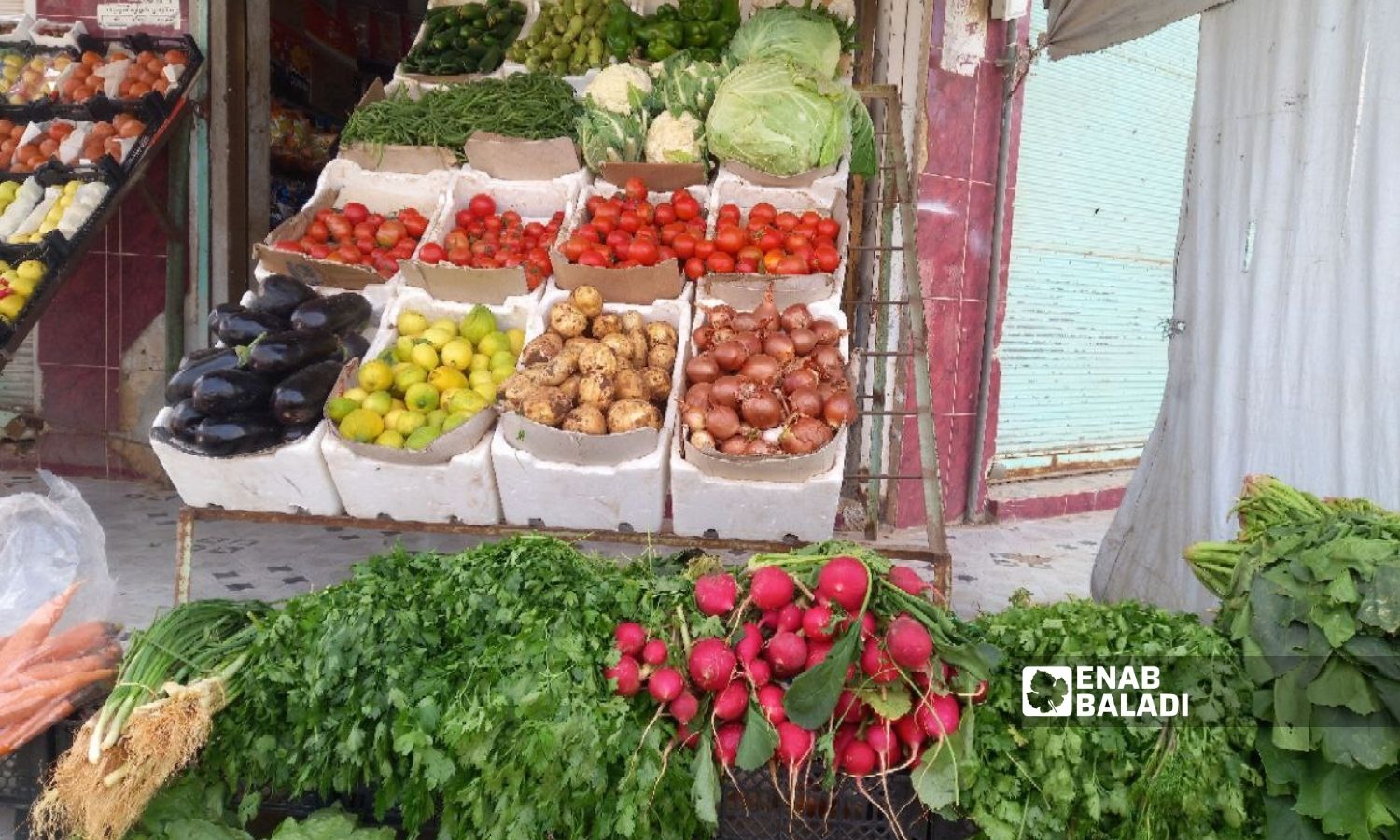 Daraa – Halim Muhammad
The people of the southern governorate of Daraa are wary of buying vegetables after the emergence of many cases of cholera outbreak.
Residents avoid leafy vegetables, such as lettuce and parsley, for fear that these vegetables will be exposed to watering with sewage water.
In order to secure their needs, the people resorted to planting leafy vegetables in the narrow lands that surround their houses, known in Arabic as Hakoura, in order to avoid cholera infection, in addition to saving the cost of purchasing leafy vegetables from the markets.
Searching for clean water
Ahmed, who asked not to publish his last name for security reasons, allocated an area of about 200 meters next to his house to plant leafy vegetables such as radish, spinach, lettuce, and parsley.
The man (in his forties) said that he fears a cholera transmission, which prompted him to sanitize and wash vegetables more than once when buying them from markets without his fears dispelling completely.
Growing these vegetables in the yard or "hakoura" (spreads more in the countryside) reduced Ahmed's concern over cholera infections, considering that the source of irrigation water is guaranteed.
At the same time, Ahmed explained to Enab Baladi that vegetables of this kind do not require a lot of water, as they are irrigated by rainwater.
Yasmine, a housewife residing in Daraa countryside, told Enab Baladi that she stopped buying leafy vegetables from the markets after the emergence of the cholera outbreak, and if she had to buy them, she would marinate them in a mix of salt, vinegar, and water for at least an hour, before using them.
Yasmine's fear that her family would be infected with cholera prompted her to grow cabbage, spinach, parsley, and other winter vegetables in the small garden surrounding her house.
While watering the vegetables he grows in his "hakoura," the retired employee Haj Mohammad, 65, pointed out the absence of the regime's responsibility in pursuing crops irrigated with sewage water, which prompted him to achieve self-sufficiency for the family in order to secure irrigated vegetables with known water resource.
Statistics of cholera cases in Daraa
The first case of cholera outbreak appeared in Daraa governorate on 20 September, while the regime's Ministry of Health documented five cases in its report issued on 23 November.
The number of confirmed cumulative infections in Syria has reached 1,493, in addition to 49 deaths, according to the ministry's report.
An agricultural engineer residing in Daraa and owning an agricultural pharmacy, who asked not to be named, told Enab Baladi that watering crops with sewage water poses a danger to human life and does not only cause the spread of cholera, as it can cause kidney failure, hepatitis and typhoid fever when this water is used to irrigate agricultural crops, especially leafy ones, as it also comes into contact with this water.
Sewage also has negative effects on the soil, as it causes an increase in its salinity, which exposes plants to stunting as the process progresses.
The agricultural engineer stressed the necessity of using fertilizers and not planting under the shade of trees for those wishing to grow their vegetables around their homes.
Sewage is a harbinger of danger
The Water Legislation Act of 2005 criminalizes watering with sewage water.
According to Article 35 of the law, whoever irrigates crops with stagnant water shall be punished with imprisonment from three months to one year and a fine of 25,000 to 50,000 Syrian pounds.
Some farmers resort to irrigating with sewage water and transporting it to the local markets due to the decrease in irrigation water and the increase in its cost, which warns of the possibility of transmitting the cholera infection to the people.
In a previous interview with Enab Baladi, Dr. Ziyad Mahameed said that watering crops with sewage water could constitute "hotbeds of infection," and therefore, the crops irrigated with this water must be monitored and destroyed directly.
Mahameed added that soaking vegetables, especially leafy ones, with sterile solutions or water and salt or vinegar, for at least half an hour is a good way to avoid infection or transmission.
Doctor Ziyad Mahameed works as director of the Daraa al-Balad polyclinic, and he diagnosed the first case of cholera in Daraa before the Health Directorate announced it.
Last May, the al-Sabeel neighborhood in the city of Daraa recorded hundreds of infections with hepatitis C after sewage lines were clogged, which caused them to leak into drinking water.
The prices of vegetables were affected by these changes. Last September, Jordan suspended the import of vegetables and fruits coming from Syria due to the outbreak of cholera.
In the same month, the directorate of health affairs in Damascus prevented restaurants from adding leafy vegetables to the sandwiches under penalty of closing the restaurant, which created a state of stagnation in the local markets and caused losses to some farmers and growers of winter vegetables.
if you think the article contain wrong information or you have additional details Send Correction