Used European carpets dominate Idlib markets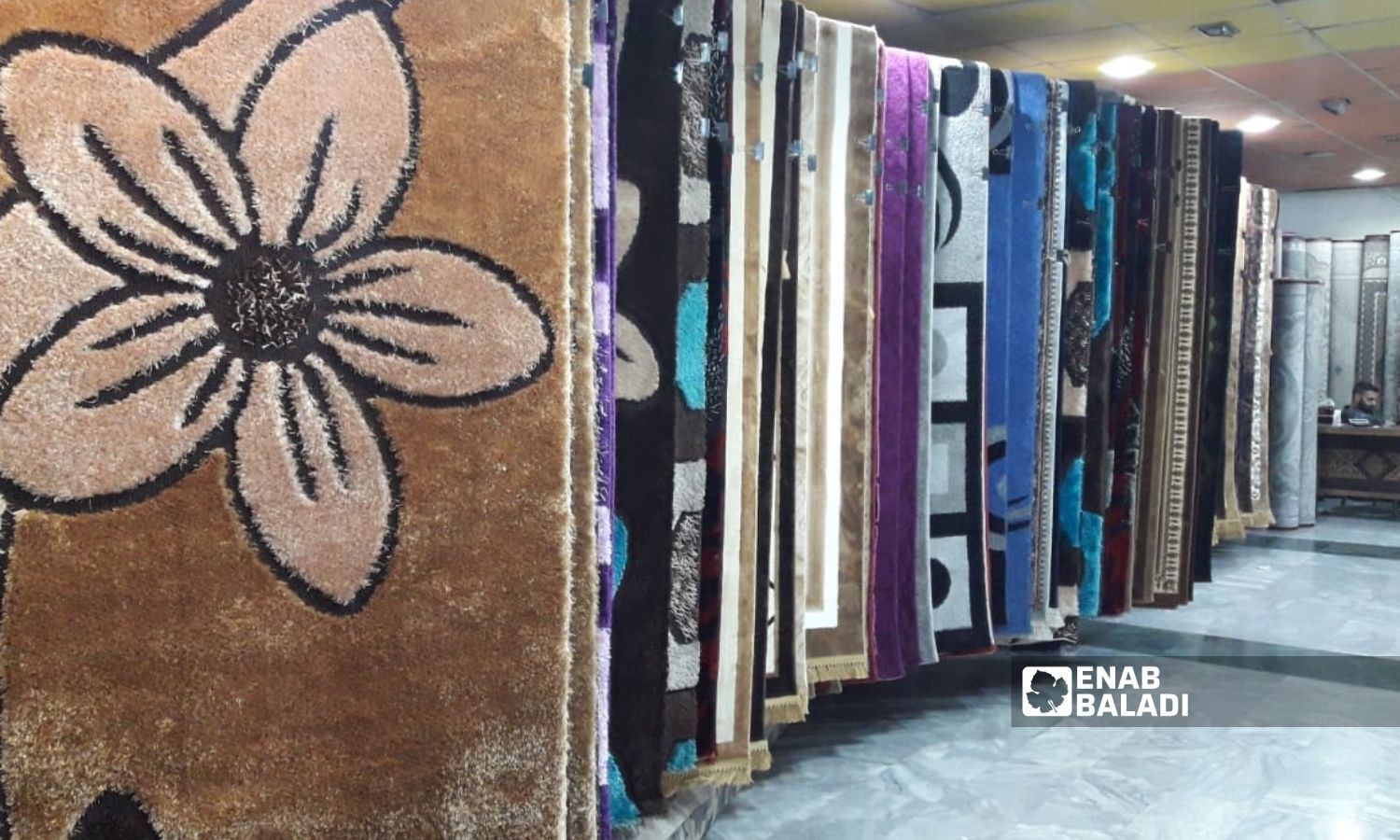 Enab Baladi – Anas al-Khouli
Abdullah al-Sheikh, 33, was able to buy a second-hand European carpet to protect his children from the cold winter in the northwestern city of Idlib at a price commensurate with his financial capabilities after he searched a lot for his demand.
He added to Enab Baladi that the new carpets available in the market are of poor quality and contain a large percentage of nylon, which does not protect against the cold, in addition to their high prices.
Al-Sheikh relies on acquiring second-hand goods for various household necessities, such as kitchen utensils, electrical appliances, clothes, and furniture, because he is unable to buy new ones.
Bilal al-Rafa', 40, based in Idlib, told Enab Baladi that he is following with interest the used goods displayed on social media in search of something cheap and suitable, especially carpets and used household furniture.
Idlib-based housewife Nahla Mustafa, 47, said the used European carpet offered in the market is better than the new one because of its good quality, low price, and high durability. It also contains a cold-resistant woolen material.
European carpet trade booms in Idlib
The trade in second-hand home furniture in general, and carpets in particular, flourished about two years ago for several reasons, including its appropriate prices or the quality of European used goods.
Mohammed al-Abdullah owns different types of new carpets in his shop in Idlib, he told Enab Baladi.
"I have Turkish and national goods, and of the second-hand carpets, there are German, Iranian, and old national woolen items," he added.
The demand today is for second-hand goods, which are in great demand, due to their high quality and low prices, according to al-Abdullah.
The price of a Turkish rug of the third type and of low quality reaches 100 USD, while used carpets of the second or first type range in price between 20 and 30 USD, which justifies the almost lack of demand for new carpets, says the seller.
Al-Abdullah believes that the best types of carpets are Syrian wool carpets, but the production of these types is currently "very scarce" due to the cessation of a large number of factories, the unavailability of wool, and the replacement of lower quality Jordanian wool with Syrian wool.
He added that these types are available in the markets, but they are often brought by people who want to sell their home furniture.
Regarding the increase in carpet prices this year compared to 2021, al-Abdullah attributed the reasons for this to the high exchange rate of the dollar against the Turkish lira and the high import costs.
The Turkish lira witnessed a deterioration in its value, where it fell to unprecedented levels during the past months, and the dollar exchange rate reached 18.6 Turkish liras.
Decreased demand for new carpets
The demand for new goods, including those manufactured locally, has deteriorated as a result of the increase in demand for used European goods, which threatens the national industry.
Carpet store owner Mohammad al-Aswad told Enab Baladi that two years ago, many customers in Idlib city used to buy a new carpet every year with the onset of winter, but today there is no sale.
The people cling to the carpets and rugs they have in their homes for several reasons, including that the old goods are better than those offered in the markets, the high prices, and the poor purchasing power, he added.
The price of 1 m2 of wool carpet reaches 40 USD if any, acrylic carpet costs 25 USD per m2, and the price per square meter for polyester carpet (velvet thread) ranges between 6 and 10 USD depending on its thickness.
Al-Aswad added that the high prices and harsh living conditions made citizens turn to used goods, which led to a halt in demand for new goods, stressing that this year's sales season is "very weak," and there is no demand for rugs, mats or carpets.
Carpet dealers in Idlib markets two years ago (before the second-hand European carpets entered the local market) were selling about 10,000 m2 of carpets at the beginning of the winter season.
"Today, sales do not exceed 1,000 m2, which is "a small demand that threatens the markets, the carpet industry and trade in the region," according to al-Aswad.
Idlib has no factories that manufacture carpets, which forced merchants to import Syrian-made carpets from the Syrian regime's areas to Lebanon, then Turkey, and then to the opposition-held Syrian north, which makes its cost higher as a result of transportation fees, in addition to the high prices of its manufacture.
if you think the article contain wrong information or you have additional details Send Correction