Syrian refugees in Turkey: "Forced return," "cruel" detention conditions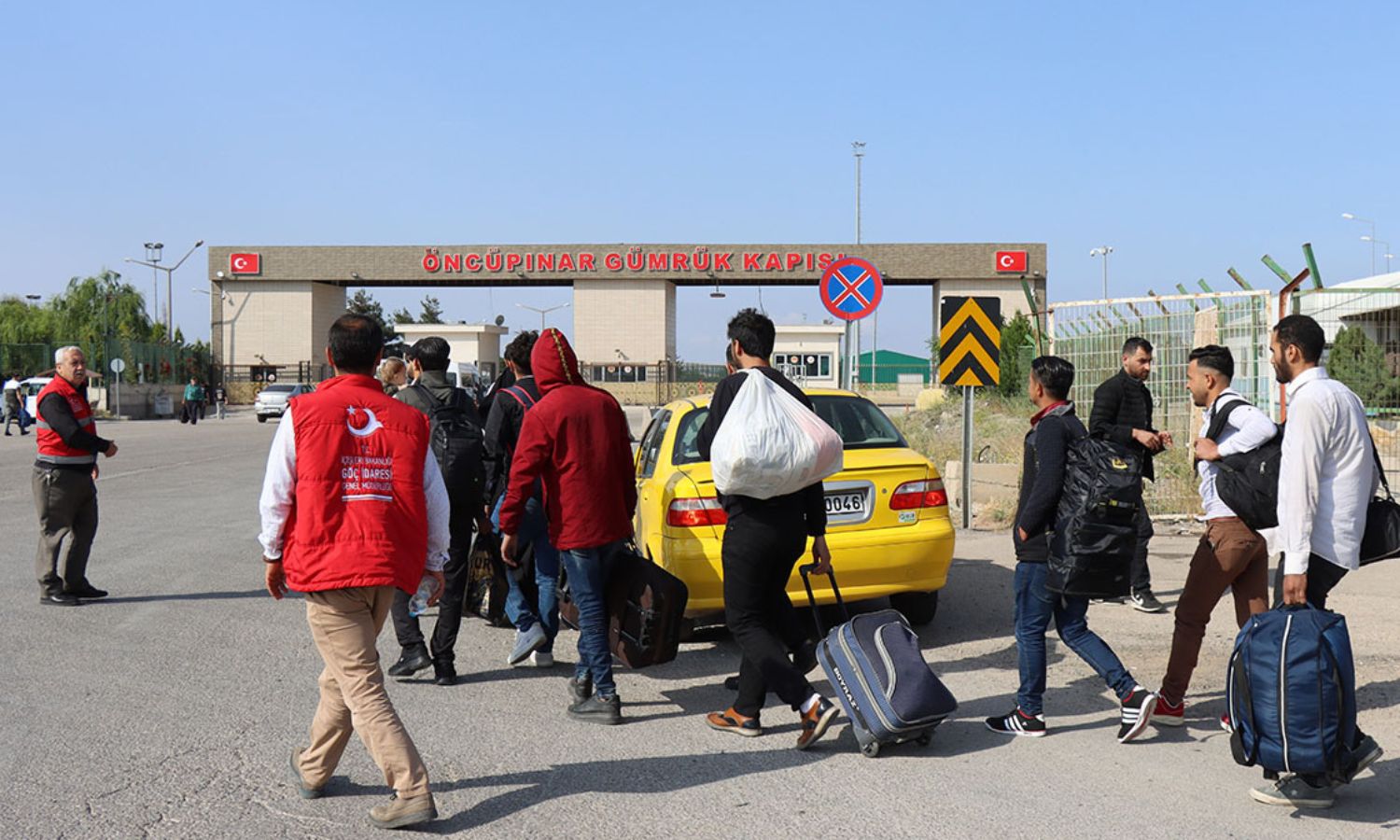 The 23-year-old Mohammad arrived in northern Syria through the Bab al-Salama border crossing after a week of poor detention conditions in Turkey and forcing him to sign the so-called "voluntary return" papers by Turkish authorities.
The young man, who was waiting to obtain a temporary protection card (Kimlik) after months of registration, was "deported" along with 150 other people in early November.
Although human rights organizations and advocates have documented cases of "forced return," the Turkish authorities still deny allegations of "forcible" deportation of Syrian refugees, despite their possession of identity papers or their submission to them.
Deportation, not "voluntary return"
Mohammad, pseudonym for security reasons, told Enab Baladi that the police detained him in a prison in Istanbul for four days, and then he was transferred to the Foreigners Detention Center in the Tuzla district on the Asian side of Istanbul.
He stayed in Tuzla for two days with a group of between 100 and 150 people, and during the two days, new people were also brought to the center.
Everyone was deported to another refugee center in the state of Adana, and the people stayed on the grounds of a playground or something like a garden inside the center for the next day, and they were compulsorily fingerprinted on "voluntary return" papers, according to Mohammad.
He added that the staff in the refugee center deluded and deceived the Syrian refugees by saying that they were not papers for deportation or return to Syria, but they were, and they were transferred to the Bab al-Salama crossing, and they entered the Syrian territories on 1 November.
Mohammad indicated that there are individuals among the deportees who have identification papers and married people, some of whose families remained in Turkey.
Families of women and children were also deported in different buses, separate from the buses that transported the young men, and their phones were confiscated and handed over to them at the Bab al-Salama crossing, according to the young man.
The number of returnees from Turkey to Syria during last October reached 2,301 people through the Bab al-Salama border crossing; without specifying whether this was a "voluntary return" or deportation or they were arrested while crossing the border in irregular ways, the media office of the crossing told Enab Baladi.
According to the Syrians for Truth and Justice (STJ) organization, the crossings under Turkish influence, such as the Bab al-Salama crossing, refrain from mentioning the terms "deportation" or "forced return" and include the deportees under the category of "voluntary returnees," despite the fact that the Turkish authorities took these people away and handed them over to the crossing authorities.
"Cruel" detention conditions, "unknown" fate
Mohammad, who entered Turkey eight months ago, said that the treatment in detention centers was bad, as they were subjected to humiliation and insults, and sometimes people were beaten just because their voice was loud or if someone lit a cigarette in the stadium where they were placed.
He added that the center workers put handcuffs on the hands of young men on the bus by handcuffing each person's hand with the hand of the person next to him to avoid any attempt to escape.
Mohammad described the conditions of detention in the Tuzla and Adana centers as chaotic.
"The place is narrow compared to the number of people, and sleeping is not available except in the playground, and phones are confiscated, and food is confined to a small "stall" that sells some food and biscuits."
Omar, 24, another deportee, told Enab Baladi that after an unknown fate for a week during a "random journey" between two prisons and a deportation center, he arrived at the Bab al-Salama crossing inside Turkish territory, last April.
Enab Baladi met Omar (pseudonym for security reasons), who was working in an Istanbul restaurant and came to Turkey two years ago.
He said that he was held in two prisons within four days, which were two transportation stations until he arrived at the refugee deportation center in Tuzla without being allowed to use the phone during this period.
Omar mentioned that the worst conditions were in the Tuzla center, as the place was crowded with detainees, the amount of food was small, and it was limited to "a sandwich and small amount of juice," and the place was not clean.
The young man, who obtained a kimlik card from Niğde state, was transferred to the Bab al-Salama crossing with about 100 people.
They were left with two options, either to return to Syria, to the state from which they extracted the Kimlik, or to a state that grants the temporary protection card for those who do not have it, Omar told Enab Baladi.
Enab Baladi previously spoke by phone to a group of Syrians who were transferred last June to the Kilis camp. They also shed light on the poor conditions of detention, as the camp does not have water for only an hour or two, and the "caravans" are not clean after they were transferred until assessing their asylum files by Turkish authorities.
The number of Syrians holding the temporary protection card (Kimlik) has decreased in four months by about 105,778 people.

In May, the number of Syrian refugees reached 3,761,267 Syrian refugees, accompanying Turkish President Recep Tayyip Erdogan's statement that his country's project is to return one million refugees.
Violations, Turkey is not safe
Human Rights Watch (HRW) reported on 24 October that Turkish authorities arbitrarily arrested, detained, and deported hundreds of Syrian refugee men and boys to Syria between February and July 2022.
"Deported Syrians said that Turkish officials arrested them in their homes, workplaces, and on the street, detained them in poor conditions, beat and abused most of them, forced them to sign voluntary return forms, drove them to border crossing points with northern Syria, and forced them across at gunpoint," according to the HRW.
"In violation of international law, Turkish authorities have rounded up hundreds of Syrian refugees, even unaccompanied children, and forced them back to northern Syria," said Nadia Hardman, refugee and migrant rights researcher at Human Rights Watch. "Although Turkey provided temporary protection to 3.6 million Syrian refugees, it now looks like Turkey is trying to make northern Syria a refugee dumping ground."
Hardman added that the classification of Turkey as a "safe third country" is inconsistent with the volume of deportations of Syrian refugees to northern Syria and that member states "should not adopt this classification, and they should focus on relocating asylum seekers by increasing the numbers of resettlement."
For his part, Savaş Ünlü, head of the General Directorate of Immigration Management, in a letter addressed to the HRW, rejected the organization's findings, describing the allegations as baseless, and said that his country "manages migration in line with domestic and international law."
The Turkish Immigration Presidency confirmed on 27 October that Syria is currently considered one of the countries to which the "principle of non-refoulement" applies, noting that the Syrians who returned to it did so "voluntarily," according to the Turkish TRT channel.
Turkey is a country obligated by treaty and customary international law to respect the "principle of non-refoulement," which prohibits the return of anyone to a place where they would face a real risk of persecution, torture, or a threat to life.
Turkey has already "forcibly" deported Syrian refugees despite their possession of identity papers.
However, Turkey returned a large part of refugees during different periods of time after the spread of video recordings of the deported refugees proving that they had official papers.
The latest statistics issued by the General Presidency of Turkish Immigration on 10 November documented the presence of 3,595,134 Syrian refugees out of 3,655,489 people last September.
---
​​Enab Baladi's correspondent in Aleppo countryside, Dayan Junpaz, contributed to this report.
if you think the article contain wrong information or you have additional details Send Correction