Fuel raises costs of plowing, sowing in al-Hasakah, farmers complain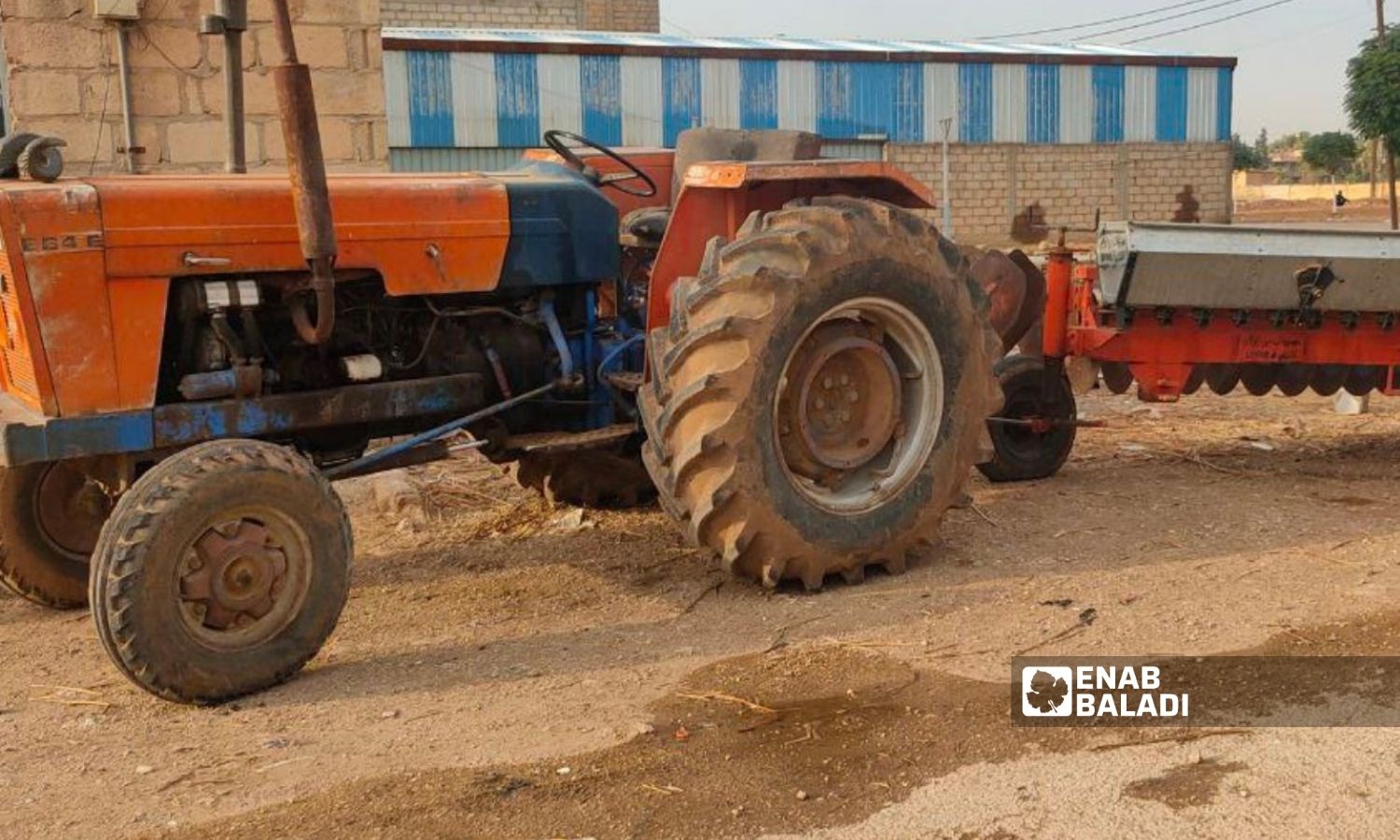 Al-Hasakah – Majd al-Salem
The 55-year-old Rashid al-Saleh is striving hard to provide his agricultural machinery with diesel to ensure that it does not stop working suddenly during the current planting season in the southern countryside of Qamishli.
Al-Saleh does not own agricultural land with a sufficient area to provide an income for his family, but he has a tractor with a plow, seeder and thrower, and other tools that help in cultivating and leveling the agricultural land for a fee that "changes every year," he told Enab Baladi.
The farmer explained that all these tools are useless if he does not provide the fuel needed for the tractor, considering that the increase in diesel prices, and the reduction in allocations by the Autonomous Administration of North and East Syria (AANES), made it difficult to "achieve this," which will force him to buy quantities of diesel from the black market at high prices, up to 1500 Syrian pounds per liter.
The purchase of diesel at high prices will push the farmer, Rashid, to increase the wages for cultivating one dunum (about 900 m2), and this will increase the material burdens on the farmers.
In addition to the increase in the prices of motor oils, maintenance fees, and spare parts, all of which are calculated in dollars in light of the continuous deterioration of the value of the Syrian pound, he added.
Expensive plowing, conditional sowing
In light of the high rates of drought in northeastern Syria, the farmers of al-Hasakah governorate are facing many challenges in preparing for the current agricultural season, especially the owners of rain-fed crops, who have been subjected to heavy losses and debts that have depleted their "savings of grain and money" allocated to agriculture. 
Work in the agricultural sector became costly due to the increase in the prices of agricultural materials and the doubling of wages for cultivation, land leveling, and sowing.
Ibrahim al-Hamid, 40, owns 12 hectares in the southern countryside of Qahtaniyah and intends to plant it with wheat.
The wages of cultivating one dunum during the past year amounted to about 2500 Syrian pounds (a hectare costs about 25,000 Syrian pounds).
This year the owners of the tractors asked for 5000 Syrian pounds in exchange for cultivating one dunum, which means that cultivating his land only will cost about 600,000 pounds, explaining that he is still looking for a lower price.
Al-Hamid added to Enab Baladi that he would not be able to cultivate his land if he did not obtain support from the AANES by obtaining a contract with the General Organization for Seed Multiplication, which provides seeds as "debt" at a price of 2,300,000 pounds per ton.
This means that he needs 9 million Syrian pounds to buy seeds only, in addition to fertilizers, the price of which per ton has reached about 650 Us dollars, according to al-Hamid.
According to what Enab Baladi has learned from several farmers, the AANES' Seed Multiplication Organization sets "hard" conditions for accepting contracts with farmers and providing them with seeds "in debt" at a subsidized price of 2,300 Syrian pounds per kilogram, with 200 kilograms of fertilizer per hectare.
Contracts are granted to farmers who have agricultural wells "exclusively," with guarantee bonds and guarantors from contractors and a prior cultivation license from the AANES' Agriculture Directorate. It is difficult for farmers who depend on rainwater for irrigating their crops (rainfed agriculture) to obtain contracts from the Seed Multiplication Organization.
What made the situation more difficult was the Agriculture and Irrigation Authority preventing farmers from digging shallow and deep agricultural wells in AANES' areas of control, as of 1 November, under the threat of "legal accountability and the seizure of the excavator" under the pretext of "preserving the underground water reserves."
According to websites affiliated to the AANES, the Seed Organization indicated that it plans to approve 5,000 contracts for seed multiplication in its areas of control, with an area of ​​400,000 dunums (40,000 hectares).
Since last year, the AANES' Economics and Agriculture Commission has adopted a specific mechanism for distributing diesel to farmers in relation to the depth of the licensed well and granting the specified quantities in batches.
The commission allocated 20 liters of diesel per dunum to wells up to a depth of 50 meters, 25 liters of diesel per dunum for wells (51 to 100-meter depth), and 35 liters to wells (101-meter depth and above).
But every year, the farmers' suffering is repeated due to the delay in distributing the fuel batches and not completing them as agreed upon. As a result, some financially able farmers resorted to operating their wells using solar energy, which is an expensive solution, as the well needs an average of 10,000 US dollars to be ready for use.
if you think the article contain wrong information or you have additional details Send Correction