Exodus from regime-controlled areas as living hardships mount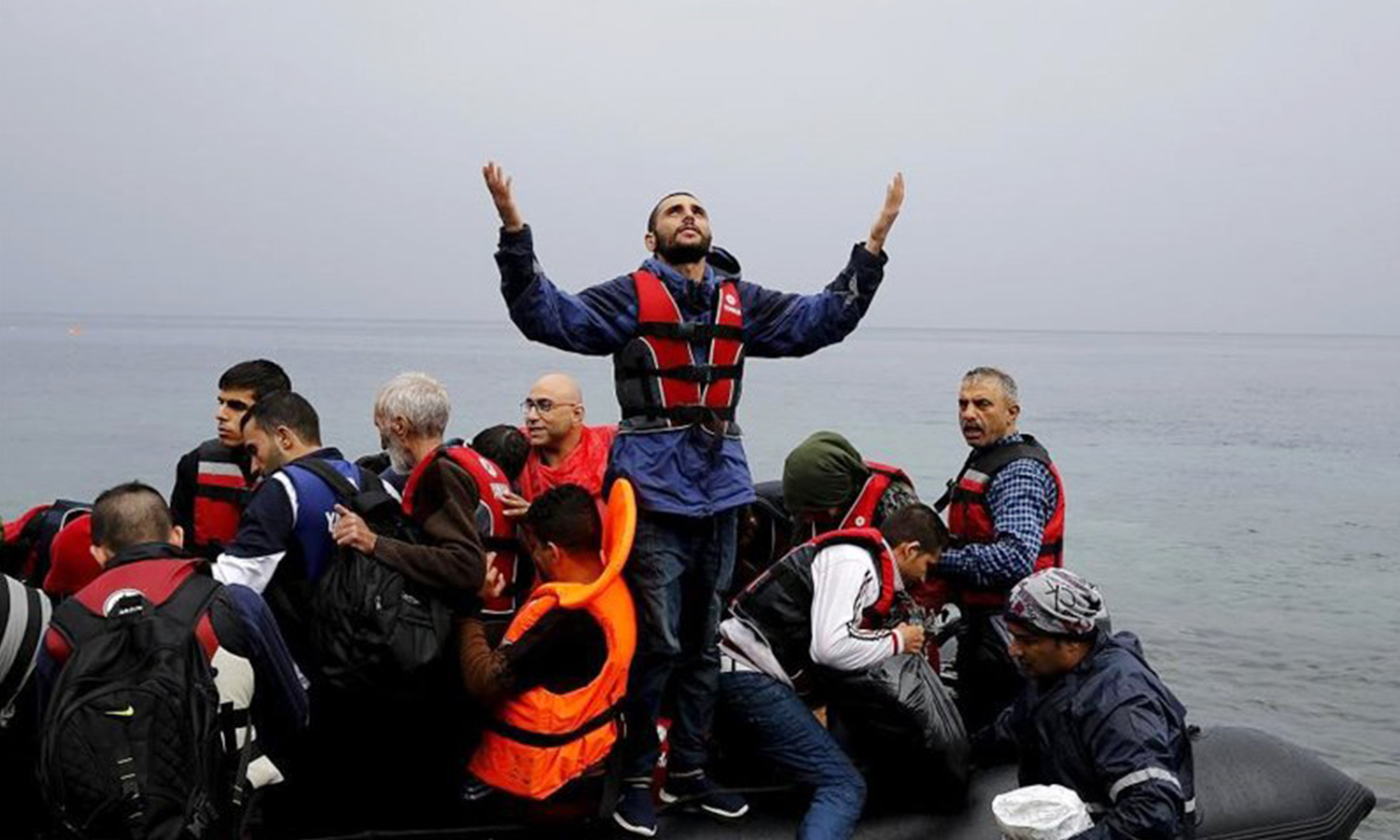 Enab Baladi – Ghossoun Abou Dahab
The absence of a forthcoming political breakthrough in Syria, the collapse of the services sector, the poor security and economic conditions, and high unemployment and poverty rates are all causes that cast a shadow over the living conditions of the population in regime-held areas, given the loss of hope that the situation will improve. Syrians' choices have diminished, and a large proportion of them have opted for migration.
Issued on 9 August 2021, a report titled "Normalization of Horror: Security and Living Conditions in Assad-held Syria" said that 68% of the population in areas controlled by the regime's forces, and 48% of the population in the areas that were originally regime-controlled, were considering migration.
The growing desire to migrate from regime-held areas coincides with new waves of Syrian refugees, despite the danger that caused dozens of them to drown at sea or get lost in the unknown forests.
Official statements by transit and asylum countries reflect the unwelcome reception of more refugees and the increasing complexity of accepting their applications and taking action to deport them in some countries, such as Britain and Denmark. This raises questions about Syrians' motives for migration after military operations in the Syrian regime's areas of control diminished.
Migration and the economic crisis
Syria's economic crisis is linked to several factors, including unemployment, weak wages, the deteriorating Syrian pound, and people's weak purchasing power due to unprecedented price rises, causing citizens to fail to secure their most basic daily needs compared to previous years.
According to the Qasioun Cost of Living Index, the average cost of living for a Syrian family of five in the middle of this year exceeded the 3 million Syrian pound barrier (minimum 1,881,858 Syrian pounds), reflecting the magnitude of the huge gap separating the country's minimum wage (not more than 92,970 Syrian pounds) from the average cost of living that is constantly rising.
Hanadi (a pseudonym) told Enab Baladi, "I live with my family in the city of Damascus. For years, our financial conditions were good. After the deterioration of my father's and siblings' work in the furniture and clothing sector, my family is seeking migration. Our house has become overcrowded after my three brothers had to move into the family home with their wives and children because they were unable to afford the rent. Matters kept getting worse until we could no longer afford our basic needs such as food, bills, and medicine".
The difficult conditions experienced by Syrians reflect the inability of government plans to extricate the country from the stifling economic crisis, especially with the lifting of government subsidies on food and fuel. This support represents more than half of the total expenditure line in the 2021-2022 budget.
World Food Program (WFP) data released last March show that 52% of Syrian households surveyed by the organization reported poor or limited food consumption in February, which is double the early 2019 figure. The United Nations High Commissioner for Refugees (UNHCR) confirmed in 2021 that three-quarters of families in Syria could not meet their basic needs, an increase of 10% over the previous year.
An important indicator of the economic crisis was the decline in per capita income compared to previous years. According to the regime's Central Bureau of Statistics (CBS), the average income of a Syrian citizen was 200 USD in 2010, 70 USD in 2017, and 30 USD in 2021. The purchasing power of the Syrian family fell by 82% until 2018.
According to lawyer Ghazwan Kronfol, migration from areas held by the Syrian regime is not limited to Syrians with limited incomes who wish to leave the country due to poor economic conditions, scarce services at their minimum levels, scarce employment opportunities, and inability to meet the minimum requirements of human living. Rather, businessmen, industrialists, and employers have participated largely in such migration; their business has fallen into idleness and stagnation for various reasons, including international sanctions that impede the movement of production, import and export, and the national currency's depreciation, as well as generally poor economic conditions. The reasons for that also include laws, decisions, and instructions relating to the possession and circulation of foreign exchange and "heavy" penalties. For example, Legislative Decree No. 3 of 2020, which raised the penalty limit for the offense of dealing in a non-national currency as a means of payment from three years to temporary hard labor for seven years, as well as confiscating payments or sums transacted for the benefit of the Central Bank.
An example of government measures, according to Kronfol, is the Syrian Central Bank's decision issued on 19 September to price the US dollar at 3015 Syrian pounds, while its real price in the market exceeds 4500 pounds, and the price of remittances dollars at 3000 pounds. This decision forces the recipients of remittances to lose one-third of the value of the remittance amount sent to them due to the difference in the official price from the real price traded in the markets. These are all factors that drive owners of businesses and economic activities to liquidate their businesses, which are threatened at any moment by a decision to seize them or confiscate them under various justifications and leave the country for safe investment destinations.
Poor services and insecurity
Ahmed (withheld his real name for security reasons), a resident of the city of Homs, tried to cope with the poor living conditions and the state-provided services. He told Enab Baladi, "My family and I are tired of power and water outages, as the hours of rationing in Homs vary from one neighborhood to another. Overall, however, the situation is unbearable. Everyone is experiencing daily suffering and looking for alternatives that cost us substantially, such as solar energy equipment and generators".
"Not to mention the difficulty of securing bread, fuel, diesel, and gas, and the difficulty of moving from one place to another due to the lack of transportation and its permanently high prices, to a point where it doubled," Ahmed added.
Ahmed continued, "We have lost hope of living a decent life in this country. I am therefore looking for any opportunity to migrate so that I can secure my future and that of my children, for whom I have become afraid of infection or illness under the migration of more than half of the doctors from the city", and this has repercussions on the poor medical services that are already deteriorating.
A study published in November 2021 by Voices for Displaced Syrian Forum (VDSF) states that 69% of the population residing in the areas of the regime did not have proper and regular electricity or heating throughout 2021, while 54% said they did not have regular and adequate access to sanitary drinking water, and 29% said they did not have regular access to health services. Another 13% said they do not have regular access to education.
Ahmed is afraid for his three children, and a feeling of insecurity overwhelms him. Therefore, he is keen to accompany his children to school every day, pointing to "the frequent incidents of kidnapping and ransom demand, the spread of human trafficking gangs and the sale of organs, and the increase in incidents of theft, mugging, and murder." Ahmed attributed this to the state of security chaos, "the large number of junkies and drug users, and the inability of the competent authorities to take appropriate legal measures" because most of these gangs are "affiliated with the regime and its militias," according to Ahmed.
Further to the above, Ahmed is concerned that he may be called to the Reserve Service for a second time. He suffered "greatly" in military service, according to him, and even thought repeatedly of fleeing, but was stopped by his fear of the consequences for his family. He mentioned that his younger brother is wanted for military service, and he lives confined to the neighborhood in which he lives for fear of being caught at the regime's checkpoints or arrested by the patrols.
On this point, lawyer Kronfol said that one of the most important reasons for young people and students to migrate is the Military service Law No. 30 of 2007, which obliges Syrian youths to spend years of their lives in that service, part of which is compulsory and part of it is related to reserve service. Their peers spent many years on the battle lines against the Syrian people; some of them died, some of them were permanently disabled, and some of them spent an entire decade serving.
The difficult conditions experienced by Syrian citizens in regime-held areas forced them to make the decision to migrate, which is closer to the concept of forced displacement than to voluntary migration, especially that the possibility of choosing the destination and method (regularly or through smuggling) is subject to many factors, including visa, financial cost, and smuggling methods.
A study by the Harmoon Center for Contemporary Studies entitled "Migration From Regime-Controlled Areas After 2019: Motives – Destinations – Effects" showed that Egypt, the Emirates, and Iraq are the most prominent migration destinations in the last period, in addition to the north of Syria and areas controlled by the Syrian Democratic Forces (SDF). The status of migrants varied in each region, where industrialists, traders, and some of those wishing to pursue education went to Egypt, new graduates went to Iraq, and those with money or crafts went to the UAE. Those who did not have great financial resources from all groups went to northern Syria. But most of them wanted to continue to Europe.
Despite the regime's attempt to change part of its strategy, namely Bashar al-Assad issuing Legislative Decree No. 7 of 2022 last April granting a general amnesty for "terrorist crimes" committed by Syrians before 30 of the same month in an effort to reassure the return of refugees and talk about reconstruction within its policies, the government's inability to improve the level of services and devise economical solutions that improve life in the near future has led to a sustained increase in the number of those who want to migrate in search of a better future and life.
if you think the article contain wrong information or you have additional details Send Correction