Daraa: Local factions detain seven wives of IS fighters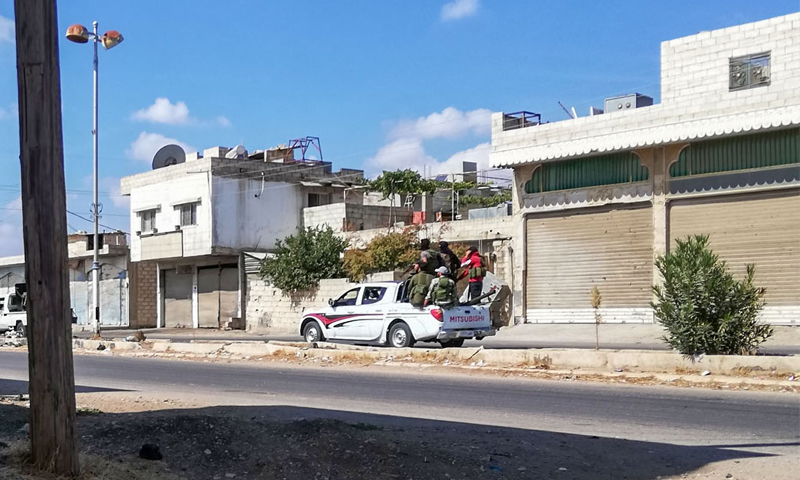 The issue of returning the wives and families of the killed Islamic State (IS) fighters to their areas surfaced following a security campaign carried out by local factions in the city of Jasim in the southern province of Daraa during the past five days.
A senior commander in the local factions in Jasim told Enab Baladi that the city's notables and dignitaries suggested handing over the wives each to their area and their families but that their identity cards were mostly forged, including stolen identities, and others of arrested or deceased women.
The leader denied any intention to hand over the women to the regime's Military Security Branch, asking the notables of each region to identify the women and hand them over from the city of Jasim, stressing that none of the notables of the regions have yet responded to these calls.
For the fifth day in a row, local factions continue to raid pockets where IS members are fortified, according to the leader, whose name he withheld for security reasons.
As for the personal identity information of the women of IS fighters (seen by Enab Baladi), one of the women was holding an identity card whose birth date was registered in 1935, while her age was not more than 30 years, in addition to others who had personal identification cards of the birth date of 2005, 1992, and 1972.
The number of women detained in Jasim city reached seven (until the moment of editing this report), according to one of the city's notables.
This number is still likely to rise as the military campaign is undergoing in the city, according to the senior commander of the local factions in Jasim.
Local news accounts posted photos of personal cards, which they said were in the possession of IS sleeper cells, including military IDs, which were found during the security campaign.
On 17 October, IS's administrative official in southern Syria, known as Abu Abdul Rahman al-Iraqi, was killed along with other IS fighters after blowing up a house they were taking as a shelter in Jasim city.
On the same day, the local Daraa 24 Network published a video of local fighters in Jasim, in which they announced the killing of Abu Abdul Rahman al-Iraqi, one of the most prominent IS commanders in the southern region.
Last July, the head of the Military Security Branch in Daraa, Louay al-Ali, called on the notables of Jasim city to fight the IS cells in order to spare the city a major security campaign.
However, local commanders previously told Enab Baladi that they had rejected al-Ali's demand, considering it a "pretext" for the regime with the aim of storming the city.
if you think the article contain wrong information or you have additional details Send Correction