Al-Hasakah women into labor market through E-marketing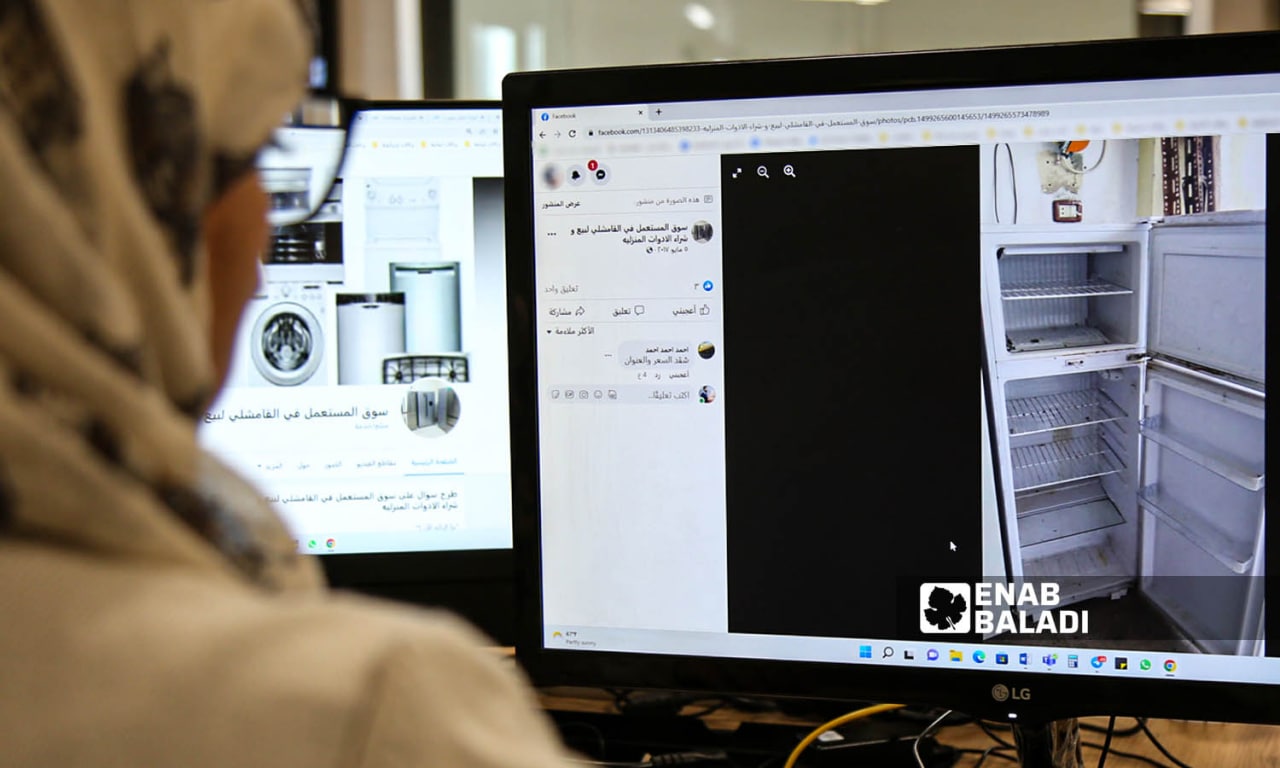 Enab Baladi – Majd al-Salem
Although she has not completed her 17th year, the high student Rojeen Mohammad was able to achieve a monthly income equivalent to about twice the salary of a government employee through her work in digital marketing.
Mohammad told Enab Baladi that she feels proud of being able to help her family who lives in the village of Ma'badah in the northeastern al-Hasakah governorate in securing the piling house expenses, all while sitting in her house and using her smartphone only.
About a year ago, the young woman created a Facebook page allocated to marketing and selling various types of accessories, watches, materials, and women's cosmetics, in cooperation with a wholesale center in Qamishli city, in return for a "fixed salary and a certain percentage of sales."
The girl describes her work as comfortable and does not require leaving the house like other traditional jobs. Rather, she does all the work the house needs to help her mother and the rest of her brothers without affecting her work in digital marketing.
Her work depends mainly on attracting social media followers and some skills in how to formulate promotional materials and how to take pictures of products with the help of the owner of the goods himself.
Like all professions, this work includes some problems related to "not serious" customers who want to spend time "chatting." In addition, some center owners require a certain value of sales in order to give the employee his sales percentage, which varies from one store to another.
The most popular goods through digital marketing are related to cosmetics, tools, and accessories of mobile phones, and some light clothing, youth watches, and women's bags, Mohammad told Enab Baladi.
According to several women interviewed by Enab Baladi, the digital marketing type of work is gaining popularity and increasing popularity among women in al-Hasakah, for several reasons, most notably the achievement of income from home without the need to go out to the labor market and the exposure to daily difficulties such as expensive transportation fees.
It also does not affect their duties towards the family, especially married women, as they find in it a kind of self-realization and economic independence, in addition to the enjoyment of using smartphones, the flexibility of work, and building new relationships, and it does not require specific certificates or a specific age such as employment in the traditional way.
Digital marketplace for used tools
Najah, 38, of Qamishli city (she has reserved her name for special social reasons), told Enab Baladi that she earns a monthly income of between 300,000 and 500,000 Syrian pounds (around 100 US dollars), but she does not use Facebook in her work, as she sees it as "complicated," and depends entirely on the WhatsApp messenger application in marketing the goods, which are "used household items."
Najah has about a thousand contacts on her smartphone, and through WhatsApp, she adds daily dozens of photos of used household items such as refrigerators, washing machines, brooms, various types of utensils, even furniture, and other things that their owners want to sell.
The woman added to Enab Baladi that about 95% of her clients are women and that their number is constantly increasing, and she did not expect her business to develop in such a "good" way after it had started by chance when her husband asked her to sell a used washing machine to them, then she put it on WhatsApp, as a status feature, and sold it through her friends within hours, so her husband started to bring pictures of used tools that their owners wanted to sell, while she took over the sale.
Najah considered that the wave of emigration and travel among the residents of the area brought her an income several times more than her husband, who works as a day laborer.
Selling prices are low "because of the speed of travel," and this increases sales and thus increases the percentage that she takes from both parties, the seller and the buyer (1% of the price), which enables her to lessen the burden of life hardships by helping her husband in paying the house rent and the expenses of her four-member family.
Enab Baladi monitored dozens of social media pages bearing the name of different towns in al-Hasakah governorate, which are specialized in selling and marketing various types of commercial goods and services, often supervised by women, while the pages run by men are limited to promoting their own work.
if you think the article contain wrong information or you have additional details Send Correction