Syrian regime imposes electronic financial systems despite dilapidated infrastructure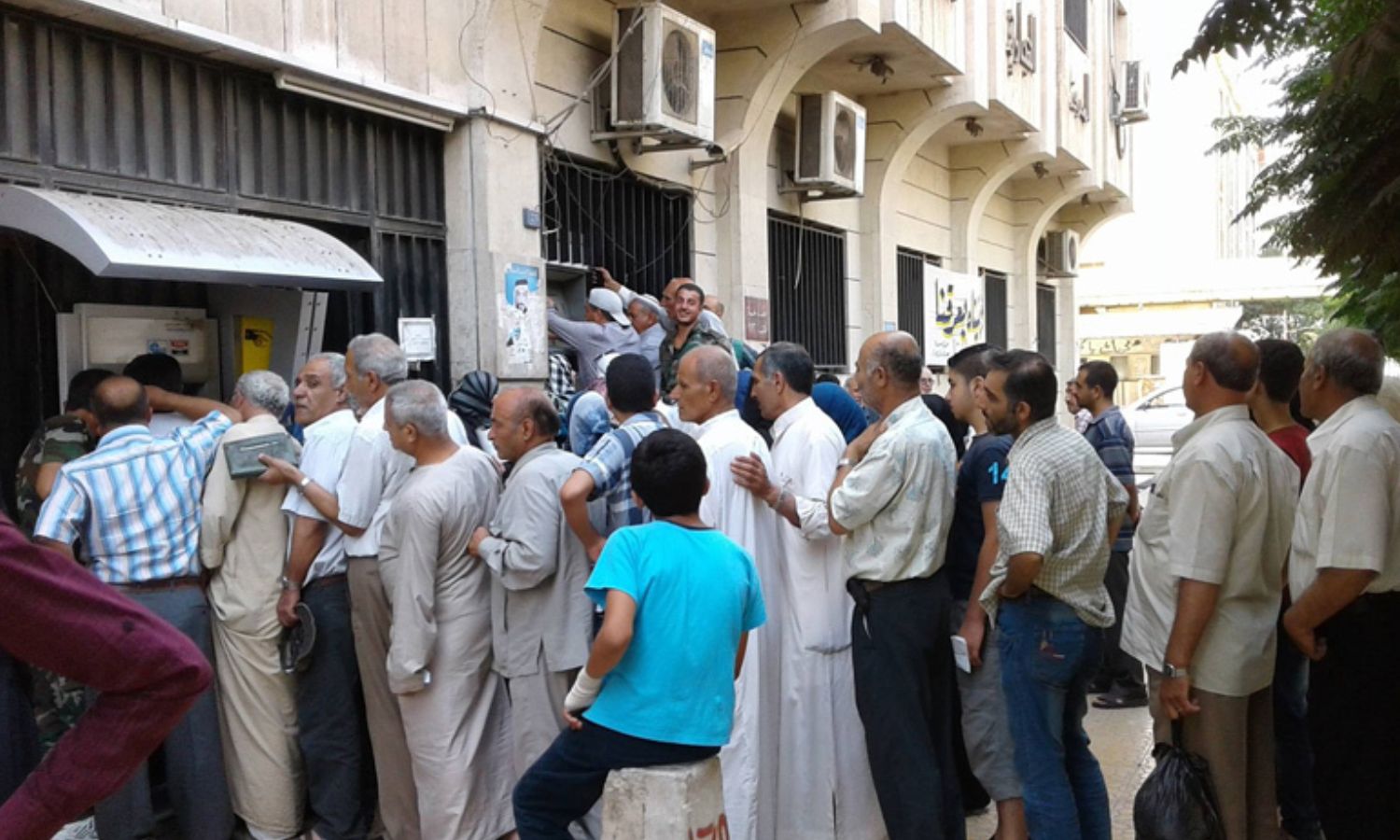 Enab Baladi – Lujain Mourad
During the past months, there was a regime tendency to impose electronic banking transactions by linking many financial transactions to bank accounts or through a "Cash" account linked to the two telecommunications companies, Syriatel and MTN Syria.
In its most recent decision on bank accounts, the Syrian Ministry of Transport imposed on all those seeking its services and those of its affiliated departments the existence of a bank account, as published on its official website on 15 September.
The ministry justified its decision by limiting the presence of "brokers" who demand sums of money in return for conducting citizens' transactions in the ministry.
Syrian regime's motives
Regime-held areas are experiencing a deteriorating economic reality with a significant shortage of basic services, down to the deteriorated and insufficient automated teller machines (ATMs). This contradicts government institutions' claims that said decisions are linked to "development."
This is what it shows
Ayman al-Dassouky, a researcher in political economy and local administration at the Omran Center for Strategic Studies, said that one of the regime's motives for turning to electronic transactions is its desire to reduce the material cost of printing and the use of paper, pointing to the existence of government instructions that institutions should reduce their purchases of paper.
Via an electronic conversation, the researcher told Enab Baladi that the regime seeks to provide electronic payment companies and banks with the opportunity to collect more profit through electronic transactions.
According to al-Dassouky, one of the most prominent motives of the regime is its endeavor to reduce the mass of Syrian pound cash circulating in the market and transfer it to electronic channels.
In turn, Pr. of finance and banking sciences, Firas Shaabo, attributed the institutions' decisions to the regime's quest to ease currency circulation and reduce the size of the market's monetary mass as it seeks to maintain it within banks.
As stated by the researcher, bank transactions also provide speed of performance and savings on transaction costs in the event that there is an infrastructure that serves it.
Lack of software infrastructure
At a time when the regime's government justifies its approach to electronic financial transactions by "facilitating citizens' transactions," Syrians within regime-controlled areas are objecting to this kind of decisions as they impede their transactions.
The regime ignores these objections in light of the absence of software infrastructure, according to researcher Ayman al-Dassouky.
Shaabo said that electronic transactions are important and play a key role in facilitating transactions, but they are not applicable in Syria, with a lack of basic norms.
Shaabo explained that Syrians are experiencing daily problems with the internet and electricity and the malfunction of official websites, reflecting the difficulty of conducting financial transactions electronically.
Banks also face an administrative defect that worsened after the regime linked certain transactions to specific banks unable to perform their mandated tasks, Shaabo said, noting that this prompted institutions to head to "Cash" accounts via Syriatel and MTN Syria.
The "Cash" account enables Syriatel and MTN holders to create an electronic account to make payments to a merchant account or transfer funds to another subscriber's account. This account can also receive amounts transferred from another number.
"The entry of money into banks is easy, but their exit is difficult," Shaabo continued, noting the impact of setting a limit on daily withdrawals from banks on commercial transactions in regime-held areas, as well as its impact on daily life under the depreciation of the currency.
The daily withdrawal cap reached 5 million SYP after it was raised on 22 February. But that did not diminish the refusal of traders and sellers to cash their bills through bank accounts.
In Syria, the relationship between the banking system in general and the general public is witnessing a state of "lack of trust" for many reasons, most notably the exchange rate difference that pushes citizens to transfer through illegal offices, according to Shaabo.
Shaabo pointed out that part of the obstacles to adopting electronic financial transactions is the people's refusal of such transactions due to the lack of knowledge of a large segment of them about this type of transaction after years of their continuous suffering from the effects of the conflict.
Impact on citizens
Syrians in regime-controlled areas suffer from the disruption of ATMs and the difficulty of obtaining an appointment to open a bank account, in addition to the problems related to the continuous power cuts and internet outages in many areas, according to what Enab Baladi had monitored.
Although heavily relied upon in the delivery of salaries and sales and purchase transactions, the ATMs of the Real Estate and Commercial Bank are the oldest and most malfunctioning, as well as slowly-conducted cash transactions.
Electricity problems and the disruption of ATMs are negatively reflected on employees and dealers, as in some cases, they lead to delays in receiving salaries and losing part of the salaries due to problems labeled by banks as "technical errors."
Sudden breakdowns also led some to lose their cards, which remained stuck in ATMs, in the absence of meaningful solutions to such problems.
On the 11th of last April, a director in the banking sector told the local pro-regime newspaper, al-Watan, that the number of Automated Teller Machines compared to the required service hinders its work, as the number of ATMs operating in both Syrian Commercial and Real Estate banks does not actually exceed 500, while there is a need for about 5000 ATMs.
if you think the article contain wrong information or you have additional details Send Correction