Firewood, unsubsidized diesel out of next winter's calculations in Daraa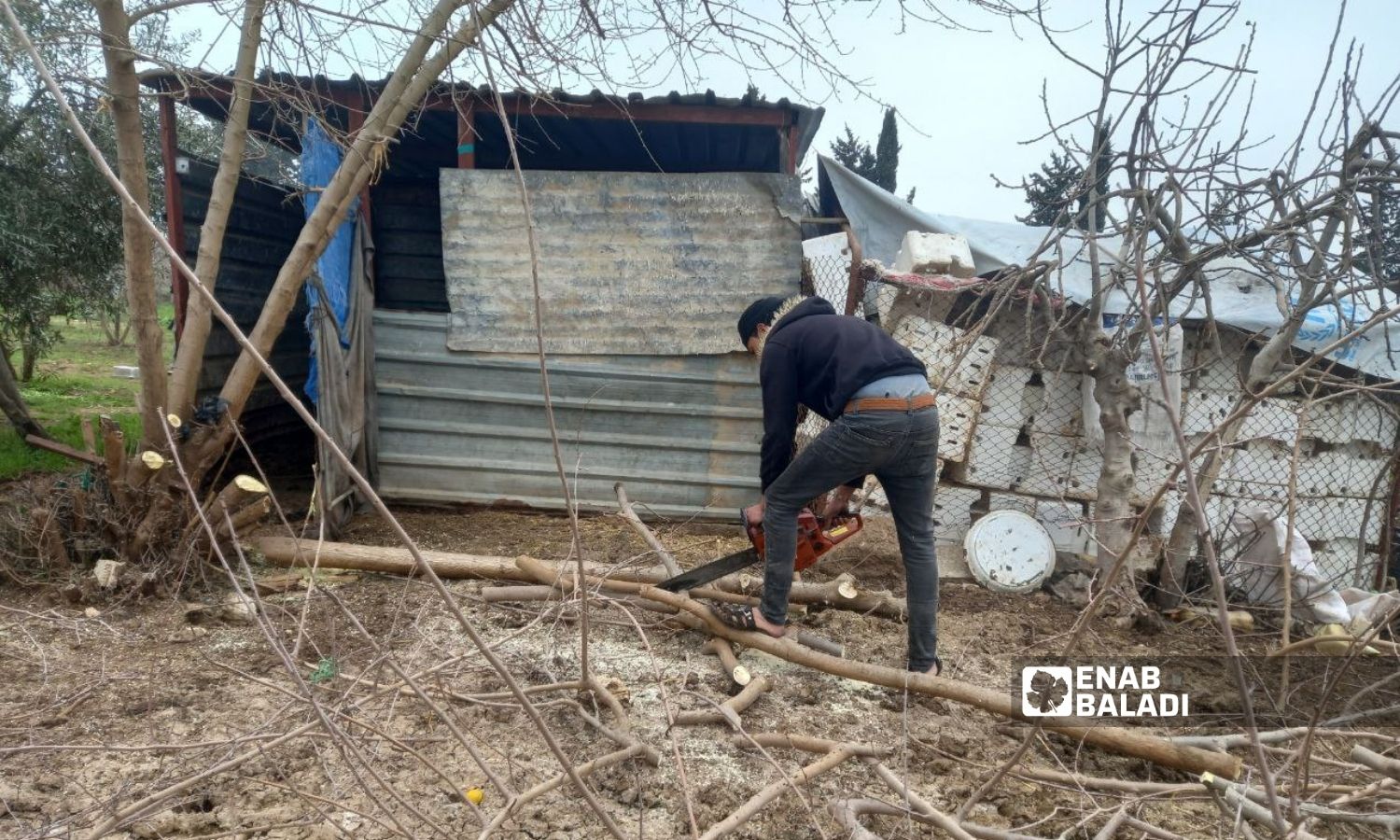 Daraa – Halim Muhammad
A number of residents of the southern Syrian governorate of Daraa fear the onset of winter amid their lack of options to secure heating means due to the high prices of firewood and unsubsidized diesel on the black market, in addition to their lack of confidence in the Fuel Directorate's distribution of subsidized diesel allocations on time, which is the case every year.
Daraa-native Anas, 36, told Enab Baladi that, although winter is approaching, the government has not yet begun distributing subsidized diesel vouchers, explaining that it takes three months to distribute a single batch of said diesel vouchers.
Anas added that residents do not currently rely on subsidized diesel after the disappointment they experienced last winter, as the Fuel Directorate distributed only one batch (50 liters) out of 200 liters that were scheduled to be distributed in four batches.
Also, the 65-year-old man Mohammad, who hails from the town of Muzayrib, does not rely on subsidized diesel for heating purposes for reasons related to state routine "as it took it an entire year to distribute only 50 liters".
As he told Enab Baladi, the old man decided to secure alternatives to subsidized diesel by waiting for the sale of his farmland's pomegranate crop in order to buy free-market diesel from the local market.
20,000 SYP per day for free-market diesel
During this year, the price of a liter of diesel in the local market reached 6500 SYP. With rationing, a family needs a minimum of 3 liters.
Iman, 40, a resident of Tel Shihab, told Enab Baladi that she does not have the financial means to purchase large quantities of diesel fuel at once. Therefore, keeping her family warm during the winter will be linked to her financial situation, meaning that she may only be able to buy a few liters at once.
The forty-year-old woman considered that the winter season had turned into a "nightmare" given the inability of many families to secure heating means, explaining that, last winter, she relied on a wood-burning fireplace fed by wood leftovers that her family collected from the fields adjacent to her house.
Firewood prices are on the rise
Coinciding with free-market diesel price hikes, firewood prices are also at record levels, leading people to drop it as a solution after relying on it for heating during winter. The price of a ton of dry olive wood amounted to about 1.2 million SYP, and a ton of eucalyptus wood costs about 1 million SYP.
The price of firewood varies according to its degree of dryness; as it rises, the drier it is and decreases in the case of moisture as its ability to ignite rapidly decreases.
The expected rise in firewood prices has prompted the population to find alternatives to buying it, with some families in Daraa storing the remnants of the pruning of pomegranate, grape, and olive trees or plastic, cardboard, and nylon bags.
Esraa (30), a resident of the Yarmouk Basin, told Enab Baladi that she had stored the remains of cypress and pomegranate trunks. "In the past, we used to store these leftovers to operate the wood-burning stove, whether for baking or cooking, but now we resort to them for heating," she said.
Among garbage piles, Umm Ziyad, 55, collects the remnants of plastic and shoes and puts them in large bags, explaining that she collects plastic to feed the heater fire during winter despite knowing the health hazards of such action, but her inability to buy firewood or diesel compels her to do so.
A family needs at least three tons of firewood during the winter season, i.e., approximately 3 million SYP, a quantity that is difficult to secure in relation to its high price, weak incomes, and purchasing power, said various witnesses interviewed by Enab Baladi, whose names were not disclosed for the sake of their security safety.
if you think the article contain wrong information or you have additional details Send Correction