As poverty, hardships sweep Idlib camps, girls' education is families' last concern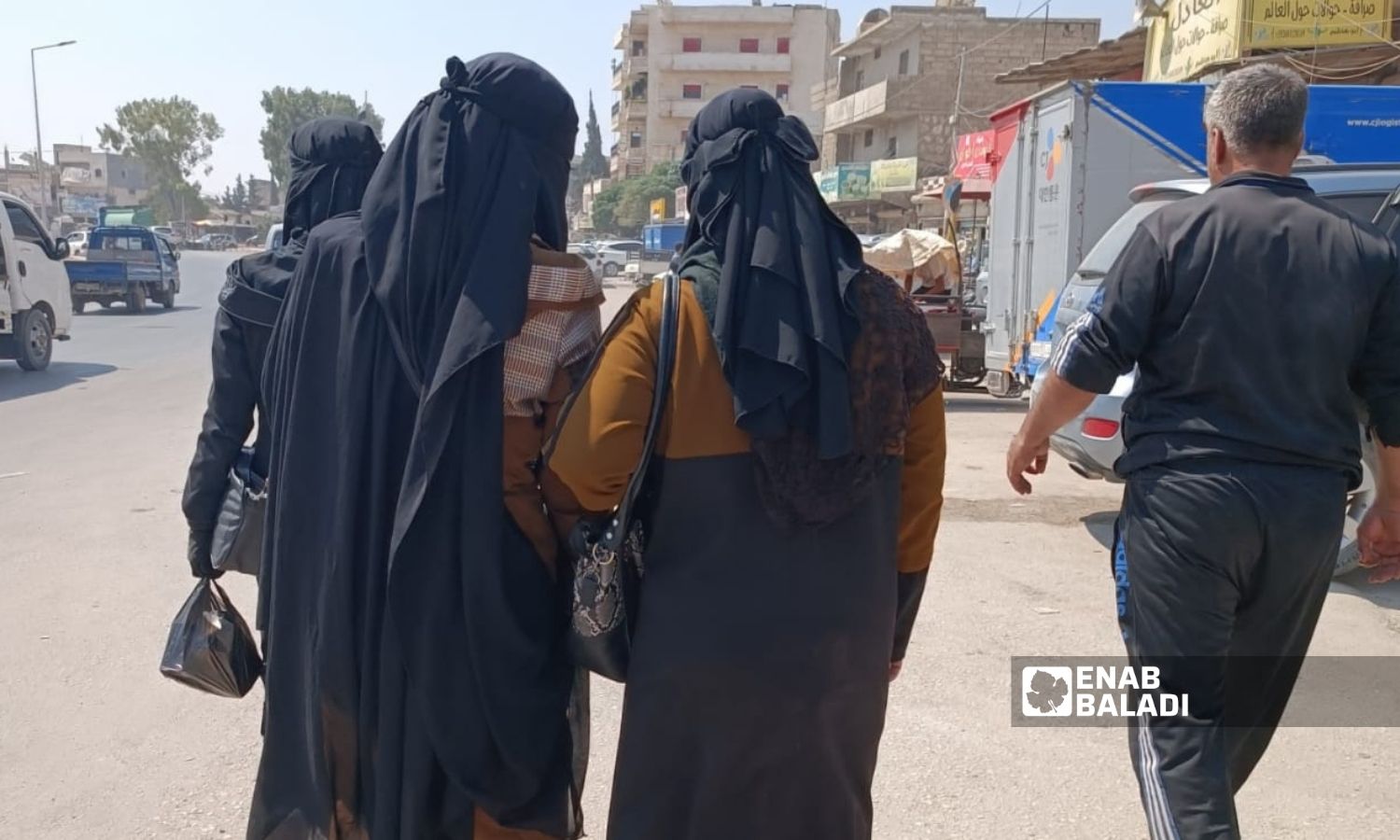 Enab Baladi – Idlib
Like previous years, Ola al-Barhoum, 14, did not return to school this year after the war threw her into a remote camp, which destroyed her school dreams, as there are no schools near where she lives in the IDP camps of Deir Hassan, north of Idlib city.
Al-Barhoum told Enab Baladi that she cannot complete her studies in the camps due to the lack of middle schools for girls, and the only school available is for primary education.
She added, "My life stopped in these camps, with no hope for the future, with an unknown fate, like many girls whose circumstances are similar to mine."
In the face of the deteriorating conditions, the parents of Rabaa al-Hilou, 15, did not wait for the opening of schools near the IDP camp in Mashhad Ruheen area, north of Idlib; instead, they agreed to marry their daughter to the first young man that proposed to her.
Al-Hilou told Enab Baladi that she found herself compelled to leave her studies and sit in a tent with her family, then move from there to the "matrimonial tent."
"Without any idea what the coming days will bring her," al-Hilou today is a five-month pregnant married woman.
Many girls in the northwestern Idlib region share the same conditions, as they find themselves in remote and forgotten camps without care, attention, or education, at a time when some parents do not see any problem in marrying off a girl at a young age, instead of bearing the consequences of her education and care amid what the families face from displacement, poverty, and high prices.
Living conditions at the fore
Raouf al-Mohammad, 46, an IDP of Maarat al-Numan town, one of the fathers who refuse to complete their daughters' education and marry them off at an early age, justifies this by saying, "Education is of no use these days. Schools are no longer what they used to be," adding that "What will be more efficient is girls' marriage and making them housewives responsible for a home and raising children, and a husband who meets their requests and needs."
Al-Mohammad's daughter got married at 14. She had been forced to drop out of school in order to "devote herself to helping her mother with the housework," as he put it.
The displaced man does not deny that education is important in everyone's life, but his current financial situation, after he became unemployed, and the lack of safety as girls may be exposed to the dangers of kidnapping or harassment amid the lack of control of the security situation in the region, made him justify dropping ​​his daughters out of school.
For her part, Alia al-Haj, 40, pushed her four daughters to drop out of school due to poverty and displacement.
Al-Haj told Enab Baladi that she hardly secures the daily expenses and is no longer able to bear the expenses of schools and the trouble of reaching it as they live in a camp in the village of al-Kamouni, a few kilometers north of Idlib.
Alia has been working in the sewing profession since her husband forcibly disappeared in the prisons of the Syrian regime in late 2017, so she chose for her daughters to learn her profession in order to help her secure their daily bread, as this "would be more beneficial," she said.
Education for girls was a secondary matter for many families before 2011, but the current conditions, most notably the deteriorating living and economic conditions, have further marginalized it, according to social workers.
Safaa al-Suwaid told Enab Baladi that educating girls, especially in these circumstances, helps them to be self-reliant, make the right decisions in the future, and contribute to refining their personalities.
Education also makes the girl more aware of life matters and eliminates the isolation imposed on her by staying at home, absent from the outside world, and at least making her not illiterate, which enables her to educate her children in the future, adds al-Suwaid.
Salvation Govt contributes to school dropouts
The Syrian Salvation Government (SSG) operating in Idlib region does not take any deterrent measures against forcing children under the age of 18 to drop out of schools, amid justifications for its inability to fund the educational process in the region.
The local governing body cannot pay teachers' salaries to help students to enroll in schools, according to what the director of the public relations office in the Salvation Government, Mohammad al-Asmar, told Enab Baladi.
Enab Baladi contacted the SSG's Education Ministry to find out the reasons for the government's lack of interest in the education sector or the obstacles to issuing a law preventing school dropouts, without receiving any response until now.
The education sector in northwestern Syria is witnessing a continuous deterioration due to the lack of support that has forced hundreds of teachers to work voluntarily for years, leaving many schools dependent on fluctuating donors' donations, resulting in the closure of many schools and prompting dozens of teachers to abandon their profession during the past four years.
According to the report of the United Nations Office for the Coordination of Humanitarian Affairs (OCHA), issued on 20 April, a generation of children loses any access to education before reaching adulthood, as more than 800,000 children are still out of school in northwestern Syria, which represents an increase by about 40% compared to 2019.
Almost half of the camps' population in the northwest are children, and out of 1,322 camps across the region, 851 camps do not have designated educational spaces, putting the education of about 225,000 children at risk.
Despite the many solutions offered to improve the educational reality in Syria and reduce dropouts, the available solutions are very limited in light of the deteriorating economic reality and the continuation of the conflict.
A UNICEF report issued this year stated that, according to the current funding rate, the organization and its partners in the education sector will need about 30 years to rehabilitate all damaged and destroyed schools to compensate children who have dropped out of education.
if you think the article contain wrong information or you have additional details Send Correction