Idlib: Displaced women and sole breadwinners face difficult choices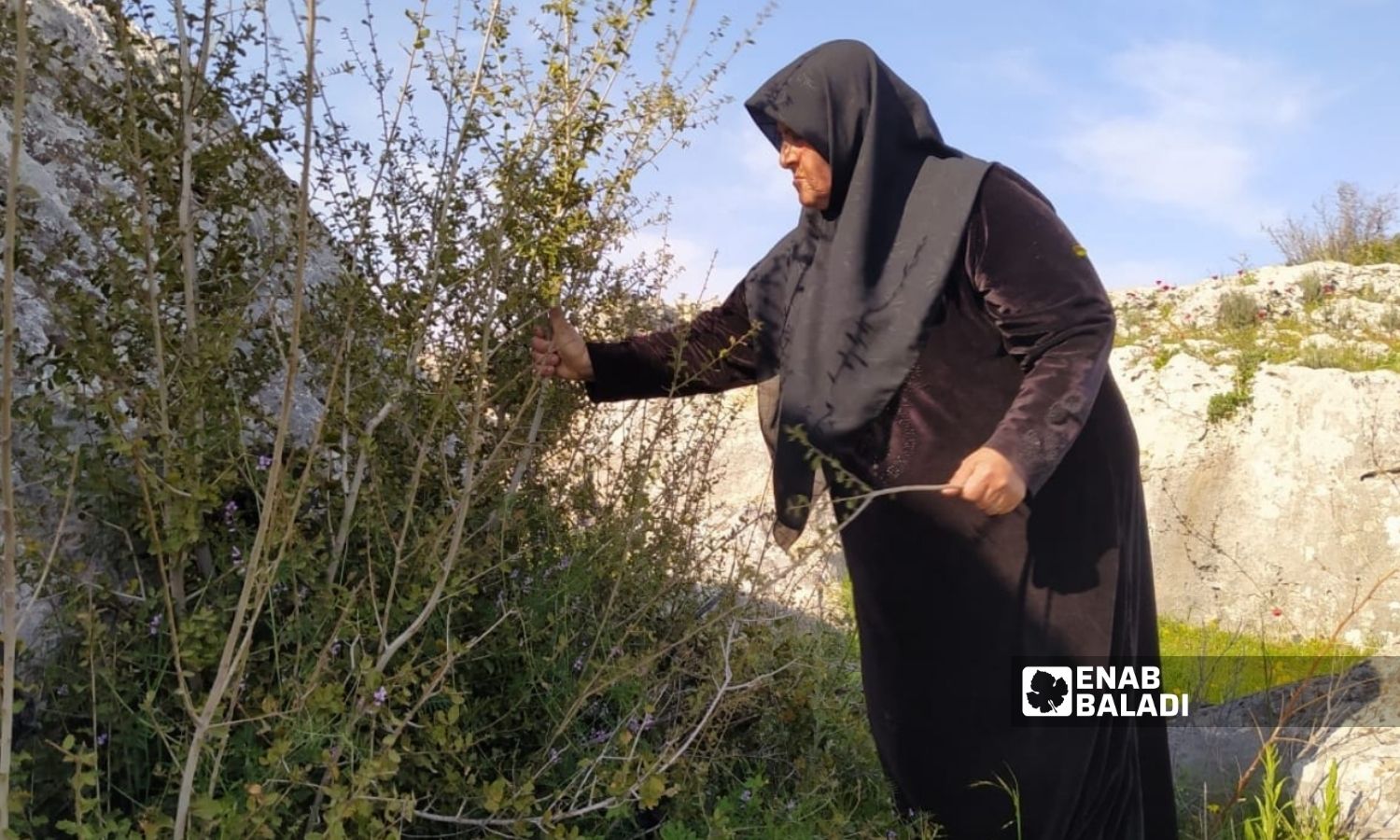 Enab Baladi – Huda al-Kulaib
In vain, Rawaa al-Sukari, 48, is trying to find a suitable job in the midst of poverty, displacement, and price hikes, especially as she is the sole breadwinner of her children after her husband died from COVID-19 in late 2021, leaving her to be the sole carer for six children.
The lack of opportunities prompted Rawaa, the displaced woman from the village of Maarshamsha, and resident of the Kafr Arouq camps, north of Idlib, to rely on the work of a number of her sons to support the family. The living conditions forced her to put them in industrial workshops, despite their young age.
Rawaa told Enab Baladi that the difficult living conditions ruined her children's academic future, as they went to work in order to secure their daily food at a time when "no one pays attention to our suffering in the forgotten displacement camps."
The lady blames stakeholders and civil society organizations that have not worked to build development projects that would help the displaced female breadwinners secure their basic needs, especially since a large number of them do not have educational certificates or previous professional experience.
Securing life's basic needs for the vast majority of civilians, especially displaced persons has become a fantasy. Many families are no longer able to manage their daily lives as prices rise madly, seeing that the Turkish lira continues to collapse against the US dollar.
The difficult reality has become an obsession for everyone; not one single conversation goes without talking about price hikes and the low purchasing power of many, starting with securing shelter and passing through the need for food and clothing and reaching doctors' examination fees, and securing medicine. All of these are requirements in front of which the vast majority of civilians are bewildered, considering their weak financial means.
Forced to hard labor
For her part, Sabriya Haj Omar, 33, is forced to work long hours on farmlands for a daily wage that does not exceed 30 Turkish liras per day.
Sabriya, a displaced person from the village of al-Jibin in the northern Hama countryside, residing in the Harbanoush camps and a mother of four children, told Enab Baladi that she did not find an alternative solution to working in agriculture after she lost hope of finding another job.
Sabriya works in plant cultivation, weeding of crops, and harvesting and reaping the crop. To make matters worse, its job is often seasonal.
The wages that Sabriya receives are completely out of proportion to the high prices, as she often has to sell the monthly aid in order to be able to secure certain basic needs.
Sabriya wonders how she can manage her family's expenses if her work stops, as it is intermittent and not permanent, while all her attempts to search for another job opportunity have not succeeded after all the doors were closed to her.
Neglect?
Faryal al-Ahmad, 36, an outreach officer at the Syrian Civil Defense, is of the view that displaced women suffer from unemployment, poverty, and neglect by civil society organizations that have not deliberately absorbed the increasing numbers of over-burdened female breadwinners and secured employment opportunities for them.
The Civil Defense official explained to Enab Baladi that the number of projects targeting female breadwinners in Idlib is still "very low" and is not commensurate with the great need for employment opportunities. Women's empowerment centers are still sparse in camp areas, as there are no development projects available that would enable trainees to join the labor market.
Al-Ahmad believes that something must be done to enable people to resist difficult conditions and bear the pressures of poverty and need by creating more opportunities, projects, jobs, and equal opportunities.
Meanwhile, the director of Mazaya Organization specialized in empowering women and raising their awareness regarding social, psychological, and legal affairs, Ghalia Rahhal, called for lending a helping hand to female breadwinners who found themselves facing great responsibilities in raising their children and providing for them on their own after missing their husbands and breadwinners during the 11-year war.
She stressed the importance of enrolling the trainees in vocational training in the labor market after their graduation so that they can rely on themselves in the face of harsh life conditions amid poverty, high prices, and displacement by creating more opportunities through cooperation between civil society organizations in the region.
Rahhal noted that women's employment opportunities remained almost non-existent compared to the urgent need and large numbers of women awaiting adequate employment opportunities.
Unemployment in Idlib rose by 75 to 80% of the local population, according to figures obtained by Enab Baladi from the Syrian Response Coordination Group (SRCG), with the exception of day laborers.
This poses a greater risk of relying on negative coping mechanisms, including illicit economies, child labor, recruitment by armed groups, and hazards of gender-based violence.
if you think the article contain wrong information or you have additional details Send Correction