Children digging up trash in Idlib; source of livelihood and diseases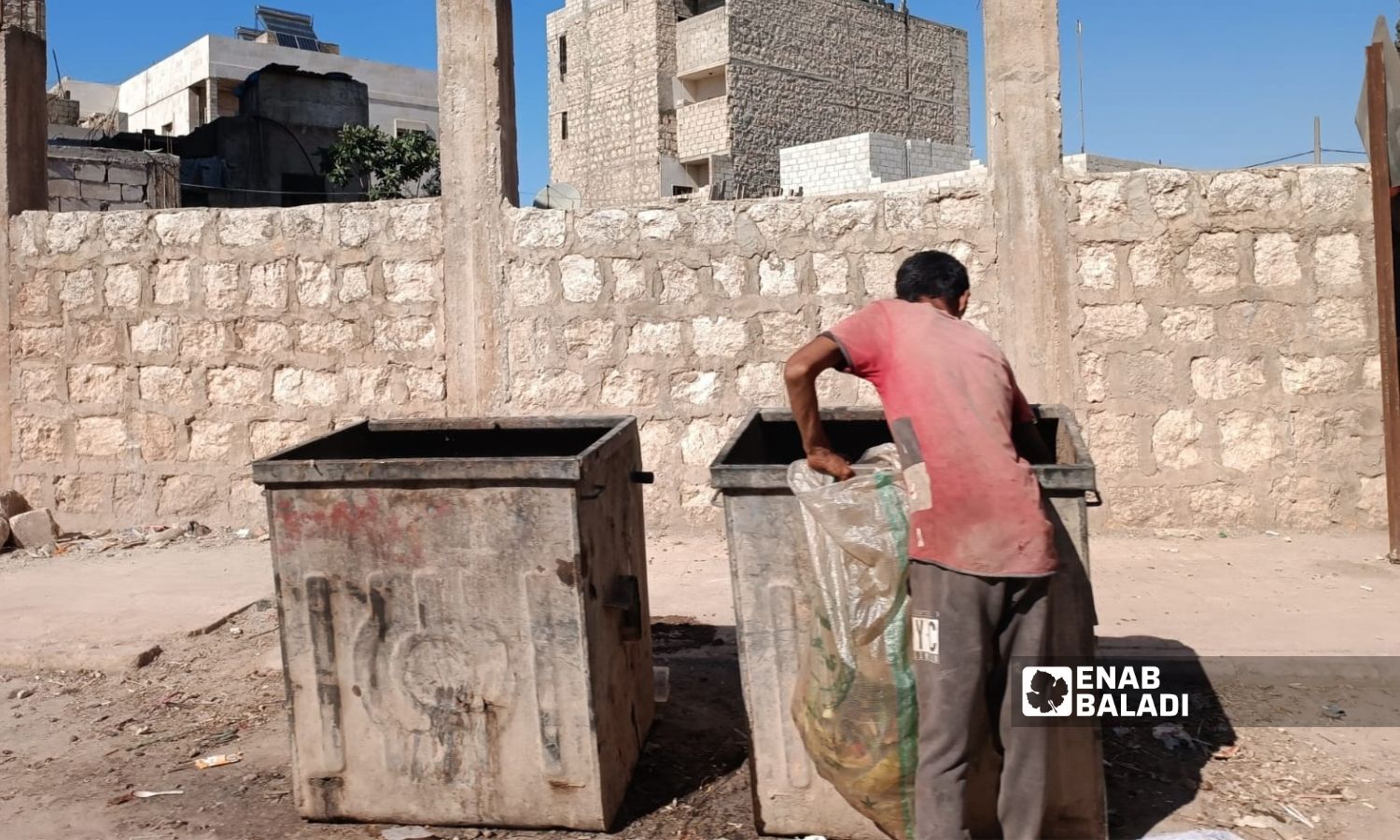 Idlib – Huda al-Kulaib
In his shabby, dirty clothes, the child Tariq (nine years old), accompanied by a number of children of the camp he inhabits on the outskirts of the border town of Atma, proceeds to the nearby landfill, where they scavenge waste in search of materials that can be sold or stored for heating in the winter.
According to what he told Enab Baladi, Tariq collects plastic, various types of metals, worn-out clothes and shoes, and other things that he can benefit from either by selling them or using them as an alternative to fuel in the winter.
Tariq has not yet received any education, and all he knows about his life and lost childhood is that he must help his mother bring and sell waste and disburse the money he raises to secure the basic needs of his family, especially after the death of his terminally ill father in late 2021, as he told Enab Baladi.
It has become customary to see children around containers in cities, and waste dumps on the outskirts of various areas of Idlib and northwest Syria, especially after the deterioration of living and humanitarian conditions in the region.
The proportion of families below the poverty line is 84 percent, according to basic prices and income resources. The proportion of families under the threshold for food deprivation is 36 percent of the total families under the poverty line due to several considerations, the most important of which is the number of working family members and the changing exchange rates, according to a statistic prepared by the Syrian Response Coordination Group (SRCG).
"We want to work so we can buy food"
With her shaggy hair and worn-out shoes, 11-year-old Farah goes out in the morning sun with her four siblings to collect what she can from inside the garbage containers distributed in the city. She sells what she collects together with her brothers to merchants in their camp north of Maarrat Misrin.
In the morning, Farah and her siblings head to the landfills with their empty bags. After a hard day's work, they return carrying these bags on their backs, filled with what was available and what would be useful in meeting their family's needs.
"We want to work so we can buy food," Farah told Enab Baladi, referring to the absence of her breadwinning father after a severe injury to his spine following a previous bombing by the Syrian regime on the outskirts of their city of Saraqib, rendering him disabled for life in a family that includes his wife and five children.
Susceptible to diseases, greater danger to children
Near the Syrian-Turkish border town of Qah, 12-year-old child Yasser also wanders through piles of waste in search of carton pieces and plastic materials he can sell to help secure the sustenance of his family, who are experiencing difficult humanitarian conditions in displacement camps.
Yasser told Enab Baladi that he is suffering a persistent cough as a result of spending a long time searching among the garbage, inhaling unpleasant odors and dust, while insects spread abundantly at landfills.
Yasser does not intend to stop this work despite all the difficulties he is facing, as it is the only work available to help his father suffering from high blood pressure, diabetes, and kidney disease, as well as his three younger brothers.
Digging up garbage is not limited to children; even if they are the most affected from a sanitary and psychological point of view, it is also a profession for many young people under difficult economic and living conditions and amid the disregard and inability of local authorities to contain it. The displaced continue to face the tragedy that befell them as a result of the war.
Idlib-based dermatologist, Louay Alloush, told Enab Baladi that garbage with food residues, damaged foods, dead animals, dirty baby pads, animal litter, damaged furniture, and rubble caused by the collapse or demolition of buildings in addition to medical waste, such as syringes, needles, scalpels, used blades and chemicals used in medicine, such as disinfectants, would expose the person working in the collection of waste to multiple diseases.
The gravest diseases are tetanus, cholera, and viral and allergic skin diseases. The respiratory tract is also exposed to diseases such as asthma, sore throat, pharyngitis, pneumonia, and sinusitis, according to Dr. Alloush.
The doctor explained that toxoplasmosis, jaundice, meningitis, hepatitis, and enteritis are among the most common diseases caused by this type of work, especially for children due to their weak bodies and immunity.
Dr. Alloush recommends staying away from this profession and replacing it with other less harmful professions, activating the role of the government and civil society organizations to help these people, and establishing development projects that help them face difficult living conditions and the risks of disease and epidemics.
if you think the article contain wrong information or you have additional details Send Correction