Turkey: Syrian civil society's role in addressing refugee problems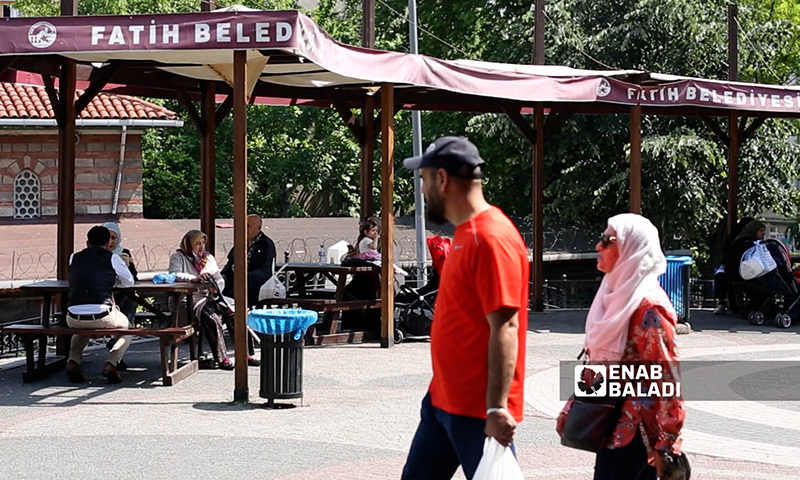 Enab Baladi – Saleh Malas
Problems affecting Syrian refugees in Turkey have incited the existence of civilian initiatives. These initiatives have been started individually and voluntarily to meet the multiple and changing needs, only to be gradually organized later, especially after the increasing number of refugees became a phenomenon and an issue whose humanitarian, political, and social dimensions cannot be ignored.
Ten years ago, initiatives were marked by spontaneity and lack of professionalism because the sudden humanitarian situation at the time made most workers in the civil sector act without previous experience.
Currently, with the growing problems associated with the presence of Syrian refugees in several Turkish states, there is a need for people to understand the work of Syrian civil society organizations in Turkey and to understand the feasibility and practical impact of their work to address those problems, which at times have become a threat to the stability of Syrian refugees.
Absence of awareness and benefit
Civil society is the sphere of voluntary collective action based on common interests, objectives, and values. Its institutional forms are distinct from those of the state and the commercial market.
Civil societies are often composed of organizations, such as registered charities, non-governmental organizations, private groups, and organizations based on professional associations, such as unions and social movements.
Recently, problems associated with the settlement of Syrian refugees in Turkey have increased owing to the adoption of several government decisions restricting refugees' movement, which affects their employment and study opportunities. This highlighted the need to understand the role of Syrian civil society organizations in Turkey in addressing these problems.
Enab Baladi spoke with the director-general of the Civil Society Organizations' Forum, Khaled al-Issa, about the importance of organizations' work for the refugees in Turkey in conjunction with criticism of those organizations. "A large part of the criticism is due to the absence of information because a large proportion of Syrian civil organizations in Turkey do not have a political role, but rather focus on providing humanitarian aid and addressing service problems in Syria," he said.
"What you are asking of me is not my role," al-Issa said, noting that the refugees do not have the information related to the work of most civil organizations so that they can benefit from them. He also pointed out that "the absence of the role of a political coalition has placed the burden of political action on relief organizations."
As stated by al-Issa, civil organizations working in the political field are poorly funded due to lack of awareness of the importance of these organizations' role and lack of competencies that would be professionally employed to improve their work.
"Most donor organizations are pouring their money into relief organizations because the nature of Syria's crisis is currently humanitarian. Thus, most of the organizations supported will provide relief services and tend to humanitarian needs. However, these needs change over time".
Khaled al-Issa, director-general of the Civil Society Organizations' Forum
According to a research study published by the Harmoon Center for Contemporary Studies in 2020, one of the most important obstacles to Syrian civil organizations in Turkey is the changing security and political conditions and the lack of priority given to their competence by donors.
According to the study, one reason for the decline in international funding for organizations working in the political sphere is the so-called "Donor Fatigue Syndrome," owing to the prolonged Syrian crisis and the widespread and complex phenomenon of corruption within organizations, which has weakened the willingness of certain donors to provide funding.
What can ORGs offer?
In recent months, the Turkish government has taken more restrictive measures towards Syrian refugees in the country in terms of imposing fines or deportation outside the country as a punishment for those who work without the required work permit in Turkey, at a time when refugees have a fundamental need to work legally, with the majority of them being young people.
These measures coincided with Turkish President Recep Tayyip Erdogan's announcement of the Turkish government's efforts to prepare a project to ensure the "voluntary" return of one million Syrian refugees to their country. This was announced via video call during the delivery of keys to "brick" homes in Idlib in coordination with the Disaster and Emergency Management Authority (AFAD) and in the presence of the Turkish Minister of Interior, Süleyman Soylu.
These measures raised refugees' fears of losing the life they built in Turkey and concerns of being deported to an unknown fate in northern Syria.
Regarding this issue, al-Issa said, "We have met with the governor of Istanbul and the director of the Presidency of Migration Management many times during the last period, and it really is all about voluntary return, no deportation will take place. When a person holds on to their legal documents, such as their possession of a (temporary protection card), and their address of residence is known, this person is not concerned with this issue".
"All are against legal deportation, but if the circumstances are appropriate and a person wishes to return, they will not be prevented from doing so because that is their right. There is an insistence on return because Syrians uphold the right to return within their terms", al-Issa explained.
On the contradiction of Turkish government statements as to how one million Syrian refugees would be returned while still calling it a voluntary return, al-Issa replied, "The idea was clarified by the Turkish government agencies interviewed, saying that there was a plan that would provide services and space to accommodate one million people. Those who wish to return will return, and those who do not wish to do so, and have settled in Turkey, are never obliged to return. Their legal status may be modified to avoid any security problems".
However, human rights reports contradict the statement made by al-Issa, with Amnesty International stating that Syrian refugees in Turkey are "coerced, forced to return, or deceived and tricked into signing documents of the so-called "voluntary return" to their country, which is still classified as a "conflict zone."
Human Rights Watch also reported that Syrian refugees were detained despite having "temporary protection" permits, while the permits contained clerical errors.
According to the human rights organization, "the expiration of Kimlik (temporary protection) status or its absence does not give Turkey the right to deport Syrians."
if you think the article contain wrong information or you have additional details Send Correction