Possible victims: IDPs live in dilapidated houses in Idlib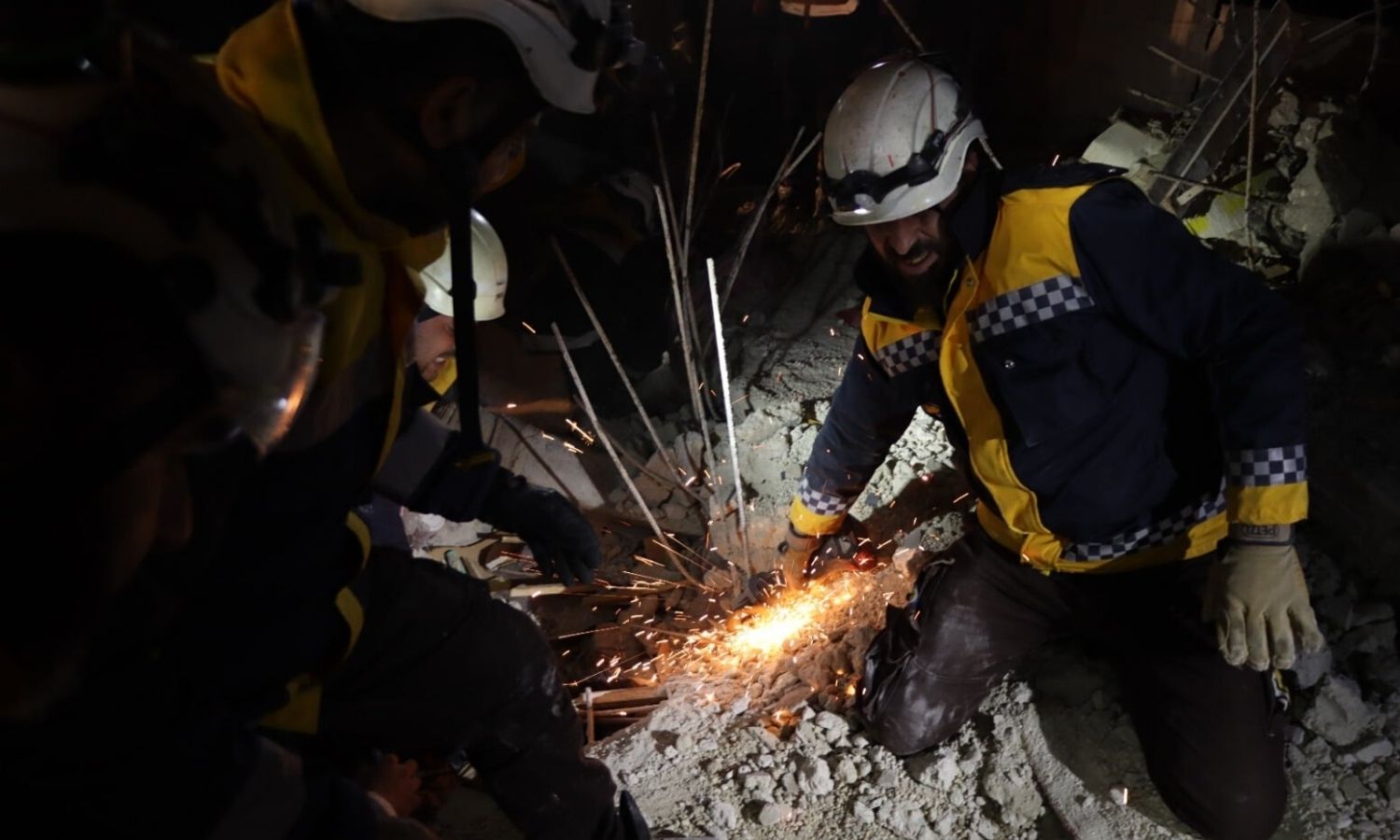 Idlib – Huda al-Kulaib
Fouad al-Alwani, 37, has no other choice but to live in a dilapidated house after the rent increase of the house he used to live in with his wife and six children in the northern province of Idlib.
Although the new house that al-Alwani chose is badly damaged and in danger of collapse, it is the only solution in front of him because it is free at a time when he does not have the money to pay the rent of a suitable house.
Al-Alwani, who was displaced to Idlib with his family from his village of Talmans in late 2019, told Enab Baladi that after the owner of the house in which he lived raised the rent from 25 to 65 US dollars, he searched for a long time for another less expensive house without success, which pushed him to find the suitable solution for his deteriorating financial situation in the demolished houses.
"We can hardly secure the price of food," al-Alwani said about his poor living conditions, adding, "There is no more mercy in people's hearts, and everyone only asks for his own interest," referring to the extent of exploitation to which the IDPs are subjected, especially with regard to house rents, The rent in Idlib and its countryside has reached 300 US dollars.
Paying rent in the US dollar in northern Syria has caused new suffering for families, especially those whose income is still in Turkish lira, which continues to decline against the continuous rise of the dollar.
In addition, there are great difficulties in finding what meets the need in light of the increasing demand for residential homes in Idlib, as a result of the population density, which prompted many poor families to move to live either in remote camps or in dilapidated homes, especially those who could not move away from the city center because of work.
As for Fatima Haj Hussein, 35, she did not want to leave the city of Idlib after increasing the rent of the house in which she lived with her four children. The owner requested an increase of 50 dollars for the rent to reach 100 dollars, which exceeded her ability to pay and forced her to live in a semi-destroyed house to stay close to her workplace in a women's clothing store in the city.
Haj Hussein fears for her children that the cracked walls of the house above their heads will collapse at any moment.
"I am now unable to secure an adequate shelter, especially since I am the only breadwinner for my children after my husband's death," the woman told Enab Baladi, adding, "my monthly income is hardly sufficient to cover even the basic needs amid the extremely high prices we are witnessing."
Haj Hussein pointed out that their living conditions have become "below the poverty line" as a result of merchants and real estate owners exploiting their need for homes after their displacement from their areas and villages, and they increase rents continuously, while she and others face poverty, high prices, low wages and lack of job opportunities.
Haj Hussein and her children live in an apartment on the outskirts of Idlib city, within a building that was previously bombed by the Syrian and Russian warplanes, which made it fragile and dilapidated. Nevertheless, the dilapidated apartments are home to dozens of displaced families who were unable to find a shelter commensurate with their poor financial conditions.
Several damaged buildings and houses within the Syrian opposition-held areas in northwestern Syria fell on their inhabitants as a result of the cracking of these buildings, as they were affected by the previous bombing of the regime forces and Russia and were considered uninhabitable, but some families are forced to live in them because there is no other shelter.
Six members of the same family were killed and wounded on 9 February when a cracked apartment building collapsed on the outskirts of Idlib city.
Earlier, the roof of a cracked house fell in the village of Sarjah in the Jabal al-Zawiya area in the southern countryside of Idlib, killing one person.
In a similar incident, the roof of another house fell on top of a number of civilians while they were restoring it in the village of Qastoun in the al-Ghab Plain in the western Hama countryside.
Construction experts are calling for the displaced not to neglect their lives and the lives of their children by living in damaged and dilapidated homes.
Civil Engineer Ahmed al-Khalaf told Enab Baladi that many houses need a field study on the extent of their damage and their habitability, as there are varying degrees of damage to these houses, some of them are partially damaged, and there is the ability to repair and restore.
There are the completely damaged houses, which are houses that cannot be inhabited due to their vulnerability to collapse at any moment, as the pillars holding up the ceiling and walls were damaged, he added.
Cities in northern Syria, such as Idlib, Jisr al-Shughour, and Ariha, are the areas where this problem is most common due to the spread of high buildings and, to a lesser extent, in villages and towns.
The Syria Civil Defense works permanently and routinely, within its limited capabilities, to remove collapsed, cracked, or sloping ceilings and walls.
Firas Khalifa, a member of the media office of the Civil Defense Directorate in Idlib, told Enab Baladi that the rescue teams are facing difficulties due to the lack of sufficient mechanisms, especially with high buildings that require long cranes to carry heavy weights.
The Civil Defense had previously warned all civilians not to approach the dilapidated houses affected by the previous bombing of the regime forces and Russia in northern Syria after many of them collapsed, causing the death and injury of a number of civilians.
if you think the article contain wrong information or you have additional details Send Correction