Multiple names for suffering shared by Syrian refugees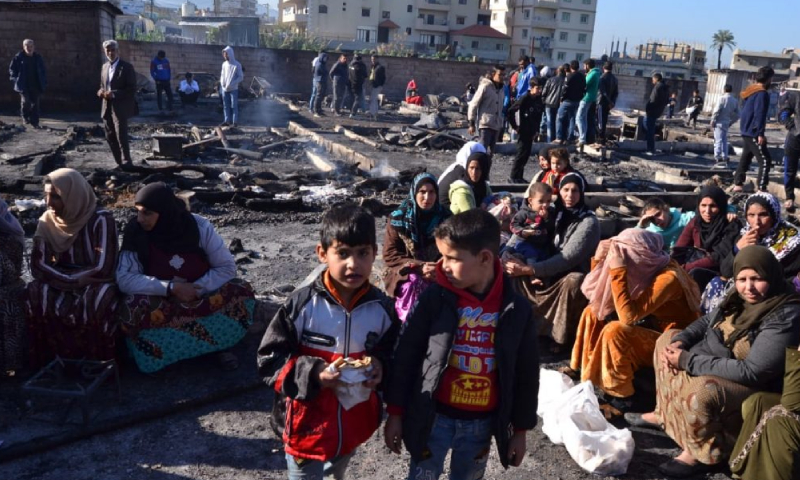 Enab Baladi – Hussam al-Mahmoud
The names attributed to Syrians, who fled the war over the past decade varied between displaced, guests, and refugees. On the basis of this distinction, they then had the features of the coming years of their lives drawn for them, which will determine the method of dealing with their file that is used as a political bargaining chip here, a pretext for economic deterioration there, and as a card in the back-and-forth between the political right and left elsewhere.
While the terms and names followed countries' will to quantify their humanitarian and moral obligations towards refugees, it simultaneously absolved them of other responsibilities arising from the designation; Lebanon, which did not sign the 1951 Convention relating to the Status of Refugees, called them "displaced persons."
Lebanon adheres to "the return"
About nine years ago, Mohammad, a young Syrian man who is now 22, moved to live and work in Lebanon as a result of the circumstances surrounding him personally and the Syrians in general. Leaving Syria was a response to the volatile security situation and threats to civilians' lives. Economic conditions have also thrown the young man and his family into a new environment in order to find in work a way of salvation and stability after at least being sheltered from fear.
The young man, whom Enab Baladi had met, said that he does not have a residence document in Lebanon, explaining that, as a Syrian in Lebanon, he is generally cautious in order to avoid getting stuck in the maze that is the legal settlement while at the same time expressing fears about what is being announced by Lebanese politicians and officials about the return or the "returning" of 15,000 Syrians from Lebanon to Syria on a monthly basis.
"First of all, I am wanted, and I evaded compulsory military service. That means that I cannot return". The young man deplores the idea of ​​returning out of fear for his life without addressing the economic and living conditions there. He also expressed his adherence to staying in Lebanon with his family, saying, "All of my family is here; we are four young men who evaded compulsory military service."
Lebanon, which declared at the beginning of the Syrian revolution a position of "disassociation" despite the engagement of Lebanon's Hezbollah in the Syrian file for the regime's benefit, its officials have taken, over the years, the file of Syrian refugees in Lebanon as a pretext for the country's ongoing economic downturn.
Although Lebanon's political trends and groups usually have opposing views on different files regarding domestic politics, a sort of consensus surfaces whenever there is talk about the repatriation of Syrian refugees in Lebanon.
Triple and quadruple plan
This July brought about many statements that Lebanese officials made in this regard. On the 13th of the same month, Lebanese President Michel Aoun expressed his refusal to integrate Syrian refugees into host communities, stressing that such a move was not acceptable.
During his meeting with the Deputy Special Envoy for Syria, Najat Rushdi, Aoun reiterated the Lebanese position demanding the return of Syrian refugees in Lebanon to Syria.
While the Lebanese president spoke of 1.5 million Syrian refugees in Lebanon, a Human Rights Watch (HRW) report on 20 October 2021 counted only some 852,000 Syrian refugees in the country.
The Lebanese president's statement was preceded by the stressing of the Lebanese Kataeb Party MP, Nadim Gemayel, via Twitter on 11 July that "the return of Syrian refugees in Lebanon is not an option, but rather a national necessity."
"If Syria is unsafe for the return of Syrians, then their stay is not safe for the Lebanese. The recent events are proof of that, either return or return, there is no third option".
On 4 July, the Minister of the Displaced in the Lebanese Caretaker Government, Issam Sharaf al-Din, unveiled a Lebanese plan to return 15,000 "displaced persons" on a monthly basis, according to the Lebanese National News Agency.
During his visit to Baabda Palace and while meeting with the Lebanese president, Sharaf al-Din said that it was "totally unacceptable that the displaced Syrians would not return to their country after the war has ended and it became safe again", according to him.
At the same time, Sharaf al-Din spoke of a plan to establish a tripartite committee comprising the Syrian regime and UNHCR, together with a quadripartite committee consisting of Turkey, Iraq, Jordan, and Lebanon to implement this "return."
These statements were followed by Sharaf al-Din on the 10th of the same month, speaking of Lebanon's request to UNHCR to deport Syrian political refugees to a third country.
On 20 June, Lebanon's Prime Minister, Najib Mikati, threatened Western countries to adopt a position that would not please the West by working to expel Syrians from Lebanon by what he described as "legal methods" through "firmly applying Lebanese laws" unless the international community cooperated with Lebanon to return them.
Falling on deaf ears
The Executive Director of the Franco-Lebanese Access Center for Human Rights, Mohammad Hassan, said in an interview with Enab Baladi that the center had documented 112 cases of repatriation of Syrians in Lebanon from 2019 to June 2022, in addition to the General Directorate of Lebanese General Security returning 6,345 Syrians between 25 April 2019 and 19 September 2021.
A joint report by a group of Syrian associations (including Access Center) documented the most prominent violations suffered by Syrians repatriated from Lebanon. These violations ranged from arbitrary detention to torture and violations of housing and property rights. The impact of the violations was exacerbated by the lack of IDs and other identification papers and the lack of access to such documents.
Voluntary return, closed neighborhoods
Ahmed is a young Syrian engineer who came to Turkey from the Iraqi city of Erbil. Months later, he decided to return to Erbil again.
Speaking to Enab Baladi, the 25-year-old said that the situations here and there are incomparable, in reference to what he considered living complications and obstacles that Syrians are facing in Turkey.
Despite the recent talk about restrictions on Syrians in Iraq as well, Ahmed pointed out that this sentiment is felt by Syrians the moment they enter the country through the accompanying scrutiny and stress on their papers while being examined and dealt with as "suspicious individuals." But after they get past the border gate, things return to normal and get less intense.
Over the past few months, the Turkish government has moved towards serious steps in dealing with the Syrian refugees file. This was first observed through Turkish president Recep Tayyip Erdogan's statements on 3 May, during which he spoke of his government's preparation of a project to ensure the return of 1 million Syrian refugees "voluntarily" to their country, as reported by the Turkish channel A Haber. This was in conjunction with the ceremonies for handing over the keys to brick houses in the city of Idlib in coordination with the Disaster and Emergency Management Authority (AFAD) and in the presence of the Turkish Minister of Interior Süleyman Soylu.
The Turkish plan and the subsequent intensive activity of talking about the projects of building housing complexes in 13 areas of several cities in northern Syria in Jarablus, al-Bab, Tal Abyad, and Ras al-Ain that would contain about 240,000 homes, after an earlier talk of 100,000 houses as well, was met on the other side by the Turkish Minister of Interior's announcement on 11 June to reduce the proportion of Syrians residing in Turkish residential neighborhoods from 25 to 20 percent, effective July 1st.
Soylu explained that authorities have closed 781 neighborhoods in 54 states to accommodate all foreigners holding the temporary protection card (Kimlik) and normal residence to prevent their concentration in these districts after exceeding 25 percent of the total population there.
With the rate reduced to 20 percent at the beginning of July, the number of neighborhoods where foreigners will not be granted residence permits will rise to 1200, he stated.
Forced displacement, not voluntary return
Speaking to Enab Baladi, social researcher, Pr. Talal Mustafa stressed that a large proportion of Syrians actually wish to return to their homeland. However, the return referred to depends on a political solution, dispelling their fears of arrest and death, keeping the security services clear from citizens, in addition to taking into account the political, economic, and living conditions at a time when even the Syrians supporting the regime of Bashar al-Assad are leaving in the absence of the basic requirements of life in Syria.
Mustafa explained that the issue of return required pressure to find a political solution rather than putting pressure on the refugees. The existence of a political regime and authority governing by law would actually open the door to people's voluntary return.
In their countries of asylum, Syrians created parallel societies and demonstrated great skills in integration, professional stability, and education, the social researcher said. It does not make sense for them to be demanded to return thereafter, "their loss in the first years of the war is enough (…) Provide them with the requirements for a return, and they will return. Put pressure on the regime that displaced them, instead of pressuring the displaced".
Pr. Talal Mustafa added that it is unreasonable for Syrians to lose what they have built during a decade of work and education if they return under pressure, after having lost their homes and after they, and their children, have lost years of education.
The social researcher refuses to call it "voluntary return," considering that it is "another displacement" seeing that several young people are attempting to migrate from Turkey to Europe to escape Syria and the prospect of "voluntary return"; this means that it is a "second adverse forced migration" as long as some cannot return to Syria for fear for their fate.
if you think the article contain wrong information or you have additional details Send Correction