Idlib's residents turn to malls as new consumer style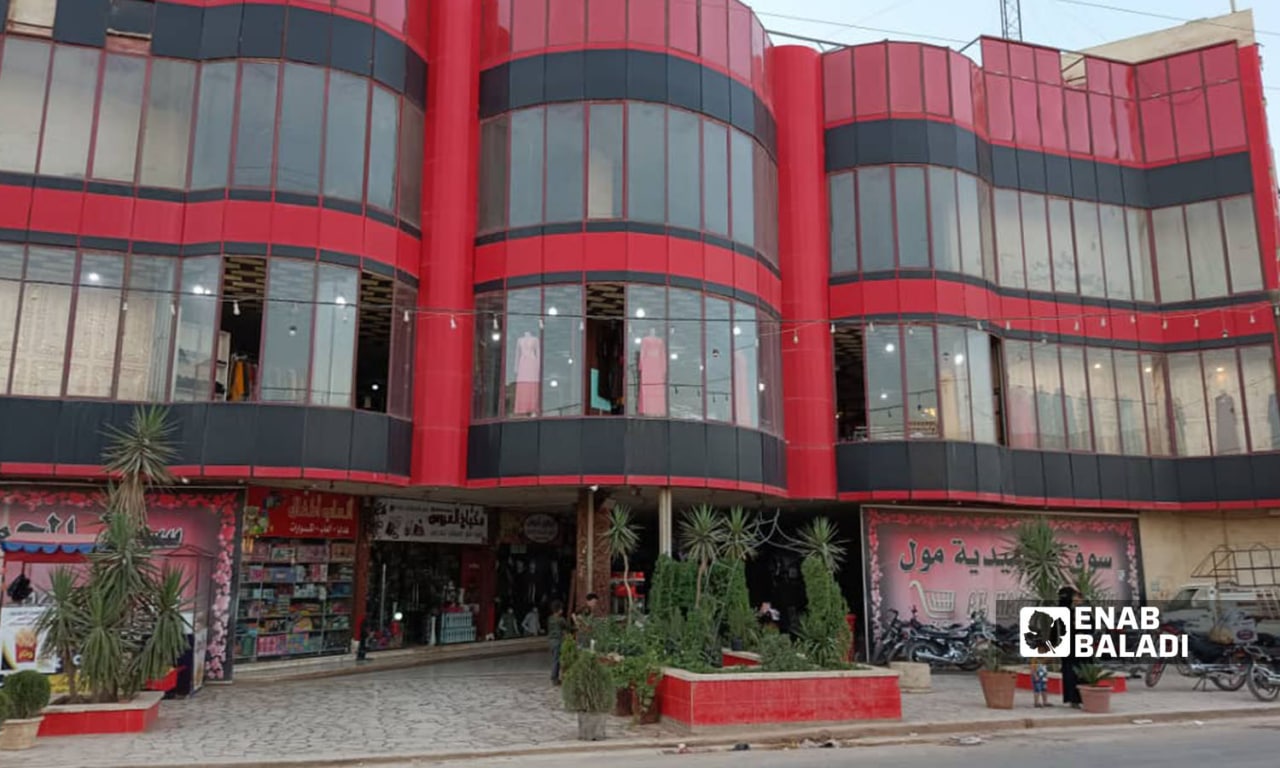 Enab Baladi – Huda al-Kulaib
Souad al-Husseini, 42, used to go to the shopping center next to her house in Sarmada town, northern Idlib, as it saved her the trouble of moving between markets and shops after finding all her household needs at "reasonable" prices compared to "groceries" and other food shops.
Al-Husseini told Enab Baladi that she would prefer to go to the mall as it contains high-quality, packaged, and healthy goods, unlike other markets whose goods are exposed and damaged due to exposure to sunlight. This prompted her to rely primarily on it to secure her household necessities.
The prices of food commodities in the shopping centers are fixed and unified, and some of them may also include "price reductions." Meanwhile, prices in markets and popular stores vary, with differences ranging from 2 to 20 Turkish liras per kilogram for the same commodity, owing to the absence of ration and quality control in controlling prices in these stores, she added.
The governorate of Idlib, northwest of Syria, has seen an impressive spread of large commercial centers and malls in recent times after a high turnout of the city's residents; they have come to prefer them to other shopping places for a number of reasons, most notably the quality of goods and their fixed prices.
Unified and "invoiced" prices
Zuhair al-Maqsos, 42, an IDP residing in al-Dana town north of Idlib, accompanies his family to shopping malls during the weekend. It spares him the inconvenience of moving between different markets and stores, thus saving a lot of time and effort when securing his basic needs, he told Enab Baladi.
Al-Maqsos indicated that goods offered are coordinated and arranged in a way that makes it easier for him to identify the goods he needs in multiple separate sections of materials such as detergents, vegetables, foodstuffs, and meat, which gives him many options when it comes to choosing the type and brand, unlike other shops where he is forced to only buy the existing items.
The price of each commodity is in US dollars, especially since the exchange rate in Turkish lira is calculated via the Money Exchangers Union's screen installed on the storefront. All purchases are also registered through an explanatory invoice for purchases, "that is, they are not subject to manipulation and fraud," allowing those with low income to frequent these malls," al-Maqsos added.
Residents of Idlib governorate complain about soaring prices of goods in general and food in particular, which is experiencing a price discrepancy from one store to another, as the Turkish lira's value fluctuates and continues to fall against the US dollar, which paved the way for exploitation and injustice in the markets.
The US dollar exchange rate was 16.5 Turkish liras. The value of the lira against the euro was also recorded at 18.2 Turkish liras, according to the Döviz website specializing in exchange rates and currencies.
At the end of 2021, commercial projects were active in Idlib governorate in light of the region's relative stability. Malls came at the top of the list of projects after being widely acclaimed and positively received from various segments of society, encouraging traders and venture capitalists to launch such projects in northern Syria, according to Raed Hablos, the owner of one of the shopping centers in Idlib city.
Raed told Enab Baladi that all the recently opened malls in northwestern Syria belong to the private sector and had been created through the efforts of traders and capitalists at home and abroad or through partnerships between local traders operating in different sectors and departments, which had led to the formation of diverse and high-profile malls.
"Good" job opportunity
According to Raed al-Salah, an accountant based in Sarmada town, commercial malls have provided job opportunities for many Syrians, through which they found a source of livelihood that helps them face the burdens of life.
Al-Salah, 20, earns 1,500 Turkish liras as a monthly salary for his work as an accountant at a commercial mall, an amount that he considers good compared to what he used to earn in his previous hard job in construction.
The young man emphasized that the mall where he works is very popular with the residents, who rely on it for most of their daily needs thanks to the quality and variety of goods. The mall contains various sections such as clothing, furnishings, meat, vegetables, foodstuffs, and household appliances, in addition to "sales" announced every now and then.
Affected businesses
For his part, Suleiman Abdulrahman, an owner of a grocery store in Idlib, did not hide that his trade was greatly affected after the opening of a commercial mall near the neighborhood in which he works.
The man in his forties also told Enab Baladi that people choosing the mall for shopping caused less and less of them to visit his store, owing only to offers, "sales," and the variety of goods available solely in commercial malls.
Malls receive their goods directly from exporting countries through other merchants and at large discounts, while I am obliged to buy them from wholesale centers at a high price, he added.
Abdulrahman indicated that he was considering relocating elsewhere if things remain the same as it is now, with the weak purchasing movement that would add considerable financial burdens.
if you think the article contain wrong information or you have additional details Send Correction