Idlib: Cow breeders in Kaftin village give up their livestock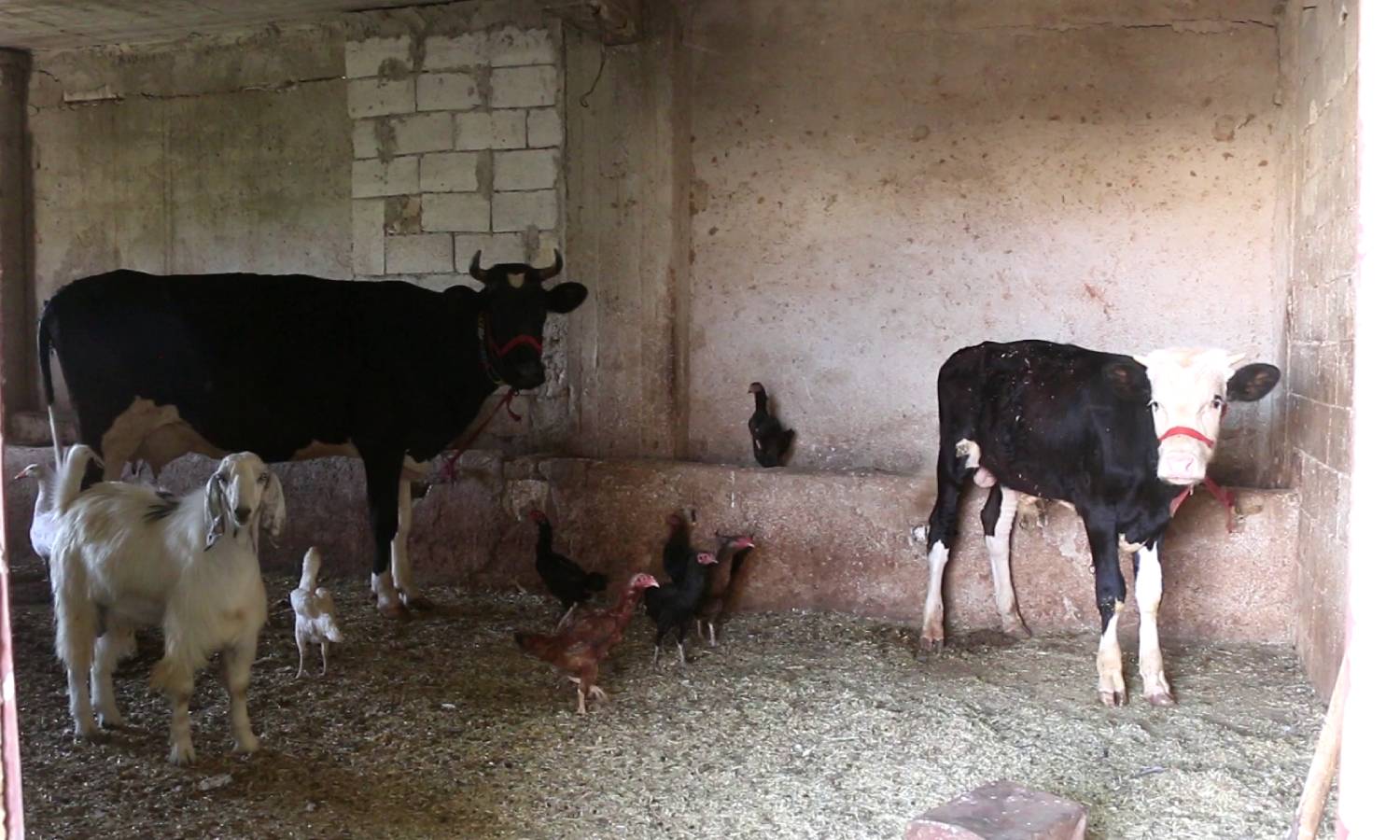 Enab Baladi – Iyad Abdul Jawad
The sixty-year-old Abu Ali sits in front of his cowshed on the outskirts of the village of Kaftin in northern Idlib governorate, where there is now only one cow left after selling three cows since he is no more capable of affording cattle breeding costs.
Abu Ali told Enab Baladi that what prompted him to sell his livelihood was the high cost of fodder, hay, and veterinary medicines on the one hand and the lack of any support from organizations or the government that might ease the burden of the cost of raising cows.
Sale of cows to secure breeding and treatment costs
Mohammed Akhal, 45, a cow breeder in the village of Kaftin, also sold a calf in order to secure the price of feed and medicine for his other cows, he told Enab Baladi.
Akhal explained that not giving cows sufficient quantities of feed weakens their overall health and causes diseases and health problems affecting their milk quantities.
Weather conditions, such as high temperatures, play a role in cows' health status and increase their need for a veterinarian's examination, which costs about 20 US dollars.
"Absence" of support for cattle breeders
Cow breeders in the village of Kaftin do not have access to any government or organizations' financial support, according to the breeder Mohammad Akhal who considered that the absence of support was an additional burden for breeders in view of the high costs of breeding.
For his part, the head of the Kaftin Peasant Association, Youssef Sharif, told Enab Baladi that cow breeders in the town are "almost marginalized" and are not treated like neighboring villages that receive health and veterinary support and financial assistance for raising cows, despite the association's repeated demands for the Peasant Association in Idlib.
Sharif added that many of the town's cows suffer from several health problems, including diarrhea and high fever. As a result of the lack of a secure, effective vaccine in the village, a number of cows die due to breeders' inability to pay for their treatment at their own expense.
As a result of these difficulties, Sharif asserted that many cow breeders had to sell their cows for meat at very cheap prices.
Rising temperatures increase suffering
Veterinarian Dr. Hussein Ballan told Enab Baladi that "fevers and heat stress" are among the most common diseases that hit cows during the summer as a result of high temperatures.
Ballan justified the high prices of medicines by linking them to the US dollar exchange rates, explaining that the suffering of cow breeders in northern Syria lies in the lack of easy access to artificial vaccination as a result of nitrogenous liquid shortages.
According to Dr. Ballan, breeders must focus on not exposing their cows to the sun for long periods and being aware of parasitic infections that abound in the summer and ticks that lead to blood parasites.
if you think the article contain wrong information or you have additional details Send Correction