Syrian refugees in Istanbul turn waste into livelihood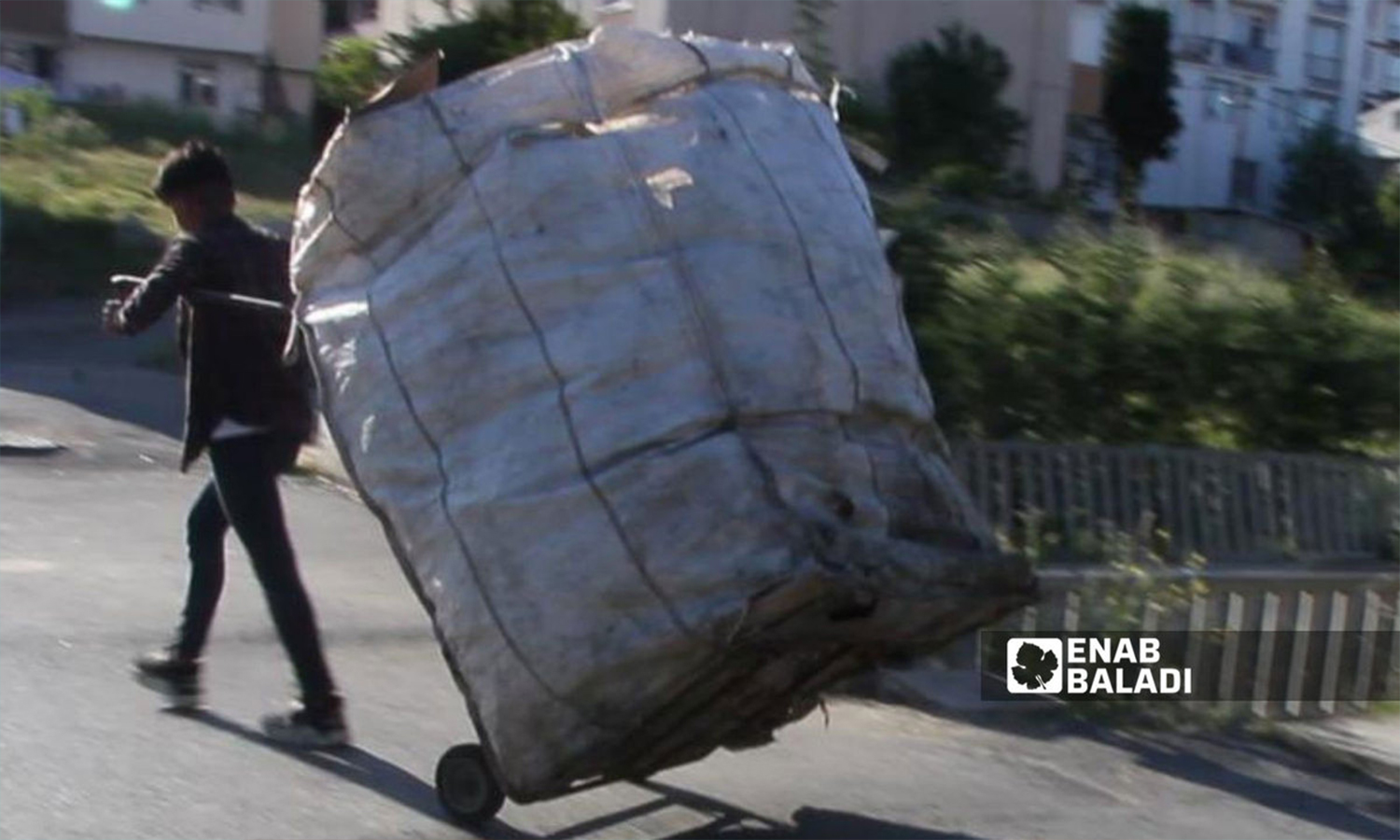 Enab Baladi – Mamoun al-Bustani
Looking for a rest when they return from work, the Syrian boy, Saeed, sits with four other workers in a modest room next to a small recyclable waste depot in Gebze district in Istanbul's Asian side.
Saeed, 16, told Enab Baladi that he started collecting cardboard and plastic about a year and a half ago, explaining, "I used to get 2,500 Turkish liras per month from a garment factory, and sometimes I earned less than that, so I started collecting cardboard to improve my income, which is currently about four thousand Turkish liras (about 250-300 US dollars)."
Long daily distances
Saeed comes out of the warehouse at seven in the morning every day, pulling a cart made of metal bars that travels on two small wheels, after attaching a large bag to it to put what he can collect of materials made of cardboard, nylon, plastic, metal sheets, and wires.
Every day, the boy walks a 15-kilometer walk, sifting through trash cans for whatever recyclable waste he can find.
"Some days, I go back to the warehouse at noon to deliver what I collected, and if the quantity is small, I keep searching and come back in the evening," Saeed says.
According to the latest statistics issued by the Turkish Directorate General of Migration Management, more than 542,000 Syrian refugees live in Istanbul, out of about three million and 700 thousand Syrian refugees who are officially registered throughout Turkey.
In addition to the official statistics, there are thousands of unregistered Syrian refugees in Turkey. Some of them, in addition to others who hold a temporary protection card (Kimlik), resort to work in areas that do not require a work permit, including work in collecting recyclable waste.
lost childhood
"Collecting cardboard boxes is difficult, especially with the change in weather conditions between the heat of summer and the cold of winter, but this work is better than working in factories," Saeed says.
Adding that the work in waste picking does not need to adhere to a specific time as the income depends on the amount of effort and is not fixed.
The boy, who hails from the countryside of Idlib in northwestern Syria, and with the spontaneity of a childhood that he did not live, concluded his words with Enab Baladi, saying, "I have lost my future, and there are many children in the same situation as I am in Turkey, and their future has also been lost."
In 2021, Saeed appeared in a video report broadcast by Turkish content creators on social media while they were filming a social experiment, where he was collecting cartoons in cold weather, and although he does not speak Turkish, he helped young Turkish men who asked him to get his jacket.
Hard work
Wearing gloves on his hands and taking a squatting position in front of bags full of recyclable materials, with bottles and plastic containers scattered around him, Mohammad lights a cigarette, then says with a sigh, "It is sunset, and I haven't returned home yet."
Mohammad, 27, works as a cardboard and plastic collector in Istanbul, and about his situation in Turkey, he told Enab Baladi, "We fled the war in Syria, and we sought refuge in Turkey since 2014."
"I quit working in factories and started this work after prices rose, and what I used to earn in factories was no longer enough for me," he added.
Mohammad, who hails from Idlib region and has fled the Damascus countryside governorate, explained that the work of collecting cardboard boxes generates between 100 and 200 Turkish Liras daily (between 6 and 12 US dollars), which is a little more than what he used to get from working in factories.
Mohammad pointed out that in the early years of the Syrians' asylum in Turkey, there were not many of them working in collecting cartons, and with the passage of time, they resorted to this work, as the number of workers in this difficult profession increased.
Work steps 
Jameel, 26, another young man who works in a small warehouse for collecting recyclable waste, explained to Enab Baladi that the work stages start with the workers going out in the morning to collect materials from garbage containers in several ways, either by a wheelbarrow or a cart pulled by a motorcycle, or a small three-wheeled vehicle that runs on electric power.
When the workers return, each of them begins sorting what he collected, as metals are sorted from plastic and cardboard, and then each material is weighed separately, and the total is recorded in the accounting book to deliver the workers their dues weekly.
After that, the metals and plastics are sorted inside the warehouse. For example, there are different types of plastics (white plastic, black plastic, transparent nylon), and each has its own price.
At the end of the week, the purchased waste from the workers is sent to the industrial zone by special trucks or those belonging to the recycling centers in the industrial zone.
According to Jameel, five workers working for the warehouse collect approximately 1,500 kilograms per week of various recyclable materials.
Harassments from authorities amid lack of statistics
Jameel said that he started working four years ago as a cart laborer, and two years later, he started working in a small warehouse run by Syrian youths, pointing out that the long working hours, and the lack of full dues, sometimes all of them from his previous work in the factories, pushed him to work in collecting cardboard and plastic.
He pointed to the inconveniences faced by workers collecting recyclable waste, noting that months ago, the police launched a campaign during which they arrested dozens of waste pickers.
There are no official statistics for the number of workers collecting recyclable trash in Istanbul because this type of activity is considered "illegal," according to the local authorities, which are seeking to issue licenses to organize this work.
"Regulating" waste picking labor
Murat Kurum, Turkey's Minister of Environment, Urban Planning and Climate Change said last April that they would make the necessary arrangements for waste collectors to work in better conditions, according to the Turkish Anadolu Agency.
During a meeting with a number of union representatives and waste collectors, which was attended by Kurum and the president of TÜRK-İŞ, Ergün Atalay, the company stated that it had started the "zero waste" project, the largest environmental movement in Turkey, in 2017, under the patronage of Emine Erdogan, the wife of the Turkish President, Recep Tayyip Erdogan.
Atalay said, "In five years, with you, our fellow waste collectors, we have delivered such a performance that we have processed 25 million tons of recyclable waste, together, we are working to increase our recycling rate from 22.4 percent to 35 percent in 2023".
According to the Turkish Sabah newspaper, Minister Kurum announced last April the preparation of a draft study of the legal status of waste collectors, which includes providing people who will work as waste pickers with uniforms and identity cards, thus preventing waste collection by people who are not registered in the municipalities of the region.
Municipalities will also work to limit the number of people who can collect waste in their own areas and issue a license accordingly.
According to Kurum, the municipality will not pay any fees to the waste collectors, and the waste collectors will live off the money they earn.
In addition, on the agenda is the provision of social security by the municipality so that waste collectors can benefit from health insurance.
if you think the article contain wrong information or you have additional details Send Correction