Raqqa female journalists subjected to harassment in absence of legal deterrent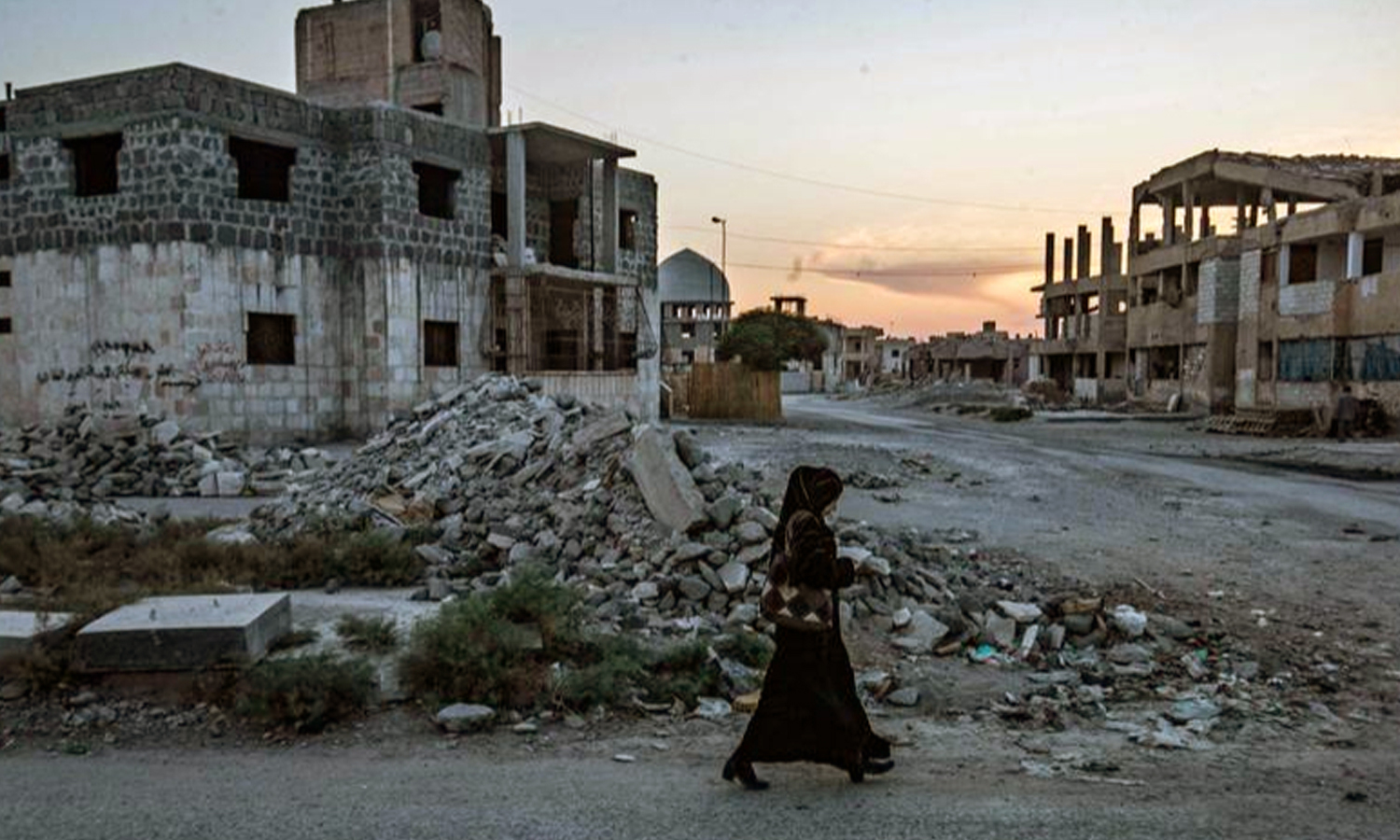 Enab Baladi – Raqqa
The work of Basma, 28, requires constant communication with primary sources in order to obtain information and news, as she is a journalist in a local media network in the northeastern city of Raqqa, but such work has subjected her to a regular violation to her privacy as a girl who avoids engaging in side discussions that have nothing to do with the context of questions and issues of the media coverage.
Basma told Enab Baladi that disrespecting the privacy of others does not only harass and anger them but also deepens their fears about the person who does this, adding that "the nature of media work requires constant communication with sources, but the mechanism of this work often exposes female media professionals to harassment.".
In all societies, incidents related to the phenomenon of verbal or physical harassment of female media workers are widespread, and the concerned institutions usually try to establish strict legal controls to protect female workers in the media sector, but these controls are absent in the areas controlled by the US-backed Syrian Democratic Forces (SDF).
Most of the female workers in media institutions inside the city of Raqqa are subjected to harassment by ordinary people and officials while performing their media work, and this harassment may amount to physical or verbal harassment without the existence of serious laws protecting them from these behaviors, female media workers revealed to Enab Baladi.
Inappropriate behaviors
Basma (Enab Baladi withheld her full name for security and societal reasons) revealed that she was exposed in several situations to what she described as "electronic harassment through messaging platforms."
After the first correspondence with one of the sources, he tried to get close to Basma through behaviors far from the context of the topic under discussion, "such as sending songs or posters bearing the nature of flirtation," so the person ended up asking for the possibility of getting to know the journalist and delving into the details of her private life.
Raqqa-based journalist Aisha, 32, was forced to hide the WhatsApp platform from the display list of her mobile phone after her father looked at her phone to find correspondence with people, most of whom were males.
"Sometimes I receive messages late at night from male sources, which angers my father and leads into intense discussions with him about the nature of my work," and it also causes "problems with the family," according to Aisha, who refused to give her full name for social reasons.
"The nature of media work requires continuous communication with people, which my family rejected, so my father asked me to find another profession to work in other than media if I could not end correspondence with strangers," Aisha added.
Several media outlets operate in Raqqa, some of which are local and others are local branches of a media outlet that covers most areas of northeastern Syria, in addition to the presence of offices and media departments in the institutions of the Autonomous Administration of North and East Syria (AANES) and the Raqqa Civil Council.
Female journalists work alongside male journalists in most media outlets, and the internal regulations of some media corporations stipulate the necessity of having an equal number of both sexes within the scope of work in the institution in order to preserve gender diversity in media work there.
In 2012, the Free Media Union was established in the areas controlled by the Kurdish People's Protection Units (YPG) at the time to run the work of media outlets that began to operate after the retreat of the Syrian regime forces' control in these areas.
According to the union's internal statute, it is an independent professional trade union institution that works to preserve the moral and material rights of journalists and consolidate freedom of opinion and expression, and abides by the laws in force in northeastern Syria in accordance with the values ​​of freedom, justice, and gender equality.
Despite the existence of laws and regulations that attempt to regulate the media sector and protect its workers, this did not prevent the existence of several cases of harassment of female workers in the media institution, as there is no effective system for receiving complaints of this kind.
"The ILO Convention on the Elimination of Violence and Harassment at Work of 2019 acknowledged that gender-based violence and harassment disproportionately affects women and girls and recognized that violence and harassment in the world of work can constitute a human rights violation or abuse, a threat to equal opportunities, and is unacceptable and incompatible with decent work. It also acknowledged that violence and harassment in the world of work affects a person's psychological, physical and sexual health, dignity, and family and social environment."
Safe environment
A member of the Zenobia Women's Gathering in the city of Raqqa told Enab Baladi that women have the right to find work within a safe environment, which is guaranteed by the AANES' laws operating in the region regarding women's work in institutions, whether in the media or otherwise.
The member, who declined to be named because she did not have permission to speak to the media, added that any female worker in the Autonomous Administration institutions, or even those outside the scope of the AANES, has the right to file a formal complaint, if she is harassed or abused by anyone, the Zenobia Women's Gathering will refer the complaint to the relevant security and legal agencies to take the necessary action.
The feminist activist pointed out that most of the harassment occurs because "society still views women's work negatively, and so far many members of society do not see that women have the right to work, and they should not be disturbed or harassed."
As part of a report entitled "Maintaining Boundaries with Sources, Colleagues, and Supervisors," issued in December 2017, based on interviews with female journalists and other sources, the Dart Center for Trauma and Journalism provided advice to female journalists to prevent harassment while doing journalism, and instructions in the event that any incident of harassment by a source, colleague or boss occurs at work.
The report finds that in order to reduce the chances of harassment from sources during work, women journalists should choose a "safe" public place for meetings when meeting with a source they do not know beforehand to avoid situations that the source might interpret as falling outside the boundaries of professionalism, in terms of location or timing.
The report advises female journalists to avoid being alone with anyone they do not know or trust, which means that the journalist should not accept the source's invitation to his hotel room or go to private places and ask a colleague or friend to accompany her as a photographer or note-taker, if necessary because the presence of another journalist in the interview indicates that it is a job interview.
Female journalists, if they go to report in a remote or private location, must alert their colleagues and inform them of the location of the coverage, the people who will be interviewed, and the expected time of return, the report says.
No "harassment" term in Syrian law
The employee's productivity is often related to his/her satisfaction with the work environment in which they are present daily (mostly five days a week), and a healthy work environment requires the presence of basic elements that should not be overlooked by the administration of media outlets.
Syrian legislation is still devoid of any legal articles prohibiting or punishing harassment despite its seriousness within the work environment, which makes employees vulnerable to harassment without actual protection, and the lack of the right to enjoy a safe work environment free of any physical or verbal harassment.
The Syrian legislator did not designate any special law to combat harassment, despite its international obligations in this regard.
General Comment No. 23 of 2016 of the United Nations Committee on Economic, Social and Cultural Rights, on the right to just and favorable conditions of work, states that states parties (including Syria) have a primary obligation to ensure fulfillment, at the very least, at the minimum essential levels of this right.
The comment states that in this context, states have an obligation to include in their laws "a definition of harassment in the workplace, including sexual harassment."
Thus, the Syrian legislator is considered remiss in combating harassment in the work environment for which international organizations that advocate for women seek.
Syrian law does not include a crime called "harassment," but there are other names and other acts similar to harassment.
The Syrian Penal Code stipulated "an act of indecency" in Article 493 as every act against another male or female that inflicts disgrace or harms reputation (touching organs and touching the body) and does not require a medical report. It also involves a lack of consent, coercion, threat, or exploitation to practice an "act of indecency."
The law punishes the perpetrator of the "indecent act" with hard labor for no less than 12 years, and the minimum penalty is 18 years if the offense is committed against a minor who does not exceed 15 years.
In Article No. 504, the legislator punishes anyone who seduces a girl with a promise to marry and takes her virginity with imprisonment of up to five years and a fine of up to 300 Syrian pounds or either of the two penalties if the act does not require more severe punishment.
Article No. 505 stipulates that anyone who touches or caresses indecently a minor who has not yet reached the age of 15, whether male or female or a girl or woman of more than 15 years of age without their consent, shall be punished with imprisonment for a period not exceeding one and a half years.
Article 506 of the same law punishes the act of indecency, which includes every act that causes shame, and the perpetrator is keen to commit it in secret. The penalty for this offense is aggravated imprisonment for three days or a fine not exceeding 75 SYP or with both punishments.
In separate articles, the Syrian Penal Code punishes acts that are subject to public morals and ethics without mentioning any expression of harassment.
if you think the article contain wrong information or you have additional details Send Correction