Daraa: Cooking oil is being sold per gram as purchasing power declines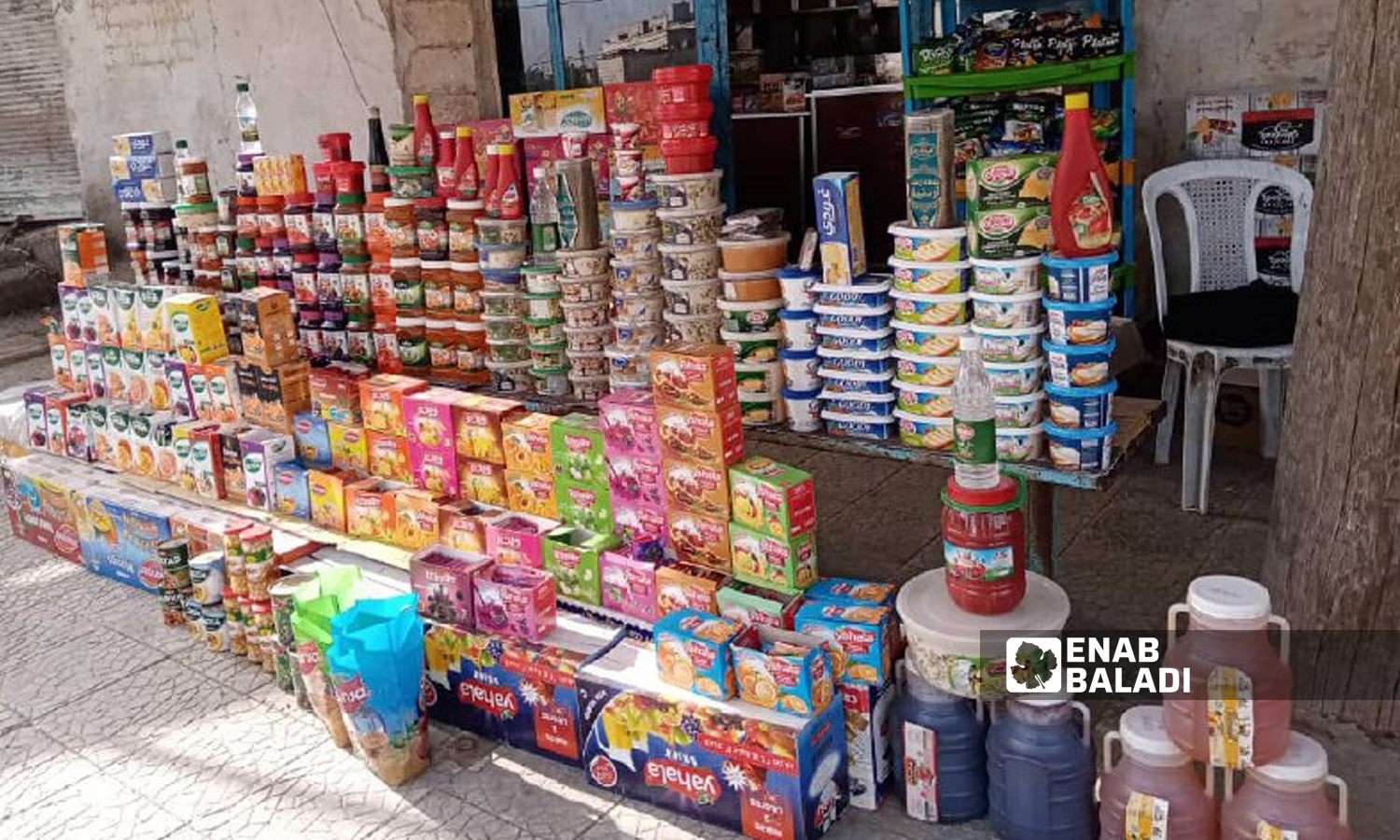 Daraa – Halim Muhammad
Inaam enters a food store in the southern town of Muzayrib to buy only several grams of frying oil, asking the seller, "Give me frying oil for a thousand pounds."
Such demand by the woman in her thirties was almost rare before the eruption of the Syrian conflict, as difficult economic conditions prompted a change in the purchasing and consumption habits of most residents of the southern governorate of Daraa, as well as for most Syrians.
As for cooking oil, it was customary to buy a 16-liter tin with a capacity of twenty liters or five liters. But the current situation pushed people to buy only a few grams.
Inflation reflected on demand
Inaam tightens her grip on the 1000-pound banknote, and her eyes are on the seller emptying the oil into a nylon bag on the scale, observing the weight and price.
She told Enab Baladi, "I used to buy oil by tin (with a capacity of 16 liters), and we used to store no less than five olive oil tins, a tin of frying oil, and a tin of ghee, while today we buy enough for only one dish."
The price of a liter of frying oil in Daraa governorate reaches 17,000 Syrian pounds, the price of a liter of olive oil reaches 14,000 Syrian pounds, while the price of a kilo of vegetable ghee is about 20,000 pounds.
Mohammad al-Saleh, an owner of a food store in Muzayrib town, told Enab Baladi that the recent wave of high prices for edible oils reduced people's demand for the material and pushed them to buy per gram.
Since the start of the Russian war on Ukraine last February, the regime-controlled areas have witnessed a crisis in securing vegetable oil. For that, the regime's government resorted to raising its price, as the price of one liter of sunflower oil reached more than 13,000 Syrian pounds after it was sold for about 7,000 pounds.
Reducing aid made matters worse
Most families in the southern region depend on the frying oil provided in the food aid basket, as aid arrives approximately every two to three months.
But in late March, the Syrian Arab Red Crescent (SARC) in Daraa reduced the amount of frying oil in the food basket provided by the World Food Programme (WFP) from six to four liters.
Inaam used to rationalize her consumption of oil in line with the food basket, which previously sufficed her family for about a month and a half, but after the reduction, she was forced to buy oil by grams while waiting for the next distribution date.
Syria ranks 101 on the Food Security Index of the British Economist magazine, issued on 25 February 2021.
According to a report by Antonio Guterres, the Secretary-General of the United Nations, on 12 January, at least 90 percent of Syrians are below the poverty line, while 60 percent of them suffer from food insecurity. 
(1 USD = 2,814 SYP due to Central Bank, but the pound is trading around 3,900 to the dollar)
if you think the article contain wrong information or you have additional details Send Correction