Women of Idlib complain low wages despite mounting burdens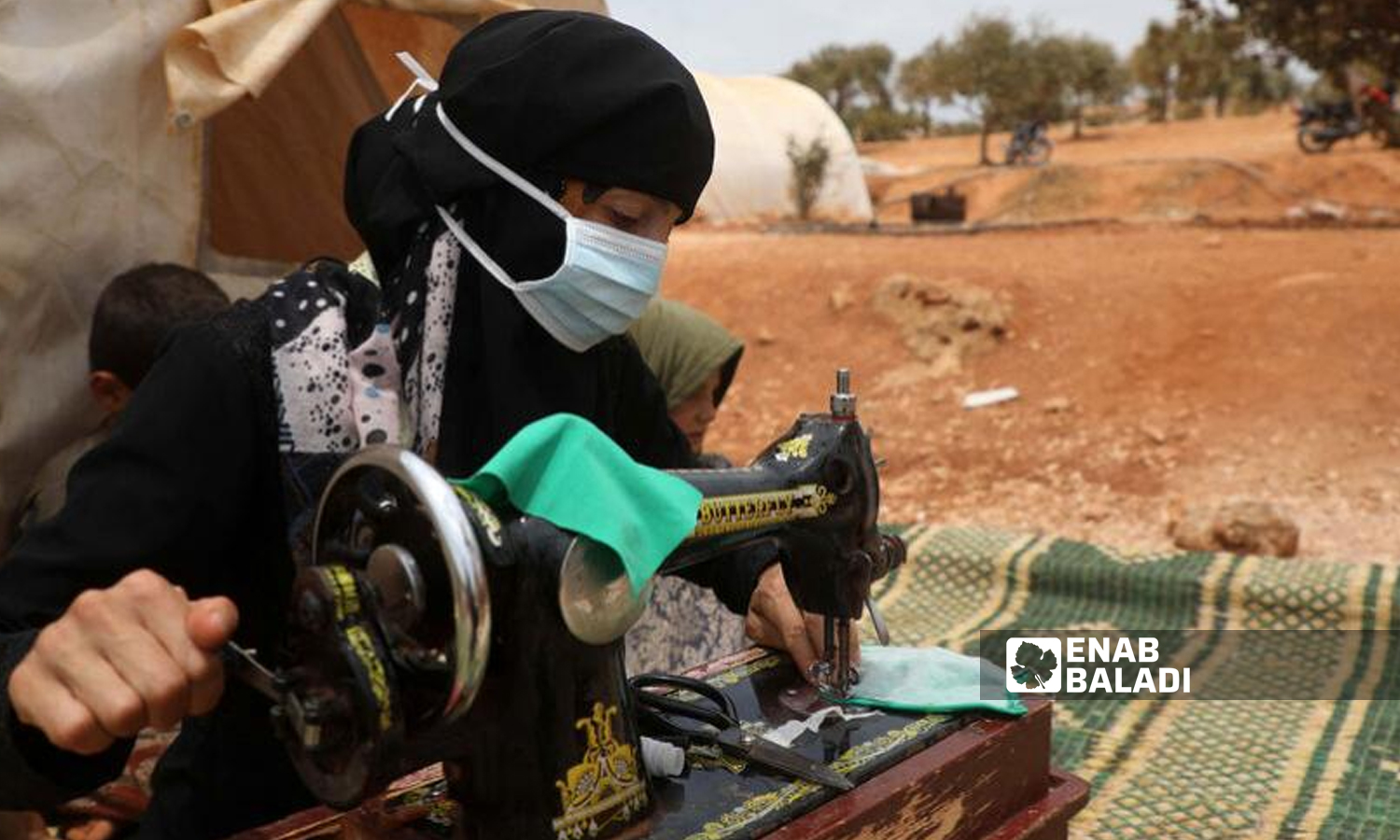 Idlib – Huda al-Kulaib
Sabah al-Jarow, 28, could not hide her dissatisfaction with receiving a small monthly salary compared to what men earn in a clothing store in northern Idlib city, but she is forced to accept any pay as there is no other alternative.
The mother of three told Enab Baladi: "If I leave my job, many others will come who need any work in light of the difficult living conditions they face."
Al-Jarow seeks to support her husband, who works as a construction worker, but recently he rarely finds work, especially in the winter, when most construction projects get suspended.
According to what Enab Baladi monitored, the problem of inequality in wages between the sexes is still the prevailing culture in Idlib, as women receive less wages than men, whether in institutions or self-employment, for considerations that are not related to professional competence, diligence, and excellence in which women are no less than men, in the same fields.
Sa'da al-Dadoush, in her forties, has been working in agricultural workshops since her displacement from her town of Kafr Nubul in the southern countryside of Idlib and her settlement in the border IDP camps of Atma.
The daily work of the displaced woman varies between harvesting crops, plowing the soil, and cleaning crops from the weeds that grow among them.
Al-Dadoush goes out with a group of women and men every season from the early hours of the morning to return in the evening in exchange for a daily wage of 40 Turkish liras (2.6 US dollars), while the men working with her get 60 Turkish liras per day (3.9 US dollars).
Like men, women are breadwinners
Al-Dadoush said that the low wages of women is not new, perhaps because the man is the primary financially responsible for the family, which is a reason for obtaining a higher pension and wage.
However, the current living reality has made many women the breadwinners after their husbands' absence, as most of them need work and acceptable wages to support their children and family in light of displacement, poverty, and high prices.
Women in Idlib are striving to find work, regardless of the circumstances and wages, as they are ready to accept any wage offered to them in light of the lack of job opportunities.
This pushes the owners of shops, workshops, and institutions to hire women for their efficiency and dedication to work in return for simple wages that are not accepted by men, who usually prefer to be unemployed than to be offered low wages that do not match their efforts and the length of working hours.
Gender gap widens
A report issued by the International Labor Organization (ILO) in 2019 revealed that reducing the gender gap at work has not seen any significant improvement in more than 20 years, but despite this, the report showed that the path is clear toward achieving tangible progress that calls for a quantum leap rather than just gradual steps.
"We need to make a quantum leap towards gender equality for a better future of work for all that defines the next steps," said Manuela Tomei, Director of the Working Conditions and Equality Department at ILO.
At the time, the report confirmed that the average gender wage gap is 20 percent globally, explaining that mothers suffer from "pay inequality," which increases in their working lives, while fathers receive a wage increase.
if you think the article contain wrong information or you have additional details Send Correction