Syrians with Turkish Temporary Protection ID complain its large size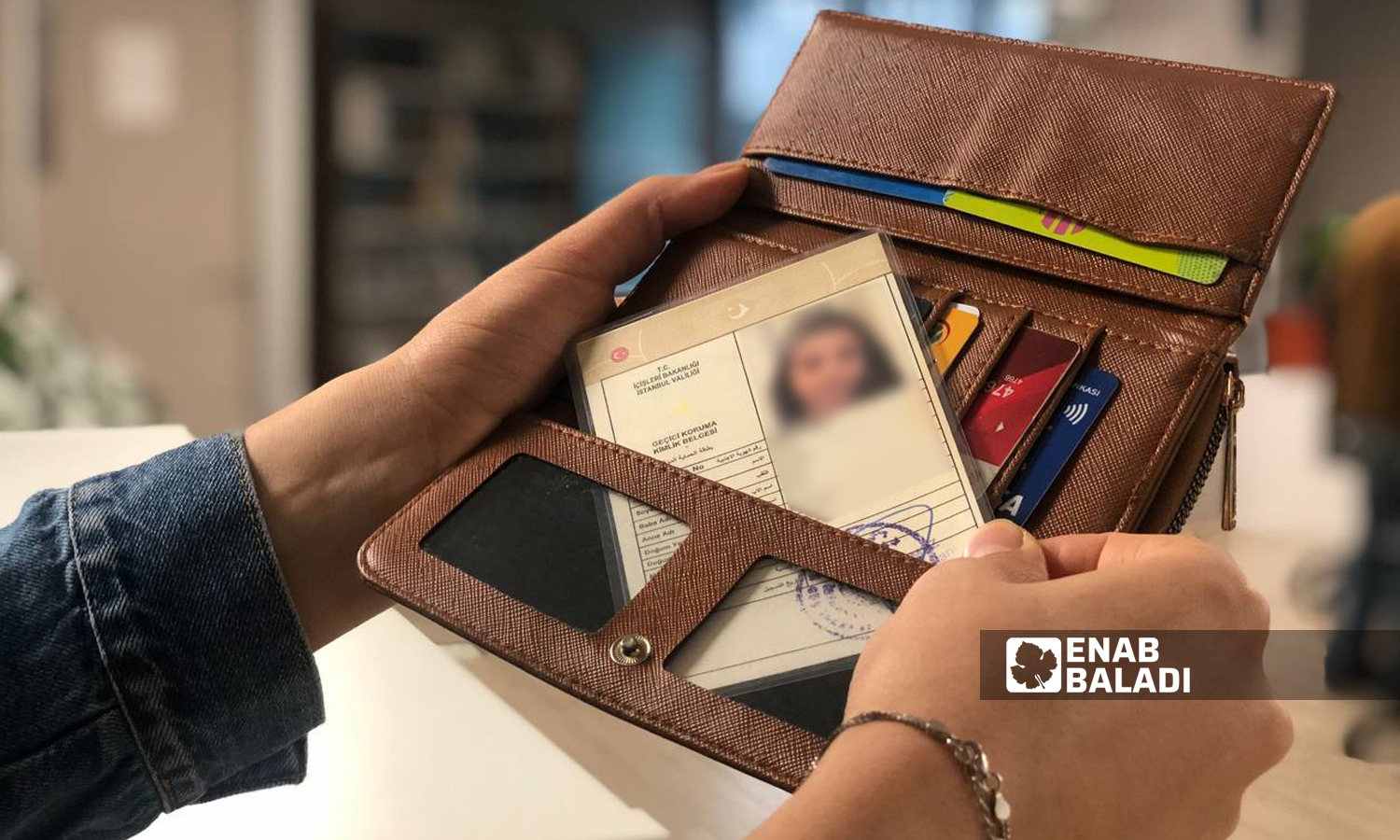 Enab Baladi – Zeinab Masri
Hiba tries to hide her Kimlik, or Temporary Protection ID card, in Turkey when sitting for university exams because of its large size, contrary to recognized specifications of personal identity cards, which sparks observers' curiosity and makes them inquire about it.
Nearly two years after Syrians started resorting to Turkey to escape the regime's escalating violence as the revolution began in Syria, Turkish authorities began granting a Temporary Protection ID card known among Syrians in Turkey as "Kimlik," which is the Turkish term for a personal identity card.
This followed the approval and ratification by the Turkish parliament of the Law on Foreigners and International Protection on 4 April 2013, which provided many legal safeguards for Syrian protection seekers in Turkey.
"Notebook-sized ID"
Hiba, a Syrian student residing in Istanbul since 2018 (Enab Baladi withhold her full name for fear of deportation), told Enab Baladi that exam observers, who are changed periodically, would recognize that she is a Syrian national whenever they see her personal ID of unusual size that is different from usual card sizes.
The young lady recalls an incident during one of the exams when her Kimlik drew the attention of the observer who asked her about it, only to find out that she is Syrian, which prompted her to shout "racist" slurs about Syrians taking jobs and school seats that are for the Turkish.
"It is the size of a notebook," Hiba added sarcastically in reference to the relatively large Kimlik. "They would ask me about it when I sit for an exam, and they would be shocked by its size once they find out that it is a personal ID card."
Several transformations
There have been numerous shifts in the size, specifications, and information recorded on the Kimlik, as it was an uncolored piece of paper the size of usual identity cards with internationally recognized dimensions, wrapped in thermoplastic, and bearing the name "Yabancı Tanıtma Belgesi" (Identification Document for Foreigners).
The first version of the Kimlik showed a barcode and its holder's number beginning with the digits 98, a number that Turkish regulations do not recognize, which prompted authorities to convert it later to 99, a number assigned to foreign residence permit holders in Turkey.
After updates to the first version, the name was changed to "Geçici Koruma Kimlik Belgesi" (Temporary Protection Identity Document) and the personal number that is considered the national identification number was changed to 99, and the card itself was changed to larger dimensions as well, while it remained a piece of black and white paper printed and laminated with plastic.
As of late 2016, the Directorate General of Migration Management implemented a project to update the data of Syrians residing in Turkey under Temporary Protection and updated information obtained during the initial registration conducted by the police or migration management officials in Turkish provinces.
This project, supported by the United Nations High Commissioner for Refugees (UNHCR), ended in early 2019 with the participation and coordination of officials of migration departments throughout Turkey, according to UNHCR's official website.
UNHCR called on those still holding a black and white Temporary Protection ID card (Kimlik) to renew it in order to continue to access the services and assistance available in Turkey.
The last version of the Kimlik was a yellow card, 13.5 centimeters long and 9.5 centimeters wide, with a plastic casing bearing a watermark and the wet signature of the official overseeing its granting, and a heat seal in the form of a circle with a crescent and a star in the middle surrounded by numbers, in order to prevent counterfeiting.
Alternatives: Driver's certificate
Many Syrians deplore the "big" size of the Temporary Protection ID card, which makes it "almost impossible" to place it in a wallet or in pants or shirt pockets, according to a poll conducted by Enab Baladi with a group of Syrian card-holders in Turkey.
"A prayer rug, notebook-sized, does not fit in any wallet, it needs a special bag, can be worn out quickly, it is a book and not an identity card." In these terms, the respondents described their suffering with the size of the Kimlik.
People who took part in the survey said they do not carry the card due to its large size. Instead, they carry a picture of it on the mobile phone to show upon request.
Others explained that they had resorted to obtaining a driver's certificate to be able to dispense with it and carry the certificate easily and conveniently. Turkish authorities allow the use of the new driver's certificate (with an electronic chip) instead of the personal ID when conducting certain official transactions.
The large size of the Kimlik prompted Syrians to copy it and keep a miniature of it, as explained by Abdel Sattar (whose full name Enab Baladi did not disclose), a photographer working in the city of Antakya and an owner of a shop that many Syrians would visit to make copies of their ID cards.
In a telephone conversation with Enab Baladi, Abdel Sattar indicated that the issue of the size of the Kimlik should be highlighted because of the difficulties it causes to the daily dealings of Syrians in Turkey, in the hope of changing and reducing its size to the usual dimensions that fit in pockets or wallets.
The latest version of the Kimlik was printed on special paper similar to that used to print passports or banknotes, unlike before when it used to be printed on white paper. Also, it now bears distinctive marks.
With the new markings, copying the card is now considered counterfeiting, and Turkish authorities reject copied cards and require carrying the original. Copying and counterfeiting the Kimlik was very easy back when it was printed with black ink on white paper, the photographer added.
Abdel Sattar pointed out that these cards are subject to damage caused by folding them due to their large size and the need for Syrians to carry them permanently. Plus, these cards are wrapped with a thermoplastic casing that wears out after a period of repeated use due to friction.
Change that did not include Syrians' cards
On 14 March 2016, the Turkish Ministry of Interior launched the Republic of Turkey Identity Card (TCKK) project to be implemented in 10 Turkish states and to be later circulated to the rest of the states as of 2 January 2017, according to a report published on its website.
The aim of the project was to change the identity card of Turkish citizens called (Nüfus Cüzdanı), which is somewhat similar to Temporary Protection ID cards in shape and size, to the new type of personal ID cards with international specifications and an electronic chip.
According to the said report, the new ID card is designed according to international standards and is credit card-sized for easy carrying. It is made of high-strength material suitable for long-term use.
However, this project only aimed to change the personal ID cards of Turkish citizens and did not include Temporary Protection ID cards or residence permits for foreigners.
National biometric card with standard specifications
This card bears the national identification number and card number and is equipped with an electronic chip. It remains valid for ten years.
Personal ID card measurements are the same as those of bank cards, residence cards, or other official documents, with a width of 8.6 centimeters, a length of 5.4 centimeters, and a thickness of 0.67 millimeters.
According to the latest statistics of the Presidency of the Turkish Migration Management, 3,762,686 Syrians reside in Turkey with the Temporary Protection ID card.
if you think the article contain wrong information or you have additional details Send Correction