Drought affects agricultural crops in northeastern Syria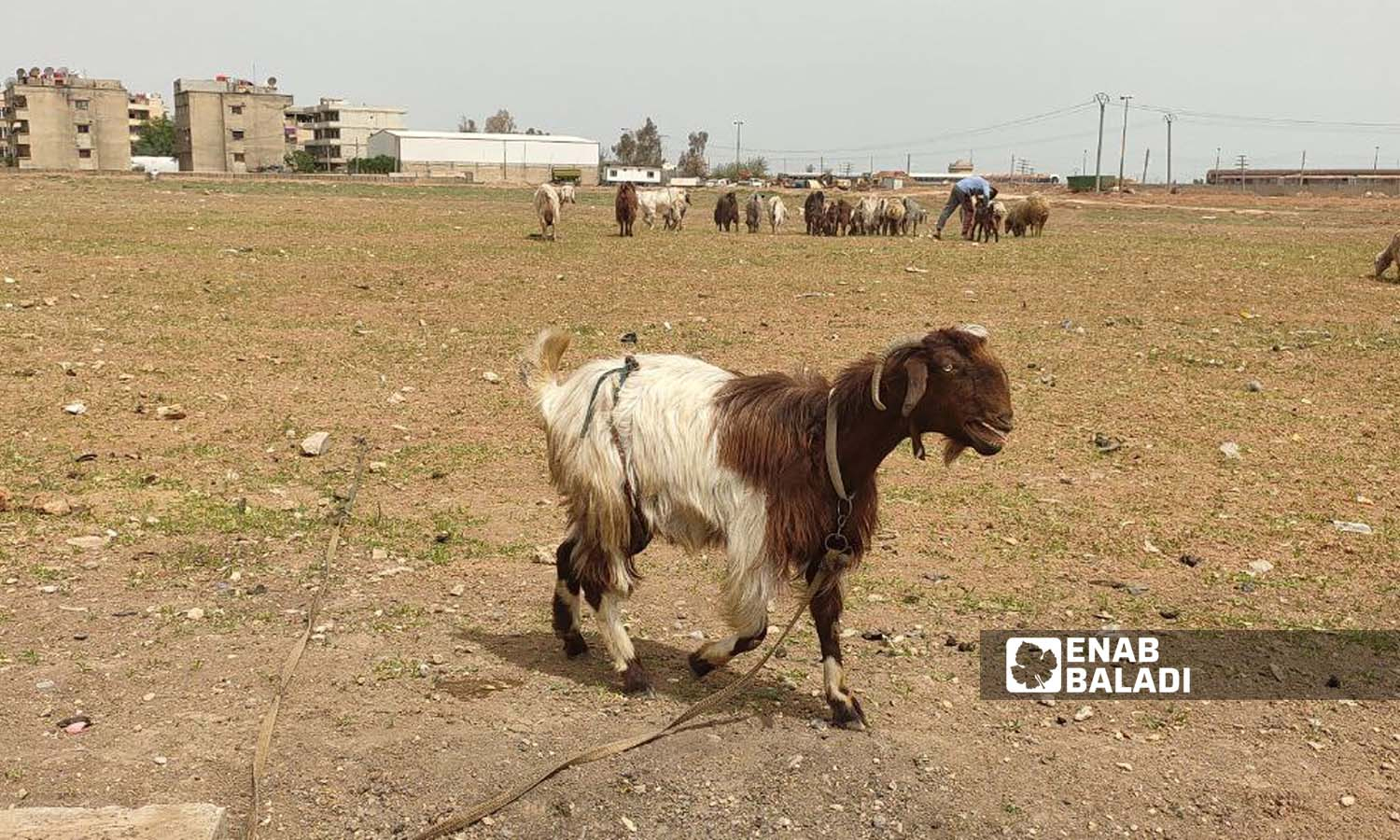 Qamishli – Majd al-Salem
With a gloomy face, a 59-year-old resident of southern Qamishli, Hussein al-Safouk, describes the state of his agricultural land. Having hoped for a bountiful production of ten hectares of barley, he is now forced to lease it to sheep breeders following an absence of rain throughout April.
The man in his sixties told Enab Baladi that he and dozens of other farmers, especially in the southernmost countryside of Qamishli, leased their lands to livestock farmers for 70,000 Syrian pounds per hectare after it became impossible to have a harvest in the area.
Al-Safouk added that one hectare costs about 250,000 Syrian pounds and that the amount of the lease does not even cover a third of the expenses incurred by the farmer, not to mention the time and effort wasted during cultivation and sowing.
Emergency solution
The rental of hopeless agricultural land, harvest-wise, as a result of the drought to sheep breeders is one of the emergency solutions that farmers resort to in order to compensate for some of their losses after cultivation and sowing, without the slightest hope for profits. The amount of the lease varies from year to year, depending on the condition and density of the field.
Malik al-Alewi, 50, of the al-Qahtaniyah countryside, told Enab Baladi that sheep breeders, including himself, resort to leasing rain-fed agricultural crops because this is cheaper than buying fodder at high prices.
One ton of barley costs about 1,7 million Syrian pounds. Wheat is sold for 1,85 million Syrian pounds, and one ton of hay costs 800,000 Syrian pounds, while one ton of bran costs 150,000 Syrian pounds.
(1 USD is trading for 3,875 Syrian pounds, according to the Syrian Pound Today website).
As stated by al-Alewi, many farmers have rented their crops as animal fodder this year. However, as a result of drought, most of these crops are not suitable "even for rent" and do not cover the needs of the sheep herd for one week as a result of their deteriorating vegetation and lack of vegetation density.
As monitored by Enab Baladi, the areas most affected by last April's absence of rain are in the southernmost and southeastern countryside of Qamishli, also known as the fourth and fifth settlement areas. Many farmers in these areas were not fortunate enough to even "rent" their crops, and they were forced to cultivate the land.
This was explained by Hussein al-Makhlef, 40, from the Jaza'a district in the southeastern countryside of Qamishli to Enab Baladi, as he cultivated his barley-grown land in eight hectares of its area. He suffered "enormous" losses while bearing outstanding debts for the current season.
On 17 April, the Al-Furat (Euphrates) local newspaper quoted the Director of Agriculture and Agrarian Reform in al-Hasakah governorate, Engineer Ali Makhlouf, as saying that the rainfall rate in the fourth and fifth settlement areas had not exceeded half, resulting in the exit of a section of wheat and barley farms in these areas.
The situation of these crops in the first and second settlement areas remains "good" (all areas north of the international highway M4 up to the Turkish border). Nevertheless, these areas need rain in the coming days, and if that does not happen, they will be in bad condition. The area of ​​rain-fed wheat is 242,500 hectares.
Menaced wheat crops
Agricultural engineer Hassan al-Sheikh told Enab Baladi that it is difficult for rain-fed crops, especially wheat, to reach maturity due to the lack of rain during last April.
Rain in this period, described by the engineer as "critical to the life of the crop," plays a major role in the growth of the crop and the filling of wheat spikes that are in the fruiting stage. In addition, it is important even for irrigated crops because it saves farmers hundreds of thousands of pounds that are spent on costly irrigation operations as a result of soaring costs of fuel and maintenance expenses for wells and water pumps.
The engineer added that, in early April, the area was exposed to waves of the Khamseen dusty wind, which adversely affected the plants and caused damage to their vegetative growth, as these winds had not been accompanied by "plant-washing" rainfall as had been the case during most of the previous seasons.
A number of irrigated crop farmers stated that difficulties were not limited to rain-fed crops, confirming that they suffer from several problems.
Fifty-four-year-old Adnan al-Hasno, from the western countryside of Qamishli, told Enab Baladi that the Autonomous Administration's repeated delays in delivering the due batches of diesel (15 liters per dunum) negatively affect the quality of the crop during the current critical phase. He also said that the area of ​​seven hectares he owns still needs to be irrigated twice this month.
For its part, the Directorate of Plant Production of the Autonomous Administration of North and East Syria (AANES) stated on its website on 19 April that it had started distributing the fourth batch of diesel fuel to farmers in coordination with the agricultural committees in al-Qahtaniyah, al-Malikiyah, Ma'badeh, al-Jawadiyah, and Qamishli. It also said that it is working on completing the distribution of the third batch to the other committees.
if you think the article contain wrong information or you have additional details Send Correction