Doctors of International Coalition diagnose displaced patients in al-Tanf base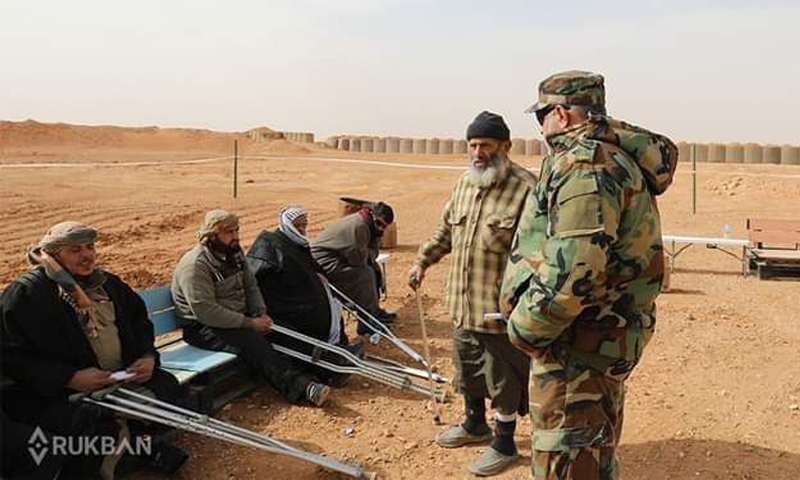 Dozens of displaced patients in the desert Rukban camp on the Syrian-Jordanian border underwent medical examinations inside the US al-Tanf military base near the eastern borderline of Syria.
Al-Rukban Network published on its Facebook page that the medical team of the US-led International Coalition conducted medical examinations for sick cases in the camp on 27 April.
The Rukban-based activist Omar al-Homsi told Enab Baladi that the local medical team is unable to treat critical cases that require transportation to hospitals and continuous treatment.
According to al-Homsi, the solution is to admit the patients to Jordan, but this matter has not been responded to, despite numerous appeals made by the camp residents to the Jordanian side.
In February 2020, Jordan closed the only medical point that provided first aid and received critical deliveries, and closed the borders as part of Jordan's measures to limit the spread of the Covid-19 pandemic.
Regarding the treatment inside the al-Tanf base, al-Homsi said that the doctors of the coalition forces do not enter the camp, so the medical point in the camp works to transfer patients to the base for examinations.
Inside the Rukban camp, there is only one medical point, which is the al-Sham center, that is not qualified to perform surgeries or deal with critical medical cases due to the lack of medical staff and its lack of the most basic medical equipment, according to what the displaced told Enab Baladi.
Before 2018, the camp had about 70,000 residents, but the majority of the population moved towards the areas under the control of the Syrian regime, and only 8,000 people remained, according to activists residing in the camp.
Most of the camp residents come from the governorates of Raqqa, Deir Ezzor, Homs, and Hama and is run by opposition factions backed by the US-led International Coalition.
Al-Tanf base is known as a military point of the International Coalition Forces (ICF) led by the United States, located west of the al-Tanf border crossing on the Syrian-Jordanian-Iraqi border triangle, and was established in 2014 to curb the activity of the Islamic State group.
if you think the article contain wrong information or you have additional details Send Correction