Depend on interests, Turkey may ease conditions for Finland, Sweden NATO bids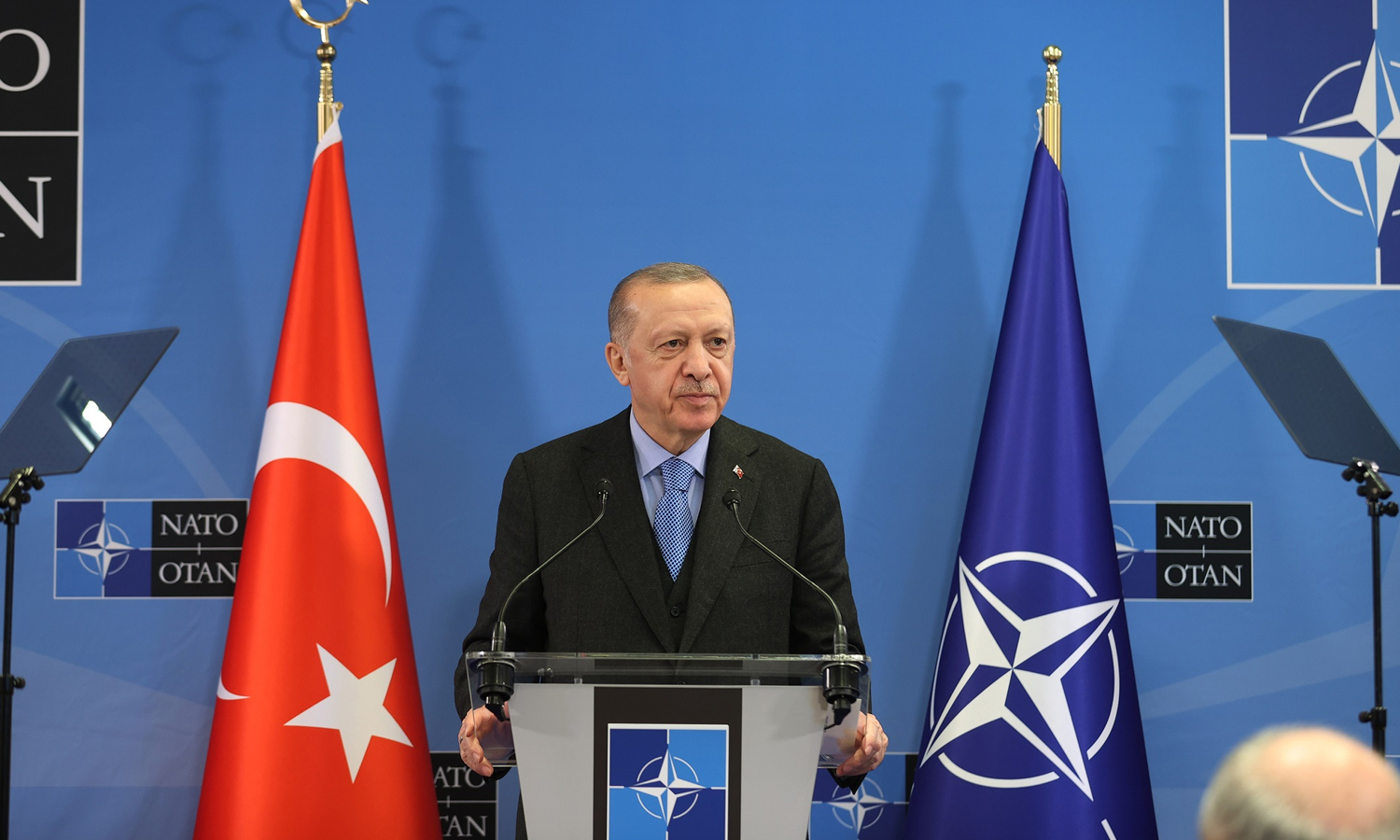 Enab Baladi – Mamoun al-Bustani
The issue of Sweden and Finland joining NATO escalated during the past week after the two Nordic countries announced their intention to join the alliance as a result of the security developments resulting from the Russian invasion of Ukraine on 24 February.
Sweden and Finland's desire to join NATO was met with American and Western support, while the Turkish refusal constituted the prominent node in front of that, as Turkey, one of the 30 NATO members, expressed its absolute rejection of the two countries' joining, accusing them of harboring groups that Ankara classifies as "terrorist."
Official application despite Turkish reservation
Despite the Turkish reservation, Sweden and Finland submitted, on 18 May, their official letters of application to join NATO at its headquarters in Brussels.
On 13 May, Turkish President Recep Tayyip Erdogan announced his country's reservations about the path of Sweden and Finland's accession to NATO, one day after the two countries announced their intention to join NATO.
Erdogan told reporters in Istanbul that his country does not deal positively with Sweden and Finland's accession to NATO, noting that "the Scandinavian countries have become like a guesthouse for terrorist organizations," including the Kurdistan Workers' Party (PKK).
He added that these countries have rejected dozens of official requests to extradite people affiliated with these organizations to the Turkish judiciary and that they provide military and logistical support to these groups in reference to the PKK party and its affiliates in Syria.
Erdogan said that his country does not want to make the same mistake that former Turkish politicians made when they accepted Greece's joining NATO.
Erdogan, on 21 May, said Turkey would not look "positively" on Sweden and Finland's NATO bids unless its terror-related concerns were addressed, despite broad support from other allies, including the United States, according to the AFP.

Erdogan's threat throws a major potential obstacle in the way of membership for the hitherto militarily non-aligned Nordic nations since a consensus is required in NATO decisions.

"Unless Sweden and Finland clearly show that they will stand in solidarity with Turkey on fundamental issues, especially in the fight against terrorism, we will not approach these countries' NATO membership positively," Erdogan told NATO chief Jens Stoltenberg in a phone call, according to the presidency.

Turkey expected Sweden to "take concrete and serious steps" that show it shares Ankara's concerns over the outlawed Kurdistan Workers' Party (PKK) and its Iraqi and Syrian offshoots, Erdogan told the Swedish premier, according to the presidency.
No solution to Syria
This strict Turkish position prompted Sweden and Finland to negotiate with Turkey and hold several diplomatic meetings, including a tripartite meeting held on 15 May between Turkish Foreign Minister Mevlut Cavusoglu, his Swedish counterpart Ann Linde and his Finnish counterpart Pekka Haavisto, in the German capital, Berlin, on the sidelines of the informal meeting of NATO foreign ministers.
Linde announced at the time that no solution had been reached with Turkey regarding the groups operating in northern Syria, in reference to the Syrian Democratic Forces (SDF), which are active in the areas controlled by the Autonomous Administration in northeastern Syria.
Linde said, "We consider the PKK a terrorist organization, but we do not see the same for groups operating in northern Syria. We communicate with Kurdish organizations in northern Syria as the United States and other NATO countries do."
Cavusoglu had stated before the meeting that "any country that will be a member of the alliance should not support the PKK terrorist organization," noting that both countries openly support the PKK and its arm in Syria (the People's Protection Units – YPG), despite all warnings.
The Autonomous Administration (the political umbrella of the Kurdish parties in northeastern Syria) issued a statement on 16 May, accusing the ruling Justice and Development Party (AK Parti) in Turkey of "practicing denial racist policies towards the aspirations of the peoples and components of the region in drawing their future to live in freedom and human dignity, especially the Kurdish people," according to the statement.
The Autonomous Administration also criticized the Turkish president's opposition to the accession of Sweden and Finland to NATO, saying that he "draws the world's policies according to his measures."
Turkish opportunity to pressure
Swedish researcher on Syria Aron Lund, a fellow at the Century Foundation, and a researcher at the Swedish Defense Research Agency (FOI), said that "only Erdogan knows how far he is willing to go in blocking Swedish and Finnish NATO membership, especially if Turkey comes under pressure from the United States and other NATO countries."
Lund told Enab Baladi that he is not speaking on behalf of the FOI or the Swedish government but rather about his personal opinion. He said, "From a military and security standpoint, it is obviously in Turkey's interest to strengthen the northern flank of NATO by accepting Sweden and Finland as members because this will increase NATO's defensive potential vis-à-vis Russia and force it to concentrate more of its military in northern Europe and the Baltic Sea, away from Turkey and the Black Sea region."
"At the same time, Turkey has severe political disagreements with primarily Sweden and secondarily Finland. Erdogan clearly sees an opportunity to put pressure on these two nations," Lund said.
Three Turkish demands
According to what Lund told Enab Baladi, Turkish diplomats made three demands to Sweden, namely:
 1- Halt the Swedish support for the Kurdish-led Autonomous Administration in northeastern Syria.
 2- Extradition of asylum seekers linked to the PKK or the Gülen movement to Turkey.
 3- The abolition of the arms embargo instituted in 2019, which seems mainly symbolic since Sweden did not have any significant arms export to Turkey before 2019.
Practically speaking, he added, Erdogan may also be hoping that the US will intervene to solve the issue by making concessions on other issues to Turkey. For example, Turkey is negotiating the purchase of F-16 fighter jets from the United States.
Erdogan is also seeking to hold a public meeting with his American counterpart, Joe Biden, which the US has refused so far.
Turkey in a 'strong position'
"Turkey appears to have a relatively strong hand at the moment, as Sweden and Finland need Turkey's approval to enter NATO, and there is no other way to bypass this issue," Lund said.
Noting that in the Swedish case, there is an additional complication which is the approaching election date next fall, and the government wants the NATO issue to be on the right track by then.
On the other hand, Turkey is not bound by a deadline on the issue, and it has the ability to delay Sweden's accession to NATO for as long as it wants, assuming that it can deal with negative reactions and pressure from other NATO countries. However, the Turkish decision to refuse is not permanent, as Erdogan can always change his mind and approve a Swedish entry later.
Lund indicated that it is possible to reach a compromise, but it is highly unlikely that Sweden will meet all of Turkey's demands, stressing that it is in the interests of both Turkey and Sweden, and certainly Finland as well, to find a face-saving compromise, but it is unclear how it would look and what form it would take.
Law and extradition
On Turkey's demands to extradite people living in Sweden, Lund explained that Swedish law is very strict on asylum and extradition issues, which are controlled mainly by the courts.
"It would seem virtually impossible for any Swedish government to meet the demand for extradition, even if it wanted to. It's not clear whether the Turkish government realizes how complicated the extradition issue is from a Swedish legal standpoint," Lund said.
Supporting Autonomous Administration
Lund emphasized that the Swedish government has been supportive of the Syrian opposition and very critical of al-Assad's government. It is a significant humanitarian donor to Syria for its size, noting that Sweden has not been militarily involved in Syria or provided weapons to any side.
He stated that Sweden had received about 200,000 Syrian refugees. Considering that Sweden has only 10 million inhabitants, that is the largest number of Syrian refugees per capita in any nation outside the Middle East.
"In recent years, Swedish diplomats have voiced increasing support for the Autonomous Administration and met with its officials on several occasions, including to discuss the issue of Swedish citizens detained in the al-Hol camp," Lund explained.
The Swedish government also strongly criticized Turkey's attacks on the SDF, including the 2019 intervention," referring to the Peace Spring Operation carried out by Turkish forces backed by allied opposition factions in northeastern Syria.
In a recent conclusion to Enab Baladi, Lund said, "Similar to the United States, the Swedish government officially distinguishes between the PKK and the YPG, as it has classified the PKK as a terrorist group since the eighties, even before the European Union adopted this classification but at the same time, it does not list the YPG as a terrorist group."
if you think the article contain wrong information or you have additional details Send Correction