Children with Down syndrome in Idlib camps suffer bullying, lack of care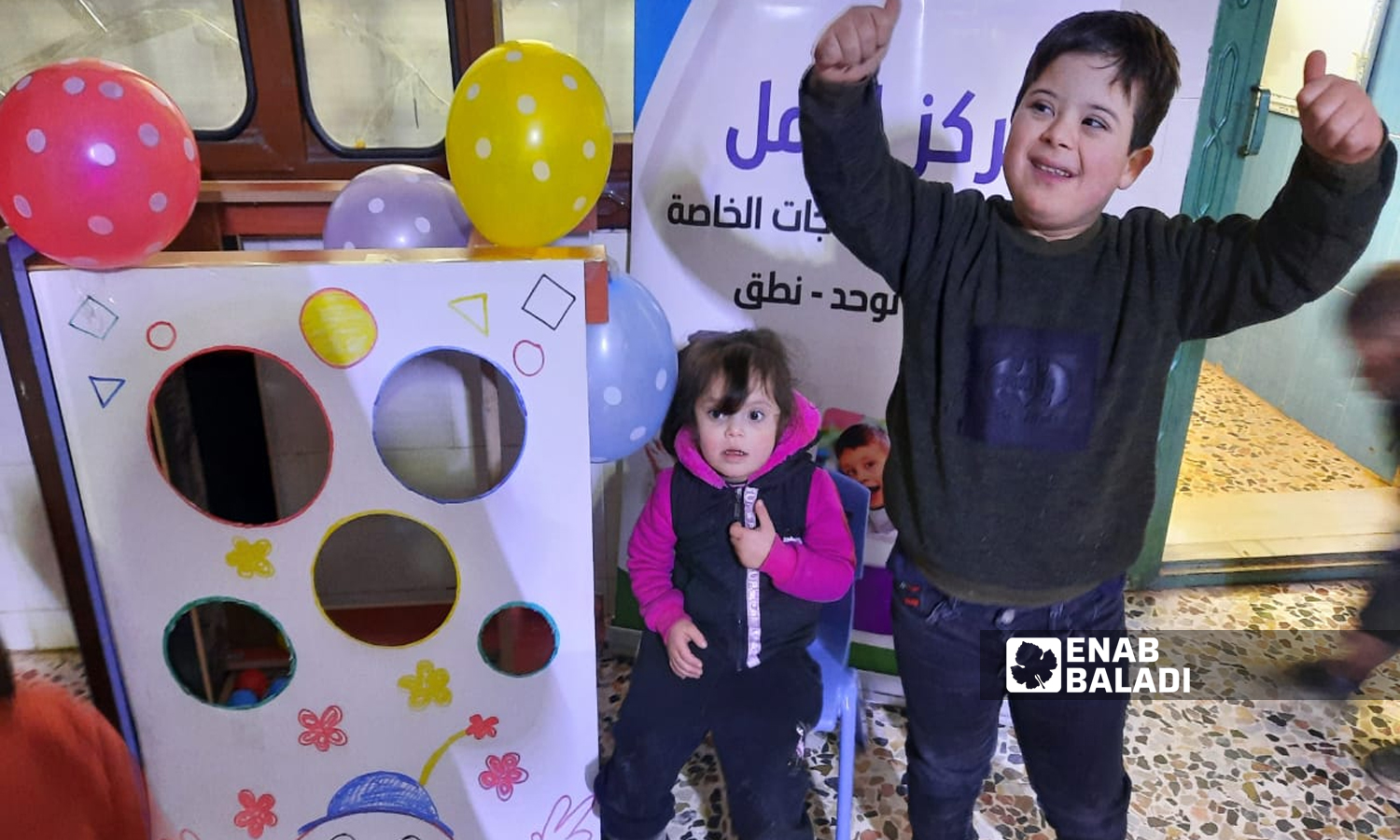 Idlib – Huda al-Kulaib
Jumana al-Bakour, 33, refused to send her 10-year-old son, Haitham, to school after he was repeatedly bullied by his colleagues, who mocked his having Down syndrome, as those who suffer from it are considered among the most marginalized groups in Idlib.
Al-Bakour said that she preferred not to send her son to school when he was subjected to physical and psychological abuse, as his peers were not accustomed to the presence of Haitham's case among them, while their IDP camp located in Tal al-Karamah, north of Idlib, lacks any centers specialized in this category of people, or even awareness seminars in schools at least.
"I heard about the existence of centers specialized in educating and caring for children with Down syndrome, but the distances between the towns and cities of Idlib governorate prevent me from delivering my child to these centers, especially with the high transportation costs," said al-Bakour.
The mother hopes that there is a body that will take care of transporting children from the camps to specialized centers to help their families and encourage them to continue their children's education.
Poor response
Jumana's situation is similar to that of many families in Idlib, who have failed to access rehabilitation centers for their children with Down syndrome who live in difficult conditions in the IDP camps, where neglect, hardship, and poor response to their needs, due to the absence of specialized centers to provide therapeutic and psychological services for them in the places close to their places of residence in the camps.
"It is not easy for your son to be born disabled," says Riham al-Haj, 30, about her struggle with the condition of her eight-year-old daughter, Rahaf, who has Down syndrome. The mother does not know how to help her daughter learn, improve her speech, and receive physical treatment.
"War, displacement, and poverty have a terrible impact on children with Down syndrome due to isolation, lack of resources, and lack of care. They did not even have the opportunity to learn the basics such as walking, feeding themselves, and talking to others," according to al-Haj.
The mother points to the society's great ignorance of how to deal with this group due to the lack of awareness and training, especially in the displacement camps, which contributed to increasing the suffering and marginalization of this group, which has become largely forgotten.
There are no official statistics regarding the number of children with Down syndrome in Idlib due to the lack of lists of those affected by the health authorities in the region.
Limited care centers
Down syndrome is a genetic disorder caused by abnormal cell division, which leads to an increase in total or partial copies of chromosome 21, and this extra genetic material causes changes in growth and physical features that characterize Down syndrome.
Idlib-based Doctor Farid al-Hallaq told Enab Baladi that Down syndrome varies in severity among sufferers, which causes intellectual disability and a lifelong delay in development, as it is the most common genetic chromosomal disorder and causes learning disabilities in children, and it often causes other medical abnormalities, including heart and digestive disorders.
The pediatrician confirmed that every person with Down syndrome is an individual who suffers from mild, moderate, or severe mental and developmental problems. Some may be healthy, while others suffer from major health problems such as serious heart defects.
Although there are a number of centers specialized in providing medical and educational services to this category in Idlib, they are still few and limited, and they lack much support and logistics.
Ghinwa Nawaf, director of the al-Amal center for people with disabilities in the town of al-Dana, told Enab Baladi that the center came with the aim of rehabilitating children with disabilities and integrating them into society properly after examining the great neglect of this group in the Idlib region.
The center covers several areas, including al-Dana, Sarmada and its IDP camps, Bab al-Hawa, Deir Hassan and its camps, Termanin, and Hazra.
Among the problems treated and received by the center are cases of Down syndrome, deafness, autism, speech rehabilitation, and hearing disabilities.
The number of children who have benefited from the center with regard to Down syndrome has so far reached 80, says Nawaf.
According to a report by the Syrian Response Coordination Group (SRCG), there are more than 198,000 people with disabilities in northwestern Syria.
if you think the article contain wrong information or you have additional details Send Correction