Aleppo marble stone is in demand abroad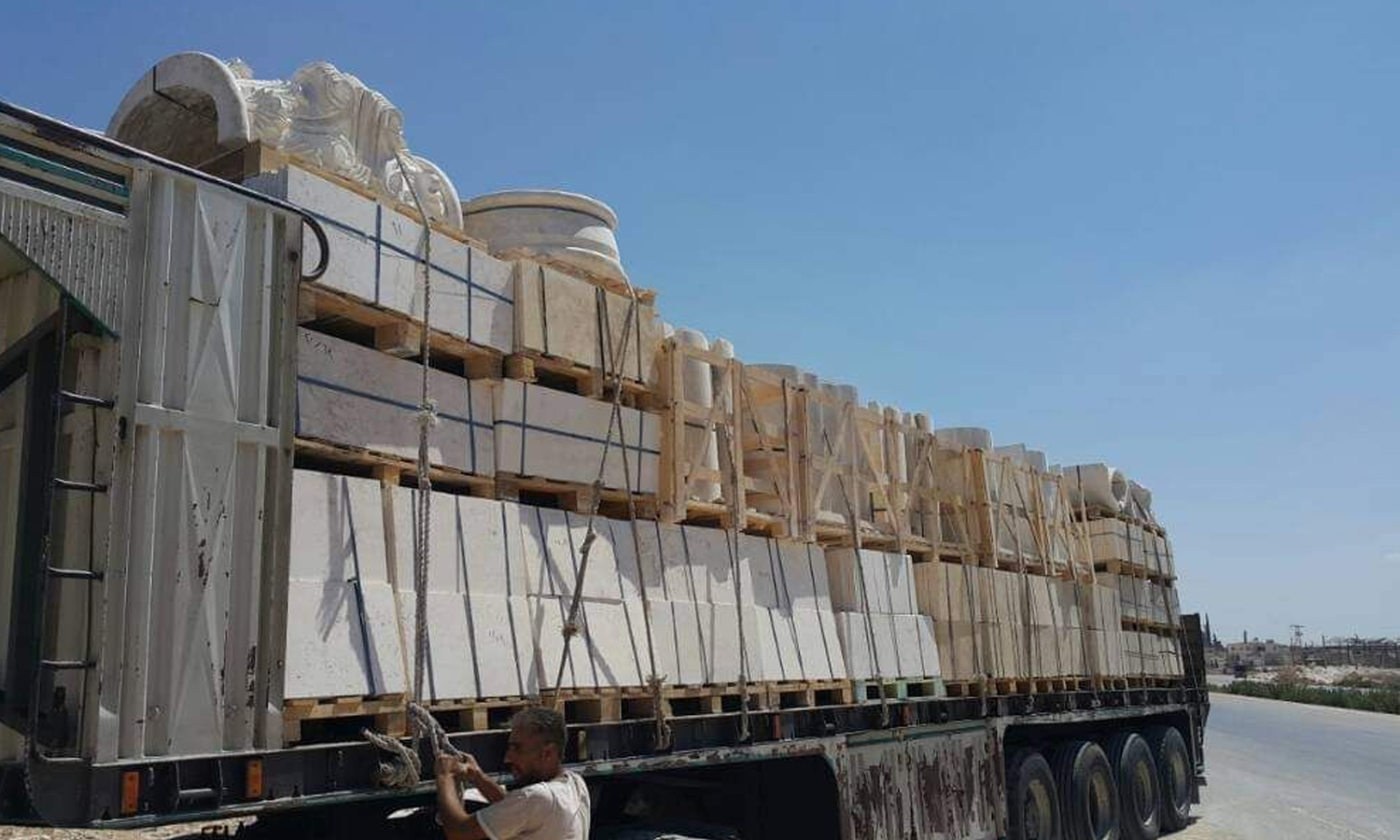 Enab Baladi – Aleppo
Qutaiba, 43, arrives at the stone sawmill near the village of Kafr Hamra in the northwestern countryside of Aleppo, where he works for a living. He earns no more than 20,000 Syrian pounds a day (about 5 US dollars).
Working hours depend on the electric generator running on commercial diesel. But with the sawmill occasionally running out of diesel or sometimes being robbed, "I find myself unemployed for days on end," says Qutaiba, who preferred to introduce himself only by his first name.
Large stones are brought from quarries in the countryside of Aleppo, especially the northern countryside. "We cut and saw them according to specific measurements to be used on the facades of residential buildings in high-end neighborhoods or are often used to clad villas and farms."
"During one day's work, another worker and I would prepare about 50 to 60 square meters", Qutaiba continues. The stone is subject to purification and analysis. These cut stones are later transported to warehouses, while some of them are shipped outside Syrian territory.
According to Hisham, 40, a worker in a stone sawmill near the al-Maslamiya area close to the industrial zone of Aleppo, some of the mills returned to export after increasing demand for Aleppo stone due to its quality.
Hisham, who also preferred not to be named in full for security reasons, said that Aleppo's quarries and stone mills provided three colors of Aleppo stone, namely white, pink, and yellow. "The stones are subjected to scouring and polishing to reflect the sun's rays and for the Aleppo stone to maintain its luster after washing, as it does not absorb water and is free of cavities or pits."
What is the reason for the stone price hike?
Stone sawmills rely on electric generators that run on commercial diesel. However, due to the shortages and high diesel prices, owners of stone mills are forced to buy it on the black market, where one barrel often costs 900,000 Syrian pounds (over 225 US dollars), in addition to the rising prices of spare parts for damaged stone sawmills.
Amin, a 51-year-old owner of a stone and marble mill in the Kafr Hamra area of Aleppo city, told Enab Baladi that stone mills are being robbed, as expensive cutting and polishing parts, such as plates and screw blades, are being stolen.
According to Amin, the price of one square meter of floral stone is up to 64,000 Syrian pounds, while one square meter of white stone costs 71,000 pounds on average.
Prices fluctuate, and production is unstable due to diesel shortages. While some stone mills continue to operate, others have stopped due to frequent thefts or exorbitant costs, to which transportation costs are added.
According to the Syria Pound Today website, which specializes in exchange rates and foreign currencies, 1 US dollar was worth 3885 Syrian pounds on 23 April.
Royalties for the passage of cargo
After the demand for the Aleppo stone returned and its export, the Syrian regime's checkpoints began to impose royalties on the cars loaded with it until the royalty imposed on the load of one truck reached more than one million and 700,000 Syrian pounds.
The value of the royalty may increase according to the load, which weighs between 18 and 30 tons, and the increase comes according to the checkpoints through which cars loaded with stones extracted from the quarries pass, according to Najm, 39, who works within the stone quarries near the industrial city of Aleppo.
Najm told Enab Baladi that "large stones are placed in trucks by lifting them using tractors and cranes," noting the high costs of these machines. "A crane operator receives a daily wage of about 45,000 pounds, and some of them even make 60,000 pounds a day, always taking into account the cranes malfunctions due to the work pressure, or the damage to hydraulic pumps". Therefore, the price of the cargo has doubled. Trucks are "prevented from continuing on their way if they do not pay the fees" while passing through security checkpoints. Prices are, therefore, expected to rise, especially given the high cost of shipping outside Syrian territory.
Some Aleppo stone mills returned to export after increasing demand for the stone for its quality. In November 2021, the Chamber of Commerce and Industry of the local council of the city of al-Rai, northeast of Aleppo, announced the approval of the export of natural Syrian stone, also known as the Aleppo stone, to Turkish markets.
The Aleppo stone was added to the list of goods exported from Syria to Turkey that are granted customs services starting on 15 of the same month, the council said in a statement on 17 November 2021.
Turkey grants a certificate of origin for Syrian goods and facilitates their "escorting" to export ports.
if you think the article contain wrong information or you have additional details Send Correction