Traditional Ramadan foods and drinks absent from Aleppo tables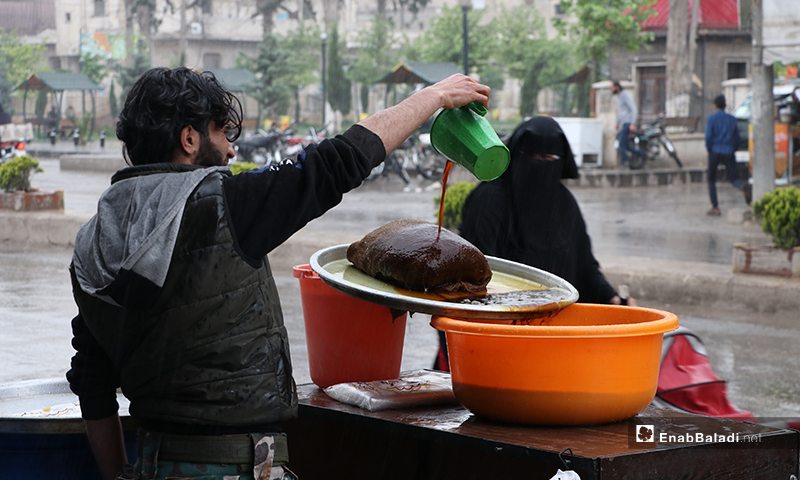 Enab Baladi – Aleppo
It is not like the previous times, as 50-year-old Younis enters his home in the al-Qaterji neighborhood of northern Aleppo city without carrying the traditional Ramadan sweets and drinks to his family.
This time is not like every year of the Holy Ramadan. His hands are empty; no Maarouk bread or Licorice and Tamarind juices.
"There are consumer habits that most families in Aleppo have lost during Ramadan due to the soaring prices of foods," Younis told Enab Baladi.
The price of a Maarouk dessert starts from 8000 Syrian pounds (2,2 US dollars), and the price of a filled loaf reaches 15,000 Syrian pounds (about 4 US dollars). The price of a liter of Licorice drink is 1,000 Syrian pounds (25 US cents), while a liter of Tamarind juice is about 2000 pounds (50 US cents). Such expenses are not within Younis' purchasing ability since his salary is hardly enough to secure a living for a whole month.
Younis (Enab Baladi withheld his last name for security reasons) is waiting for a remittance from one of his relatives or friends outside Syria so that he can buy whatever he wants during Ramadan.
"We are unable to buy Maarouk since my big family needs at least two loaves of it, and this means that the cost of Maarouk and Licorice drink without Tamarind will be 12,000 Syrian pounds (3 US dollars) per day, 360,000 Syrian pounds (90 US dollars) per month. Such a cost is almost twice the value of my salary in public service. I cannot afford it since my quest is to secure basics for Ramadan breakfast meals," Younis said.
Prices soar in Ramadan
The hike in raw materials prices has soared the prices of Ramadan food, but pastry shops specializing in Maarouk bread are still producing and selling it at different prices.
The price of a flour bag (50 kg) has reached 90,000 Syrian pounds (18 US dollars), and it may rise more than that in the coming period due to the shortage of materials such as cooking oil as well.
Issam, 51, owner of a pastry shop in the Salah al-Din neighborhood of Aleppo, said flour prices are not fixed, and oils are no longer available as before.
With few customers during the first week of Ramadan, Issam keeps working in his shop, which includes four bakeries that produce maarouk, baguettes, and pastries such as croissants and petit four.
The price of cooking gas for restaurants is rising, as we used to exchange a gas cylinder for 190,000 Syrian pounds (about 45 US dollars), and sometimes 210,000 (55 US dollars), but now the price has risen to 240,000 Syrian Pounds (65 US dollars), he added.
Issam (Enab Baladi withheld his last name for security reasons) attributed the high price of pastry to the rise in inflation in general.
"My shop needs three gas cylinders per week, which is part of the expenses. Therefore, I have been forced to sell Maarouk bread for 10,000 Syrian pounds (2.5 US dollars), and stuffed Maarouk with nuts or chocolate costs 15,000 Syrian pounds (about 4 US dollars), which is more popular as customers come to buy quantities that cover their needs for two days or more," the pastry man said.
The traditional Maarouk bread has become a "luxury" for some residents, the seller says, lamenting the lack of his customers as some bought only during the first and second days of Ramadan, but they did not buy again in the following days due to financial hardships.
Ramadan juices are also expensive
Plastic bags are spread on the fronts of restaurants and grocery stores, and each contains less than a liter of Tamarind or Licorice juice.
These two drinks are considered essential items on the breakfast table during the fasting month, as they help hydrate the body and improve digestion.
The high prices did not exclude these two juices in Aleppo city, as their prices have reached the point where Tamarind sellers can no longer add sugar to it, with the price of a kilo of sugar reaching about 4,000 Syrian pounds (about 1 US dollar).
Abdo, 27, a street vendor, told Enab Baladi that it was the first time he did not see the eagerness to buy Licorice and Tamarind juices from people.
"It seems that people are more interested in securing their Ramadan breakfast meals," he added.
The traditional juice sales during the first week of Ramadan were weak in comparison to last Ramadan, according to Abdo, whose full name is withheld by Enab Baladi for security reasons.
Families deprived of dates
The dried dates associated with the Prophet Muhammad's Sunnah are absent from Ramadan tables as well as many fasting people in Aleppo because of their high prices, which vary between imported Iraqi and Gulf dates.
Before Ramadan, the price of a 5-kg box was 62,000 Syrian pounds (15 US dollars), but on the first day of Ramadan, the price of the box reached about 80,000 (20 US dollars), while the price of a kilogram of Emirati and Saudi dates reached about 65,000 Syrian pounds (16 US dollars).
In early April, Osama Quziez, a member of the al-Hal Market's Traders and Exporters Committee, said that there are only "date leftovers" in the markets in the regime-controlled areas that were packed in large refrigerators; the wholesale price for 1 kg reaches 20,000 Syrian pounds (5 US dollars).
Quziez denied to al-Madina FM radio the existence of "first-class" dates in the markets, as the traders claim, as the current type is considered to be of medium quality.
The trader attributed the price hike to the decision to prevent the import of the material, which was arriving in Syria from the Gulf States, amid a fourfold increase in demand, whether by residents or associations, for distribution to mosques during the month of Ramadan.
The price of a kilogram of dates in the market ranges between 11,000 (3 US dollars) and 45,000 (11 US dollars), according to the al-Madina FM radio.
The regime's government had extended the suspension of importing some materials until the end of this year and re-granted import licenses for a number of materials that had been previously suspended, including dates.
The Damascus Chamber of Industry had previously demanded that walnuts and dates be excluded from the decision to ban imports, which was issued in August 2021, due to the lack of sufficient quantities to cover the local market of walnuts, and because Syria is a non-date-producing country.
The owners of food stores in Aleppo attribute the reason for the high prices to the deterioration of the value of the Syrian pound and the prevention of importation.
The regime's Ministry of Economy and Foreign Trade decided in August 2021 to stop the import of 20 items for a period of six months at that time, justifying the decision in response to the request of the Central Bank of Syria (CBS).
The Central Bank says that it seeks to reduce the value of the total national import bill in line with the approved priorities by the amount required to be secured by the bank in order to finance wheat imports during the coming period, with the aim of rationalizing imports and limiting the depletion of foreign exchange.
Hussam, an owner of a food store in the Maysaloun neighborhood, spoke to Enab Baladi on condition of anonymity, "We do not control prices, and we are not wholesalers, so that we raise prices at every moment, but we buy a kilo of dates and then sell them for 16,000 Syrian pounds, with a profit of only 500 or 600 Syrian pounds," adding that prices are in dramatic soar.
"When we go to buy goods for the store, we find that it has gone up day by day, and the rise in date prices is linked to the advent of Ramadan and the merchants' control and manipulation."
The rise in prices in the city of Aleppo has deprived the majority of families of the main dishes for breaking fasting, but during the current month of Ramadan, these families are satisfied with one meal as an iftar meal for a family of five people.
The cost of a traditional meal such as Mujaddara (dubbed as Meal of the Poor consists of bulgur, onions, and lentils) costs about 25,000 Syrian pounds (6.5 US dollars), which is equivalent to a quarter of a government employee's salary.
if you think the article contain wrong information or you have additional details Send Correction