Russia cuts salaries of Fifth Corps fighters in Aleppo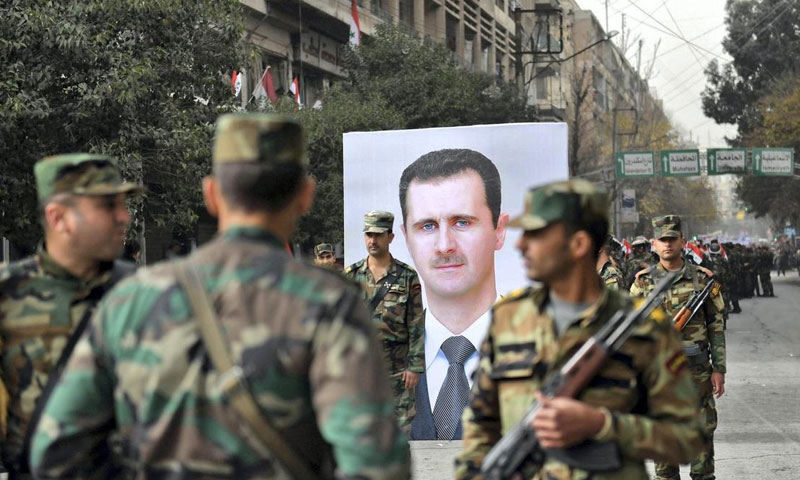 The Russian-backed Fifth Corps paramilitary group halved the monthly salaries of its fighters based in northern Aleppo governorate.
The cut in salaries from 200 to 100 US dollars per month provoked anger and dissatisfaction among Fifth Corps personnel, according to Enab Baladi's correspondent in Aleppo.
The correspondent mentioned that some members of the Fifth Corps had begun requesting leave and intend to withdraw from the Corps due to salary cuts and their fear of being forced to join the Russian forces in their invasion of Ukraine.
Some elements of the Corps deployed near Ramouseh, in the vicinity of the Military Academy of Aleppo, had left. Other elements stationed in Khan al-Asal, in the western countryside of Aleppo, also left their positions, although unauthorized to leave by Syrian officers within the Russian military units.
Concerns about salary ceasing
Saad, 31, is one of the "reconciliation" settlement members who joined the Fifth Corps, told Enab Baladi, "we learned from officers that the salary dropped to 100 US dollars, and we are likely to be sent to fight alongside the Russian army in Ukraine. However, what concerns us is that halving salaries can be a prelude to a complete canceling of salaries".
"We have no income other than what we receive from the Corps, and we are under no obligation to stay because the clause related to the salary allocated to us is included in the contract that we signed when we enlisted," said Saad, who declined to disclose his full name for security reasons.
Saad pointed out that "the contract terms did not include any salary reduction due to war or otherwise. I personally think that salary cuts reveal a Russian deficit, a consequence of the Russo-Ukrainian war, which means that Russians could withdraw and we could be merged with other military units".
He explained that the reason for joining the Fifth Corps was to secure a stable financial income, in addition to obtaining a security card that would take him out of harm's way. "However," he added, "things are different now."
"Military exercise outside Syria"
Regarding Russia's preoccupation with Ukraine, Munir, 29, a member of the Fifth Corps, told Enab Baladi on the condition of anonymity, "following the start of the Russian war on Ukraine, Russian troops withdrew from certain positions, and also reduced the number of their troops in others. For the time being, the salary of Fifth Corps elements has been cut in half".
There will be unannounced withdrawals of Russian troops from other locations in the coming period, he said, considering that leaks of the Russian withdrawal have become a drag on the reputation of Russians, who are currently suspected of losing their power.
Munir indicated that the impact of the salary reduction would be reflected in the failure of Fifth Corps elements to comply with the decisions to be taken by the Russian forces command in Syria.
Some members of the Corps asked to join the military units of the Syrian regime forces or to join the Russian forces in their war in Ukraine because the enlistment contract contained a clause stipulating that the element is entitled to participate in battles alongside the Russian army outside Syrian territory, according to Munir.
During the last period, the Russians scaled down their military presence in Aleppo, while certain tasks were assigned to Syrian elements within the Fifth Corps.
Mercenaries recruitment 
Last March, Enab Baladi published a report revealing that Russian forces had reduced the number of their fighters in Aleppo, moving part of them to the Russian base of Hmeimim in the coastal region.
According to said report, Russia organized the work at its Aleppo points so that each point would be supervised by a Russian officer, who would be accompanied by three elements, in addition to Syrian fighters who had spent more than four years of active duty within Fifth Corps ranks.
Mercenary recruitment offices have spread widely in Aleppo governorate since early last March. As stated in a report published by Enab Baladi on 30 March, these offices are directly affiliated with the Fifth Corps and are working on preparing lists of potential recruits.
As to the exact location of these offices, they have spread to the neighborhoods of al-Jamilia, Sabaa Bahrat, Maysaloon, al-Hamdaniya, and New Aleppo.
These offices are staffed by officers and administrators who report directly to the Russians and who are under their command, a number of whom are holders of "settlement" cards that primarily aim at stopping security prosecutions against them but have now turned into a "transcontinental" source of livelihood.
if you think the article contain wrong information or you have additional details Send Correction