Ramadan as remedy for family disputes in Idlib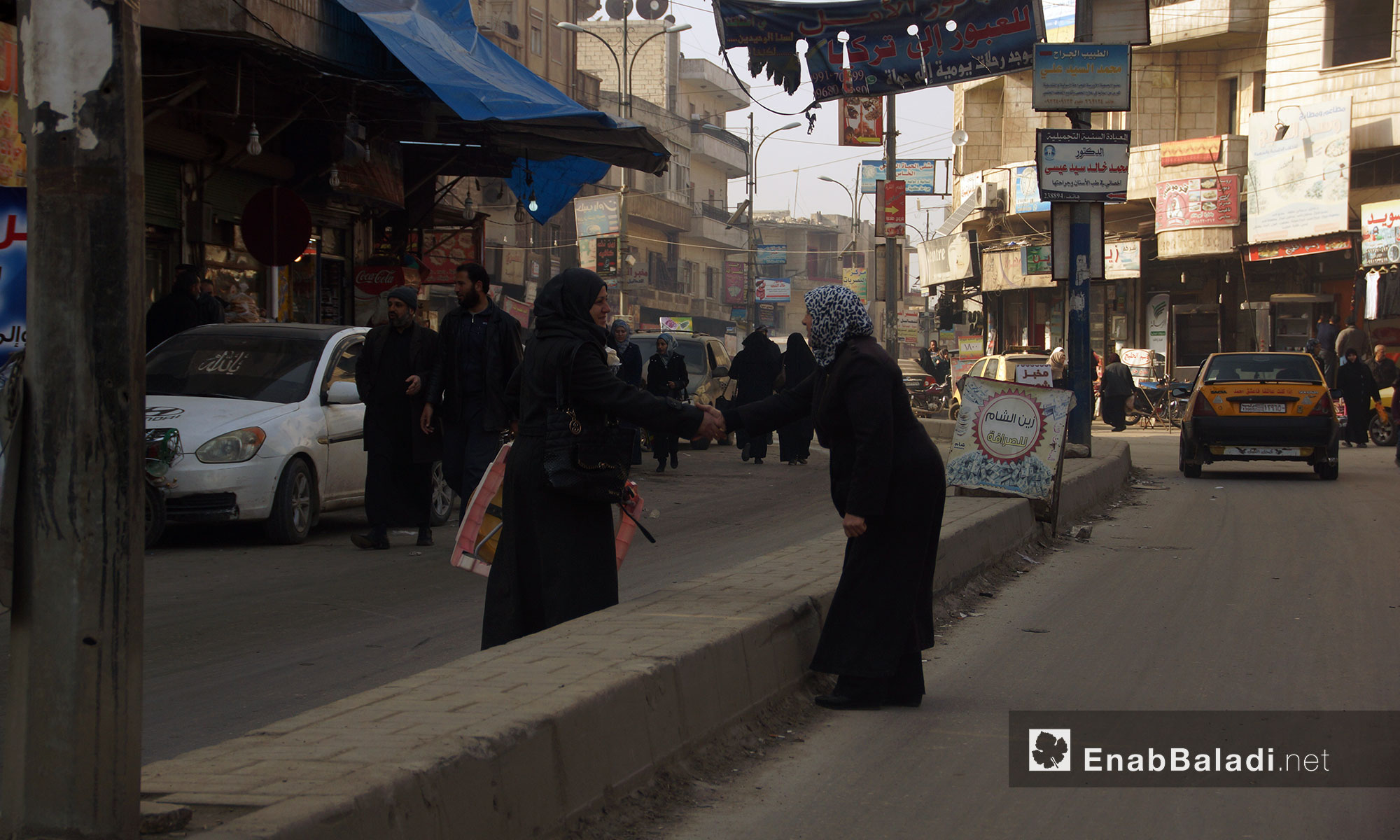 Enab Baladi – Idlib
With the advent of this year's Ramadan, Hussam al-Sayyed went to his brother's house in an area relatively far from his home in Idlib (northwestern Syria) with the intention of family reconciliation following an eight-month estrangement between the two brothers.
"We cannot welcome the month of Ramadan before reconciling, forgiving each other, and turning the page on past disagreements, my brothers and I. This has been a habit of ours since we were children, and with such values, we were brought up. Grudges are buried, and all have forgiven each other while we welcome the holy month with pure hearts", said the 29-year-old young man.
Based on a survey conducted by Enab Baladi, a group of Idlib city residents deemed Ramadan an opportunity to end lingering disputes between community members, as explained by al-Sayyed, who was displaced from the southern countryside of Hama. "At the beginning of Ramadan every year, we form groups of friends and relatives who were displaced with us to work on resolving differences between friends and relatives that have increased as a result of complicated living conditions and displacement."
The spirit of closeness and bonding of families in Idlib prevails during the fasting month, and the features of religious celebration appear spontaneously or in an organized manner, while combined with manifestations of heritage and customs as a theme that brings people together in often festive forms.
Iftars and conflict resolution
During Ramadan, Syrian families are keen to exchange Iftar invitations, uphold kinship ties, and resolve outstanding disagreements between them.
The Iftar table is the destination of the family of Bahij Ahmed, 58, to resolve any disputes in their relationship. This description supports the inherited customs of the Iftar and the importance of family gatherings.
Ahmed, a resident of Idlib, said that he insists on inviting all his brothers to an Iftar meal in Ramadan and on accepting their similar invitations regardless of their differences. "Family gatherings in such conditions must not cease."
Although social prejudice can be viewed as one of the long-term causes of family disputes, social customs and norms have the power to seek resolution of those differences.
According to what the social researcher residing in Idlib, Yasser Abu al-Khair, had told Enab Baladi, social customs and traditions stem from people's natural and vital needs, and the majority of families in northern Syria still maintain ties to these customs on social and religious occasions.
Customs are the basic components of the Idlib community culture. Individuals can therefore adapt their problems within this system to address them. During Ramadan, the power of said social norms is revealed.
The social researcher indicates that the practice of social customs in Idlib is governed by several factors. There are obvious intellectual and material variables resulting from the region's containment of human populations from different regions of Syria due to displacement.
Material and environmental variables, cultural level, and the structure of the family itself are also involved in the role that social norms play in settling the differences between individuals on religious occasions, as there are lots of families who do not have an adult man to provide for them, protect them, and stand by them in times of need.
Resolving family disputes during Ramadan is a ritual based primarily on religious beliefs, and it is the result of a series of repetitive behaviors agreed upon by society and aimed at turning the days of Ramadan into days of blessings, the researcher says.
Family visits may be routine during Ramadan of every year for some people, but it is an unmissable opportunity for those who have been displaced from their cities and have been separated from their families. Ramadan's customs and social rituals help ease their feelings of loneliness in environments that are alien to their areas of origin and help them deal with daily challenges.
if you think the article contain wrong information or you have additional details Send Correction