Qabasin: Fodder prices impact livestock breeders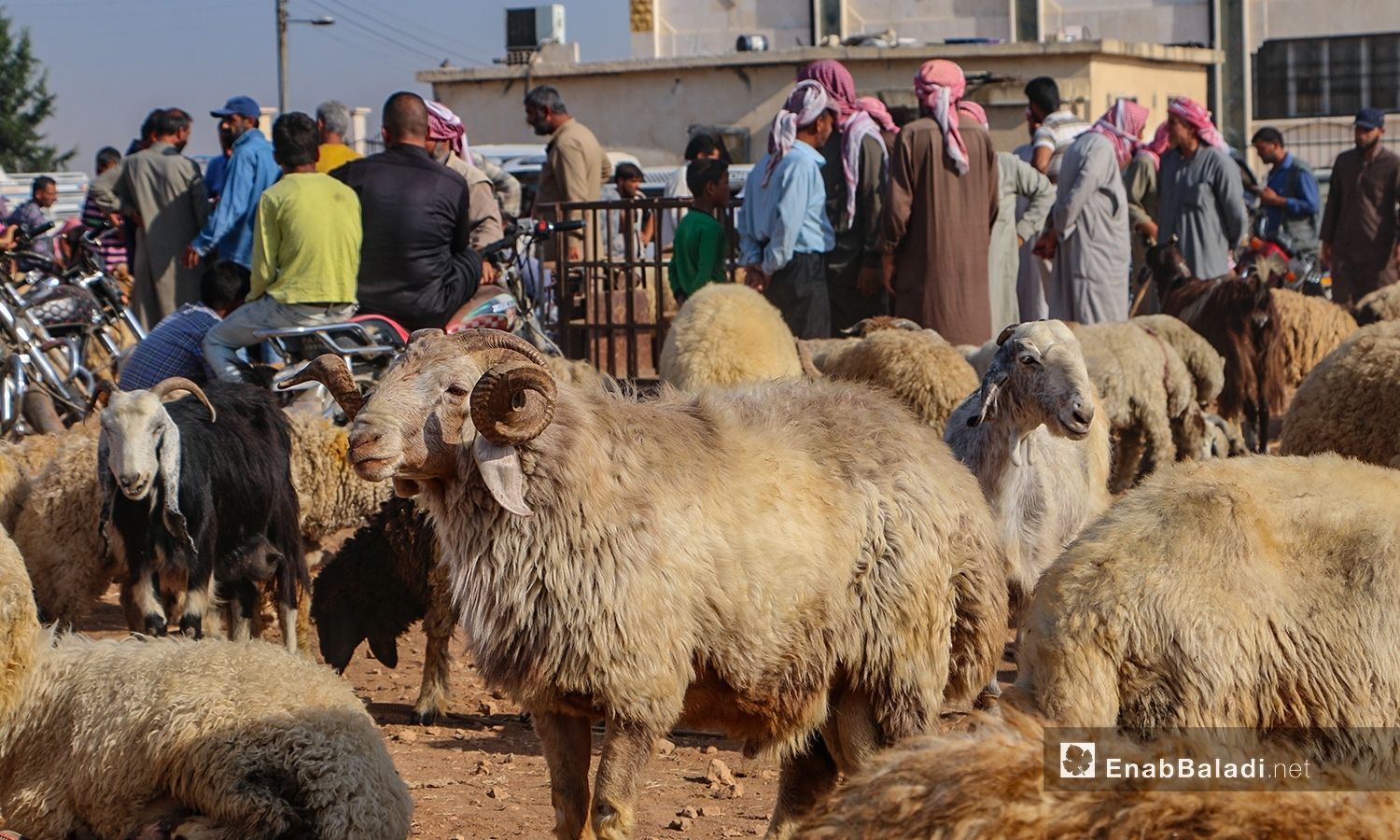 Enab Baladi – Aleppo countryside
Livestock breeders in the northern town of Qabasin face many obstacles and difficulties that prevent them from further raising livestock, a livelihood for most people in the northern countryside of Aleppo city.
High fodder prices, narrow grazing areas, and stagnant markets in terms of sales and purchases are among the most significant difficulties. Despite local actors' efforts, the initiatives and projects remain incapable of meeting the needs.
One of the cattle breeders in Qabasin told Enab Baladi that raising livestock has become a burden due to the high cost of fodder, which has affected livestock prices.
The breeder, who identified himself as "Abu Mohammad," explained that the high prices of fodder led to a decrease in livestock prices and affected their sales in the market. Ten days ago, one sheep cost about 450,000 Syrian pounds (the equivalent of 1,700 Turkish liras or 115 US dollars), he said.
The price has recently fallen to 350,000 Syrian pounds (equivalent to about 1,325 Turkish liras, or 90 US dollars). Before, the price of one sheep equaled more than two tons of hay. Now, the same quantity could not be purchased.
Last March, several areas in the Aleppo countryside witnessed sheep breeders' demonstrations in protest against the fodder price hike. Some of these demonstrations have seen road blocking and burning tires.
Efforts unable to meet needs
The Director-General of the town's Agriculture and Livestock Directorate, Hamdou Najjar, told Enab Baladi that the directorate announced the launch of underwriting to register for the procurement of fodder (hay) at a subsidized price of three Turkish liras per kilogram.
He explained that procurement was made in limited quantities and under certain conditions, including that the underwriters should be registered at the livestock census and that they would not be a beneficiary of any previous project.
The registration date started on 5 April and will last for only three days, with the quantity being paid for in advance.
The initiative was a response to the deteriorating situation of livestock and livestock breeders and to its conservation during its recent decline. Some 1,500 out of 2,800 breeders were involved in the procurement.
Najjar deemed the project a positive step that would save breeders substantial sums in view of the high price of hay on the local market.
Cattle breeder "Abu Mohammad" praised the role of these initiatives in assisting breeders in general. He explained that providing subsidized fodder relieves breeders of financial burdens and resorting to various types of fodder and plants. However, he emphasized the need for a radical solution to provide hay and fodder at reasonable prices.
if you think the article contain wrong information or you have additional details Send Correction