No customers for silver in Aleppo as interest in traditional handicrafts declines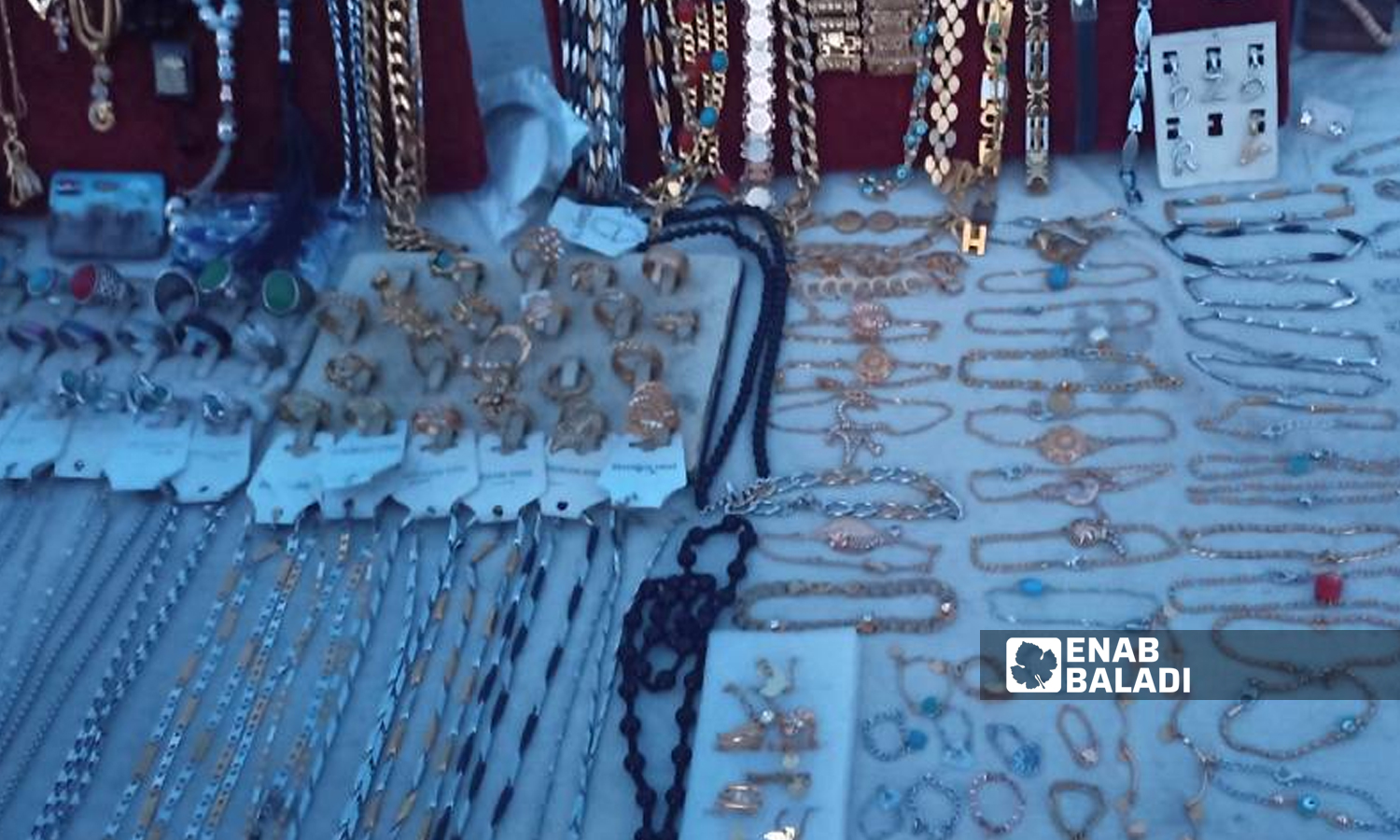 Enab Baladi – Aleppo
Ziad, 52, displays his silver metal goods on a stand near the Citadel of Aleppo in the center of the city located in northern Syria. Perhaps that way, he could sell one of the items of a handicraft that he inherited from his father.
There are only a few customers who would approach Ziad's stand from early morning hours until the evening when shopkeepers close their shops. "They all come to check out the exhibits on the stand, inquire about the price, look at the 925 stamp on silver, and then leave without buying anything. If a silver ring or chain does get sold, then that means the buyer is not one of the city dwellers who are now occupied with securing their daily bread".
Ziad, a resident of Old Aleppo city, also told Enab Baladi that "silver is special to the city." "Most of those who are about to get married buy a ring they call 'the engagement ring,' and they specifically ask for 925 caliber silver. One gram does not cost more than 3,400 Syrian pounds (about 90 US cents). However, the turnout grew weak, while even silver enthusiasts became few due to the living conditions. Some of them keep some of the old items and are unwilling to sell them".
Foreign ingots of raw or "fragmented" (used) silver are brought, then cleaned, laminated, and transformed again into raw silver in the form of ingots by melting it, only to be later turned into broadsheets used in the manufacture of silverware.
Different desires
At the beginning of this year, certain shops that sell "accessories" and ornamental tools in Aleppo resorted to offering stainless steel rings and chains. Some of these shops display a metal mixture between chrome and tin, which are rings and chains that are worn on the hand and neck.
Young men in Aleppo are no longer the only ones to wear silver, as women are now wearing silver and other metals close to it, which are "accessories" sold in most stores. City dwellers are usually able to afford these goods.
Ziad, whose full name Enab Baladi withheld for security reasons, added that "There have been specific types of metals that constituted alternatives for silver, including stainless steel, which is lustrous like silver, but has no caliber and is not sold by grams. For example, if a person entering into marriage wants to buy a silver ring, the price of which sometimes reaches 40,000 Syrian pounds, and they find out they can buy a ring made of another metal at the price of 15,000 Syrian pounds, then it is certain that they will be opting for other metals".
The customers of the "accessories" shops are usually young men and women buying offered goods, seeing that an ordinary ring costs 2500 thousand Syrian pounds. For them, the price is acceptable, according to Ziad, who owned a shop that sold these items before it was bombed in 2016.
If the same ring is made of silver metal, the price range is between 25 and 35 thousand Syrian pounds. Therefore, there is no interest in silver anymore, except for the interest shown by enthusiasts of this metal, and "they are extinct, or have become few," Ziad said.
A large display of silver goods but no customers
Some of the stands, which are spread around the Citadel of Aleppo and within the ancient bazaars, display silver rings and chains, but they have no customers as people look at the exhibits and leave without buying anything.
Adel, who is the owner of a stand selling silver and other metals in the al-Telal commercial souq in Aleppo, intends to close his stand permanently and leave the country, as he has not sold a single item for five days according to what he told Enab Baladi.
"If customers continue to refrain from buying, I will close and liquidate my inventory," says Adel, adding that the harsh living conditions have rendered people careless towards silver and other metals that are now completely unwanted luxuries for some of them."
Many silver shops are spread out in Aleppo, especially within the ancient city. It is a profession inherited from parents and grandparents who used to make rings and silver chains manually. But those workshops no longer exist, as some owners closed their shops, while others turned them into shops that sell mobile phones.
Zakariya, 53, closed his shop in the Bab al-Hadid district three years ago. But every once in a while, he sits in front of his shop that is empty of silver crafts that he used to sell, refusing to work with other metals that he considers "inferior" and incapable of replacing silver.
Zakariya told Enab Baladi that he inherited his profession from his father and grandfather. "We used to melt metal and make rings and chains." He reminisces about times before 2011 when he used to receive requests from silver enthusiasts and collectors of prayer beads to plate their beads with silver at high prices.
"If the economic situation continues as it is, it is likely that Syria will lose many of the professions and crafts that are included in the cultural heritage," the man added, noting that the manufacture and sale of silverware are not included in the government's interests.
Cultural heritage resources are classified into five categories, including movable material resources that include artisanal handicrafts within the heritage.
The documentation of traditional crafts includes people, materials, tools, environments, activities, skills, and innovations, as they have contributed to creating a nucleus for the creation and preservation of traditional industry from demise and loss. It also contributes to the creation of a compact and modular production fabric that contributes to the preservation of the environment of each craft.
if you think the article contain wrong information or you have additional details Send Correction