Making straw pots, a heritage revived by creative women in Idlib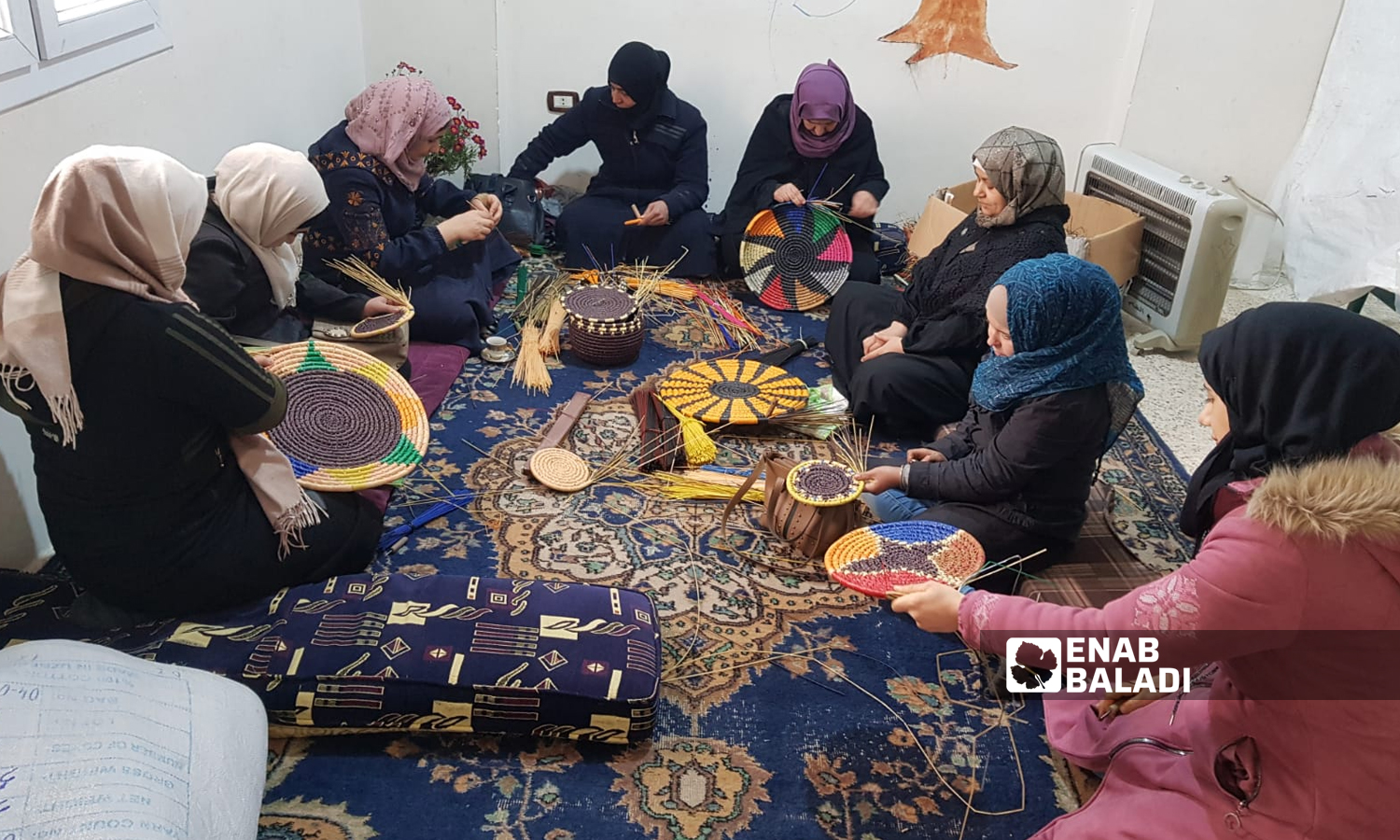 Idlib – Huda al-Kulaib
Nouf al-Bayoush, 34, was able to turn her simple dream into reality when she learned straw weaving at a women empowerment center in Salqin town. Thus, she began to pursue one of the ancient professions that almost went extinct with so much craftsmanship and creativity.
Al-Bayoush, a displaced woman from the town of Kafr Nubul and resident of the town of Salqin, told Enab Baladi that she did not think twice about enrolling in one of the trainings announced by the Zumorroda Center after they invited her to learn straw weaving with another group of trainees; they had seen passion and desire to learn in her through her creativity in the diverse handicrafts she makes and posts pictures of on her social media pages.
From trainee to trainer
Al-Bayoush quickly learned straw weaving in a record time and was then offered a job as a trainer at the same center, which was a turning point in her life after experiencing the cruelty of displacement and life in camps.
She began teaching many trainees and relied on her skill and creativity to make new straw objects that were somewhat unrelated to folk heritage, such as jars and trays and multi-colored dishes and ornaments.
With regard to straw types used in this industry, al-Bayoush explained that there are two types; natural straw obtained from ears of wheat and barley and industrial straw spread in the markets and mat factories.
Natural straw is soaked in water two hours before it is used in order to moisturize it and then wrapped with a towel so it would be ready for use. Straw can be dyed in multiple colors according to desire and demand. Various decorations, drawings, and writings can also be used on dishes, giving them a "distinctive look."
In weaving straw dishes, an awl, a piece of wood with a rasped nail placed on the top, and a filling of the same straw are utilized.
This industry necessitates a lot of precision and artistic sense, as well as the patience that such a craft requires.
Straw pots as a source of income 
Through the free training provided by the center, which would empower women in times of war and endow them with many professions, many of those whom al-Bayoush supervised became involved in the profession and started practicing it. They actually make a financial profit from it, and they depend on it as a source of income following an increased demand for their unique and distinctive production, as Nouf stated.
The straw industry is one of the heritage crafts for which Idlib and Jabal al-Zawiya regions are famous but threatened with extinction as industries and lifestyles evolve.
However, some people's nostalgia for it, and their eagerness to learn and purchase it, rendered this craft doubly important, especially since it relies on simple raw materials that could be secured from the local environment.
Hala al-Sheikh, 30, a straw weaving apprentice, said she did not expect to master the profession so quickly. Moreover, she currently relies on it to support her three orphaned children after the death of her husband in the bombing of her city Khan Shaykhun, more than two years ago.
"At first, learning straw weaving was meant as a way to abscond boredom and psychological pressures here in displacement camps. I was floundering with the question of how my children and I would survive, as I did not have the experiences, skills, or diplomas that would help me find a job. However, my learning of the straw weaving profession gave me a new start".
What really drew al-Sheikh's attention was the remarkable demand for her products from camp inhabitants who lack such utensils. The longing for their villages and towns from which they were expelled against their will drives them to get these straw utensils for their modest tents.
As the living conditions in Idlib deteriorate, poverty spreads, and high prices and lack of opportunities prevail, many women are now rushing to learn traditional professions that do not require much capital but rather simple tools, craftsmanship, and some skills to make unique artistic tools that constitute a source of livelihood for them, thus sparing them the agony of poverty and beggary.
if you think the article contain wrong information or you have additional details Send Correction