Latakia: Soaring prices, lack of remittances affect state employees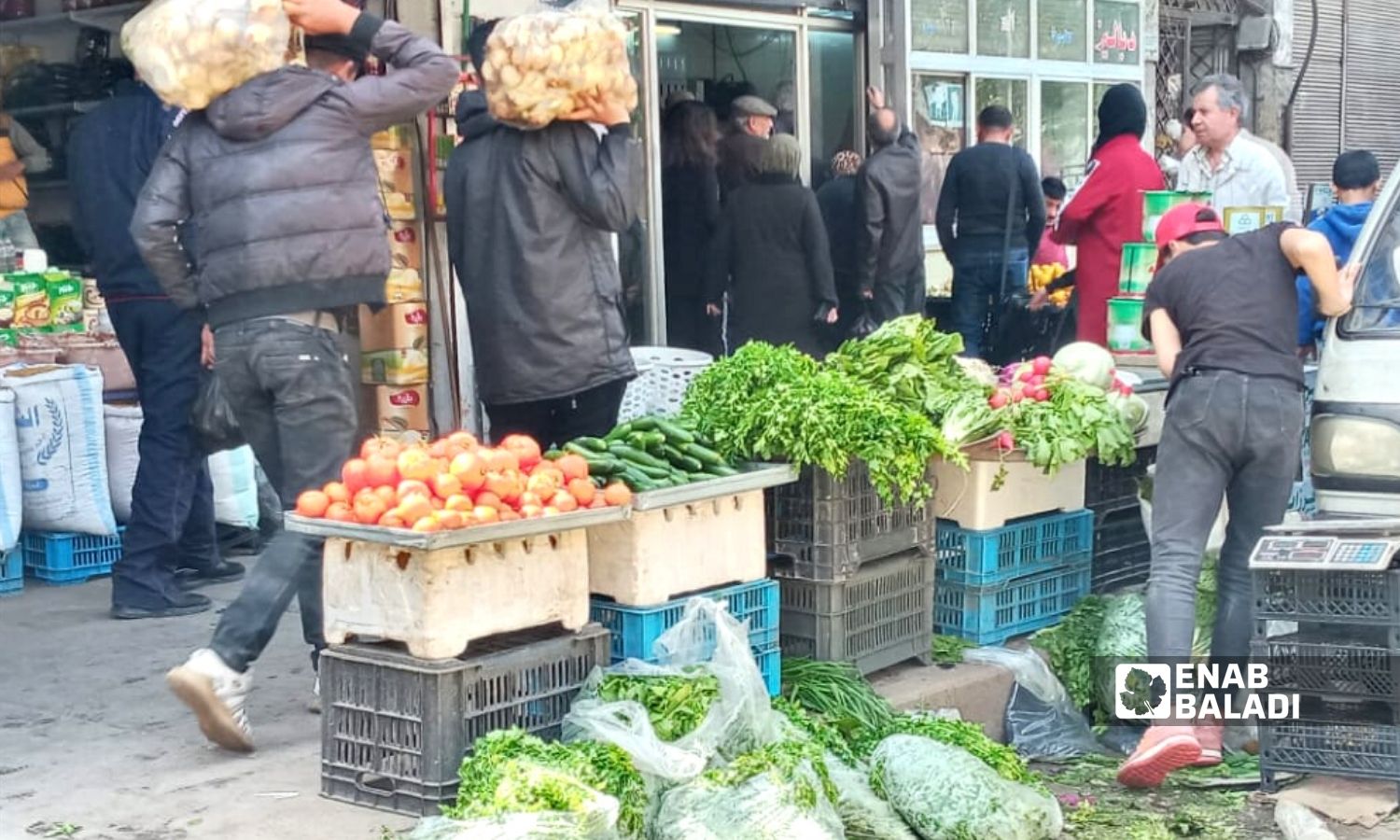 "I went to buy some vegetables for a simple meal, but I could not find anything that I can actually afford, so I went back home empty-handed."
In words that reeked of helplessness and frustration, Nour (pseudonym) spoke to Enab Baladi about her suffering when preparing a meal for her family of six at costs commensurate with her monthly retirement pension.
Nour mentioned that she was unable to provide for some of her family's needs, even though her husband is also a retired employee. "The prices are unbelievable, especially considering our need for a basket of medicines per week."
"One no longer has a clue about what to eat." After roughly two hours of inquiries with greengrocers at the Ugarit market in the al-Owaineh neighborhood in the city of Latakia, Nour could not even afford to buy ingredients for a meal of "eggs and tomatoes."
Nour did the math, only to find out that a daily meal of "eggs and tomatoes," along with a salad dish of cucumber, tomato, and lettuce, would actually cost her 30,000 Syrian Pounds (8 US dollars) out of her salary of around 100,000 Syrian pounds (25 US dollars), approximately one-third of her salary.
One kilo of tomato is sold for 4,500 Syrian pounds, and an egg is sold for 500 pounds, while a kilo of onions costs 2,500 pounds, not to mention the cost of the rest of the ingredients, such as ghee, spices, and bread.
Substitute foods for vegetables
Nour has recently resorted to cooking foods that are alternatives to vegetables for her family, seeing that these foods are less expensive and are far more efficient in feeding her family members than cooked vegetables, such as rice and bulgur, which cost about 5,000 Syrian pounds per kilo.
Nour explained that the high cost of vegetables prompted housewives to ration the purchase process, often dispensing with daily cooking and sticking to supplies and foods that are already available at home.
The traditional meal of "Mujadara" has become an almost daily meal, while oil and za'atar sandwiches are in many cases a daily substitute to vegetable meals because the family cannot afford to buy vegetables at prices that are steadily increasing.
"On the days when I don't cook rice or Mujadara, I would cook Cheeseweed (Khobiza), green Cichorium, along with some less expensive herbs." There are some plants available on the market, such as Cheeseweed, the price of which is about 1,500 Syrian pounds per kilo.
Reliance on foreign remittances
"May Allah help people because if we cannot secure our basic needs with two state salaries, then how are others supposed to survive," Nour waits for whatever comes to hand of the sums of money sent by certain relatives abroad to secure her family's most basic needs, with no luxuries whatsoever as she puts it.
Nour did not go on with her complaints but instead moved on to talk about the situation of her neighbors who do not receive any foreign remittances, which prevents them from securing their basic needs, despite two of them having government jobs.
Most residents in various Syrian governorates depend on remittances from abroad, especially in light of the Syrian pound's deteriorating value and the significantly higher prices.
Syrians abroad tend to financially assist their relatives in regime-controlled areas by means of remittances that they send them. But the difference between the official exchange rate and that of the black market prompts them to send it through the said black market.
This has caused the regime to tighten security handling of remittance offices and persons not dealing with regime-licensed remittance and exchange offices because of their impact on the exchange rates in Syria.
On 14 April, the US dollar equaled 3,945 Syrian pounds on the black market, according to the Syrian Pound Today website that specializes in exchange rates and foreign currencies, while the official price, according to the Syrian Central Bank bulletin, is 2,525 Syrian pounds.
if you think the article contain wrong information or you have additional details Send Correction