Water scarcity threatens Qabasin's farming as green belt menaced by desertification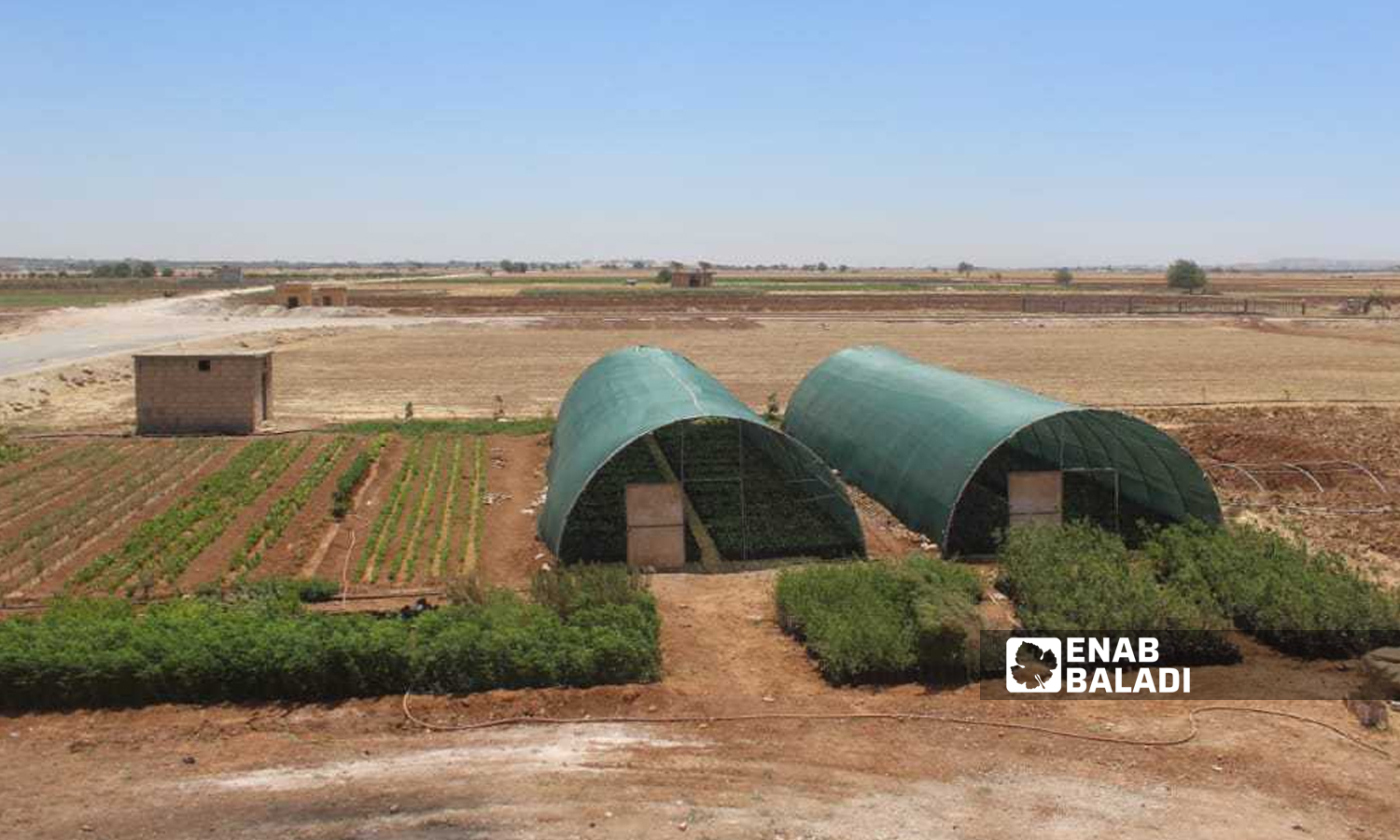 Enab Baladi – Aleppo countryside
Farmers in the city of Qabasin and its countryside, north of Aleppo, face problems that impede their agricultural activity, including water scarcity and lack of financial means, which have led to the erosion of green spaces in those areas.
Entities operating in those areas have launched local initiatives and projects. Yet, that is deemed inadequate in the context of addressing the obstacles and difficulties that encounter agricultural production.
Lack of green spaces enfeebles production
Agricultural engineer Hamdou Abdulkarim Najjar told Enab Baladi that for a long time, Qabasin and its countryside had been viewed as an active center and a large and prominent pole of agricultural production in northern Syria, thanks to weather factors and the region's topography; it covers an area of ​​approximately 24,000 square hectares, of which 8,750 hectares are wooded.
Qabasin is located within the regions of Operation Euphrates Shield, a military operation launched by the Turkish forces backed by the Syrian opposition factions in northern Syria in August 2016.
Najjar, who is the Director-General of the city's Directorate of Agriculture and Livestock, complained about the waning and erosion of the forest cover and wooded lands. He attributed the reasons to terrible weather conditions and rainfall scarcity, which is now a "dilemma" afflicting the northern Syrian regions in general and the city of Qabasin and its countryside in particular.
Groundwater depletion led to a loss of agricultural land, which gave rise to all kinds of damages to agricultural production, namely grain production and fodder crops, according to Eng. Najjar.
Moreover, this has led to a conspicuous local economic decline, an increase in the costs of water withdrawal, in addition to the exorbitant sums of money being spent on rehabilitating wells in proportion to the depletion and decline of groundwater, and an overall stagnation of agricultural competencies.
Struggling projects and initiatives
The agricultural nursery of the Qabasin Agriculture Directorate was established in 2019 as a joint initiative of the Directorate of Agriculture and the city's local council. According to Najjar, it is currently considered the only source of fruit trees and forest cover in both the city and its countryside, despite the lack of subsidy and resources.
The agricultural nursery covers an area of 9 square dunums and provides 10 to 18 percent of the region's needs of fruit trees, forest plantings, and ornamental trees.
In the nursery, there are approximately 35,000 diverse plants of pistachio, vine, fig, almond, pomegranate, and olive trees. It also contains forest trees such as cypress, pine, palm, and the chinaberry (Melia azedarach) trees, in addition to certain types of flowers and ornamental roses.
These figures do not reflect the nursery's maximum production capacity, as it is affected by the similar problems of green spaces and the diminishing production in general, along with the lack of agricultural inputs, materials, and agricultural equipment in particular.
Farmers and farmland owners turned to originate fruit farms, such as planting tree fields, in search of a livelihood and an agricultural future that would save them from such terrible conditions.
As attested by Najjar, the city of Qabasin and its countryside are currently experiencing a severe shortage of forest and fruit cover, while the agricultural nursery stands incapable of meeting this need.
Eng. Najjar affirms that, in conjunction with the lack of subsidies, the nursery's well is in dire need of expansion and rehabilitation. Besides, the nursery needs to secure a stable energy source, either by means of a solar energy group or a high-capacity electric generator. It also needs a variety of agricultural equipment, such as large steel warehouses, a cargo vehicle, and an agriculture machine tractor.
Demands for subsidy
Hamdou Najjar, who is responsible for agricultural and productive, and indicative development projects in the city of Qabasin and its countryside, construed that the agricultural nursery's productive and absorptive capacity will be considerable if the required subsidy and resources are provided.
He indicated that securing the nursery's requirements would enable it to cover the needs of the city of Qabasin and its countryside and to plant the mountain slopes, which are facing the imminent danger of desertification due to climatic conditions and the perils of overgrazing and indiscriminate bombing.
The agricultural engineer appealed to international organizations and the bodies, organizations, and representatives of civil society to participate in the efforts to secure the needs of the city and its countryside by providing appropriate support to the agricultural nursery and activating its capabilities so that it can compensate for the lack of forest and fruit cover.
Previous experiences
The local council of Qabasin had completed an afforestation campaign that was launched last January to plant forest trees and ornamental plants in the median dividers of the main roads and in public facilities.
Hamdou Najjar said that this campaign aimed at recapturing the city's spirit. He also assured that work will continue until the entire city and its countryside are planted; teams from the Directorate have finished planting 2,500 chinaberry ornamental trees, in addition to planting 200 forest evergreen cypress and pine trees.
All the trees that have been planted since the beginning of the campaign are produced by the agricultural nursery located in the district.
---
Enab Baladi's correspondent in al-Bab city Siraj Mohammad contributed to this report.
if you think the article contain wrong information or you have additional details Send Correction