Stone quarries responsible for health problems for Idlib camp residents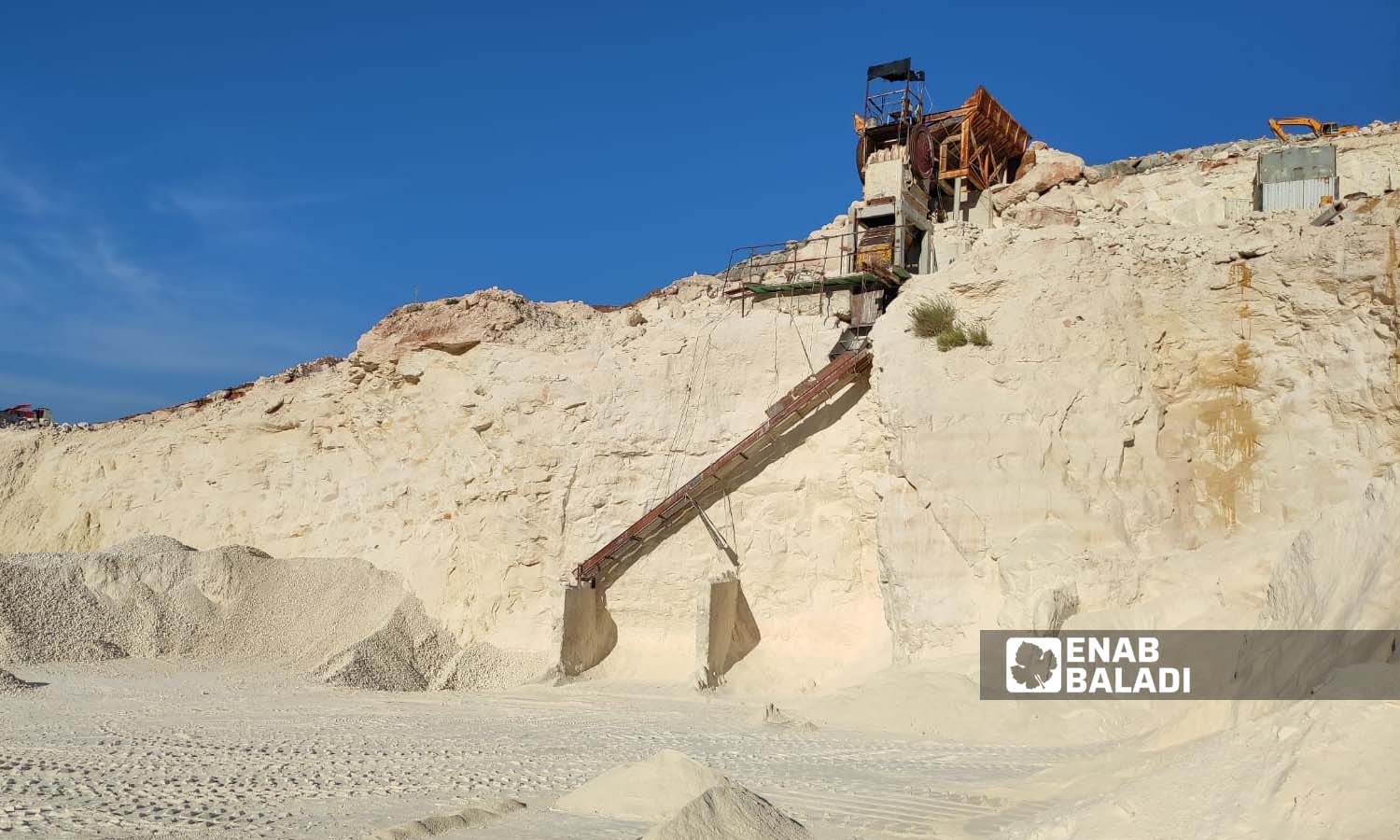 Idlib – Hadia Mansour
Halima al-Jamous, 38, complained to Enab Baladi that stone quarries existing near her residence place in the Kafr Lusin camp are causing her five-year-old son, Raed al-Bakour, repeated panic attacks as a result of explosion sounds, which turned him into an introvert child refusing to leave the tent or play outside most of the times.
The concerned mother added that her son's psychological condition could not improve due to the persistence of the problem causing it; the constant explosion sounds heard from stone quarries from time to time.
According to al-Jamous, the quarries and their harms had become a common problem for most camp residents, who had been seriously affected by the blasting sounds, dust, and gravel thrown in the course of bombings to great distances. The quarries' waste falls on tents and public roads, threatening the lives of the camp inhabitants.
Raifa Hajj Omar, 40, also complained about the impact of quarries on her family, as her baby starts crying whenever she hears the blast sounds. This left her psychologically harmed, fearing the outside world and loud noises.     
"As if the sounds of war and explosions have followed us to our exile in the camps. When are we going to live in peace like normal people everywhere, or is it our destiny to live in misery throughout our lives," Hajj Omar lamented her condition.
Serious effects on children
Children living in camps situated close to stone quarries often experience behavioral changes marked by psychological traumas and severe stress due to repeated explosions. They also suffer from extreme anxiety and withdrawal conditions, nightmares, sleep problems, and aggressive behavior, social guidance counselor Amal Za'atour told Enab Baladi.
Za'atour noted that affected children need a healthier environment and psychological support, with specialists to follow their conditions and official measures to eliminate the sources of their psychological stress.
Stone quarries prevail in mountainous areas near displacement camps. These sites witness blasting operations to remove rocks from mountains and turn them into construction materials such as sand, stones, gravel, etc.
However, the proximity of the quarries to residential areas has adversely impacted civilians, agricultural lands, and the environment, as quarries continue to damage soil and vegetation and contribute to desertification and the lack of green and forest areas.
Respiratory diseases
The implications of quarries are not limited to the terror they cause to children and women by explosion sounds similar to that of Russian warplanes bombings, which have long terrorized civilians and caused massacres and mass displacement, rather they cause respiratory diseases triggered by heavy dust.  
Fifty-something-year-old Amoun al-Sabouh suffers from chronic respiratory illnesses and visits health centers frequently to undergo aerosol treatment sessions.
Al-Sabouh told Enab Baladi that the close location of quarries to her camp in the Batente area has caused her health problems and that she cannot leave her place of residence because a worn-out tent is all she has now after her displacement in Idlib's southern countryside.
She mentioned that the doctor had advised her to move away from places of dust and air pollution and to try to find housing in areas covered by trees and green plants; however, the lack of financial sources and response from relevant authorities has helped to prolong her and other camp residents' suffering. 
Respiratory diseases specialist Dr. Mohammad al-Hussein told Enab Baladi that inhaling dust particles from stone quarries leads to them building up in lungs, causing serious respiratory problems accompanied by symptoms such as allergic rhinitis, sneezing, rhinorrhea, coughing, breathing difficulties, and headaches due to sinus congestion.
The inhalation of dust can also cause asthma, chest tightness, and pneumonia, which, if not treated promptly, can develop into life-threatening lung cancer, Dr. al-Hussein added.
He additionally added that dust also harms the skin and causes allergies, itchiness, and eye infections, in addition to transporting contagious diseases such as meningitis, fungal infections, and flu.
Dr. al-Hussein recommended staying away from dusty environments, wearing medical masks, and avoiding leaving houses except for matters of urgency. 
Local sources told Enab Baladi that many complaints had been made to officials in the region to stop the work of stone quarries and move them away from residential camps that struggle with poor health services; however, the complaints were not taken into account, and the problem continues to persist till this day.
if you think the article contain wrong information or you have additional details Send Correction