Qamishli: Chicken meat so expensive people stopped buying it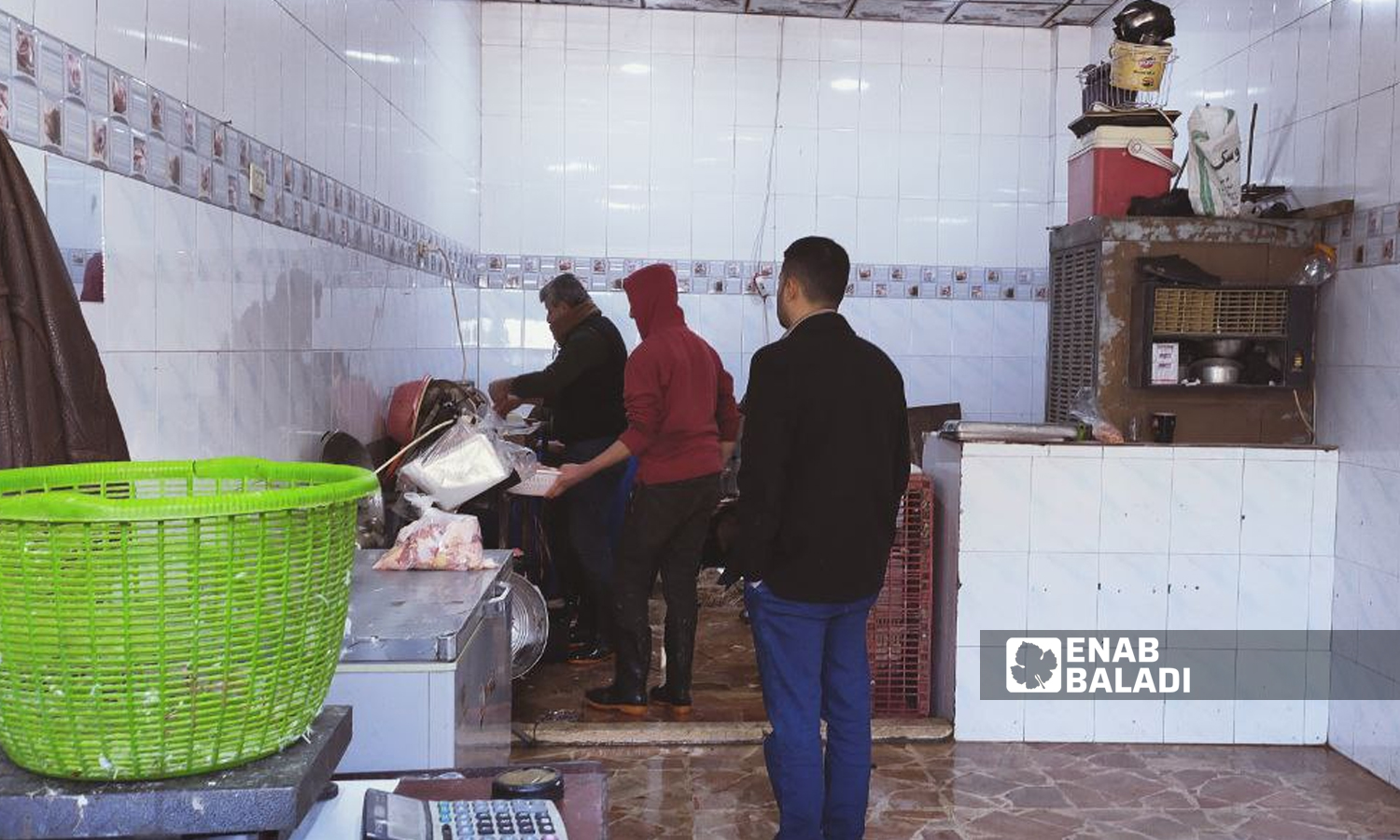 Qamishli – Majd al-Salem
The sales of chicken meals have declined in fast-food restaurants in Qamishli city during February due to raw chicken's rising prices.   
Several shop owners have complained to Enab Baladi about the downturn in chicken meals sales, including Malik Hussein, 41, who sells chicken in Qamishli city.
Hussein said that his sales revenues continue to drop in line with the rise in raw chicken prices, as one kilogram is sold at about 7000 Syrian pounds (SYP = less than 2 USD), which caused him to lose half of his customers.
"We cannot lower our selling prices given the pound's exchange rate deterioration and volatile value. Our profit margin is less than 300 SYP per kilo," Hussein said, explaining the reason preventing him from reducing the kilogram price of chicken meat.
Enab Baladi's correspondent toured the city of Qamishli and reported that chicken meat sellers are pricing the kilogram between 5000 and 7000 SYP, in addition to the costs of cleaning and cutting chicken.
Abeer al-Ali, 38, a resident of al-Zuhour neighborhood in Qamishli city, said that she buys chicken meat at the price of 13,000 SYP (about 3 USD) after she haggles with the vendor for a reduced price.  
This price equals the wage of two working days her husband earns as a day laborer at a food warehouse in the city in exchange for 10 hours of work, al-Ali said, adding that she cannot do without meat for the sake of her three children.
A report issued on 5 February by the REACH Initiative highlighted the reasons for rising food prices.
According to the report, the average day laborer would need 72 days of work to earn the monthly cost of basic survival minimum expenditure basket (SMEB) items in areas held by the Autonomous Administration of North and East Syria (AANES). 
Meanwhile, 80 percent of assessed communities rely on daily waged labor as a common source of income, while 92 percent of families suffer from unemployment, which is a direct obstacle to basic food needs.
The report also noted that 79 percent of assessed communities cited the high food price as a common challenge to their food security.
Borrowing money to prepare a lunch meal
Bassem Dari, 35, told Enab Baladi that the high pricing of red meat in the city, with the kilogram price of lamb amounting to 20,000 SYP (about 6 USD), has pushed families to buy white meat (chicken) as a more affordable alternative.
However, the increased price of chicken made eating meat once a week a "dream for many families that need at least two whole chickens per meal," Dari, who works at a stationery store, added.
Dari spends about 25,000 SYP (7 USD) for a whole chicken, in addition to extra costs for rice and vegetables necessary to prepare a meal. This means that a family in Qamishli has to spend approximately 35,000 SYP (10 USD) for a single meal, which is a large amount considering the difficult economic conditions families are experiencing in that region. 
"The situation becomes more embarrassing and costly when having guests for lunch. I know many families who had to borrow money to afford the expenses of a single lunch meal."
Last January, the al-Malikiyah area in Qamishli witnessed a ten-day strike by chicken vendors after refusing to accept the 200 SYP profit margin set by AANES' Supply Division for every kilogram of sold meat. 
if you think the article contain wrong information or you have additional details Send Correction